Queen Elizabeth II is a 'fantastic & amazing woman,' Trump says after UK trip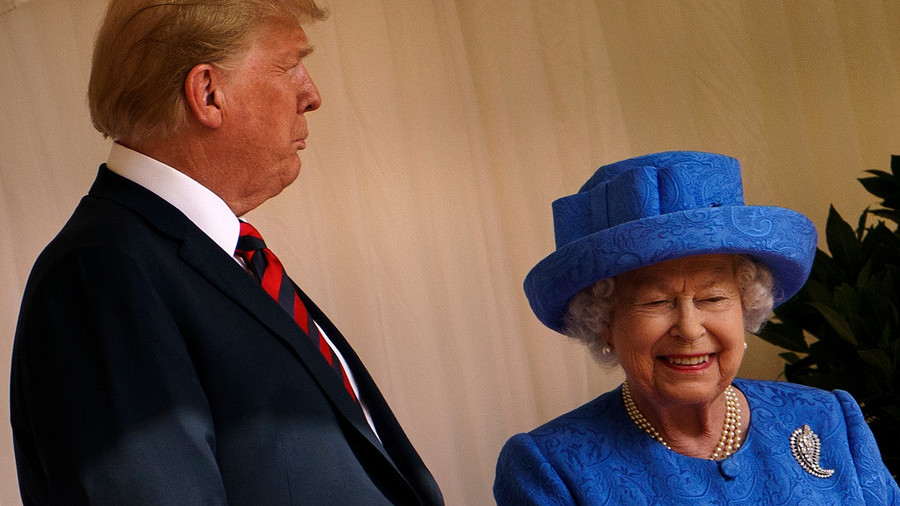 US President Donald Trump expressed his admiration for Queen Elizabeth II after having tea with the reigning British monarch during his official visit to the UK.
"The Queen is fantastic! She's a fantastic woman; so much energy and smart and sharp," the president told the Daily Mail on Saturday.
Speaking to journalist Piers Morgan aboard Air Force One, Trump spared no compliments for the Queen. "She was amazing! Such a wonderful lady and so beautiful! It was an honor to finally meet her. To have a queen like that is great," he said.
Trump shared a cup of tea with Elizabeth II towards the end of his UK trip. The meeting seemed cordial, and apparently left a good impression on the president, despite the fact that some observers accused him of bad manners and several violations of royal etiquette. He omitted to perform a customary neck bow when the monarch greeted him at Windsor Castle, and walked ahead of the Queen when they were inspecting the royal guard. Both moves were considered rude and disrespectful on social media.
In contrast to his kind words for the Queen, President Trump appeared less fond of the nation's Prime Minister Theresa May. He was highly critical of her in an interview with the Sun daily, lambasting the PM for "wrecking" Brexit talks.
READ MORE: Trump fails to follow royal protocol as he meets Queen (VIDEO)
"I would have done it much differently. I actually told Theresa May how to do it, but she didn't agree, she didn't listen to me. I would actually say that she probably went the opposite way," Trump told the paper. He also went on to praise one of May's rivals – Boris Johnson – who recently resigned as foreign secretary over disagreements with the PM's position on the Brexit deal. Johnson "would make a great prime minister," Trump said.
After the interview caused some backlash in Britain, Trump eventually scaled down his criticism of May, claiming that the Sun reporters had left out the good things he said about her. "I also said that this incredible woman right here is doing a fantastic job. A great job. And I mean that," the president said, calling May "very professional," while branding the Sun "fake news." Trump also said that he had apologized to the British prime minister for the interview.
Like this story? Share it with a friend!