Britain's despise for Trump impossible to 'overestimate' – ex-Tony Blair spokesman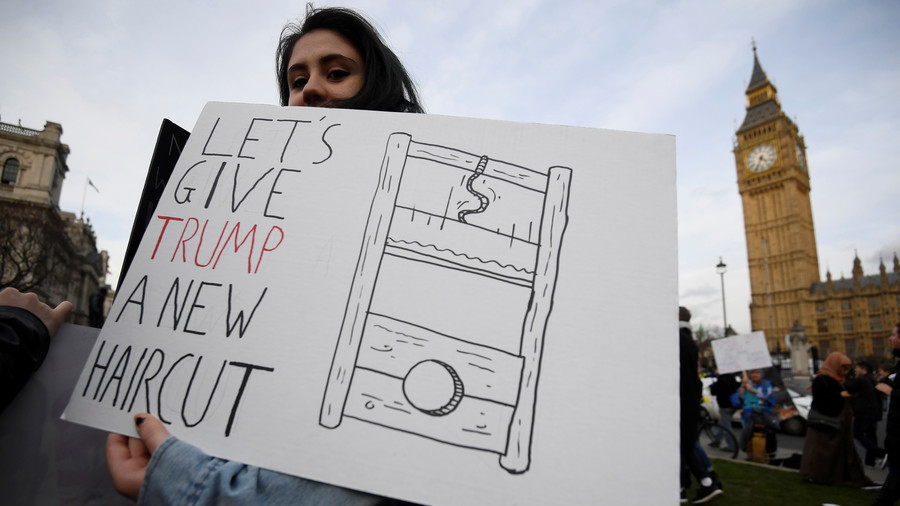 Tony Blair's ex-spokesman Alastair Campbell has said it's impossible to "overestimate just how despised" Donald Trump is in the UK, just as the US President touches down on British soil.
Campbell, who gained fame and notoriety for his role as the former Labour prime minister's "spin doctor", told CNBC on Wednesday that opposition to the visiting president "will be big."
More than 55,000 people are expected to attend a mass protest outside the BBC on Friday and other demonstrations are planned around the country. However the President, who landed at Stansted Airport on Thursday afternoon, is not expected to encounter many protesters as most of his agenda is based outside of London.
"I don't think anyone can possibly overestimate just how despised he is. I mean, he really is," Campbell told the American broadcaster.
He said Trump may think the level of protestation is "unfair" because the UK has welcomed a different range of leaders, including Chinese premiers, Russian President Vladimir Putin and former Zimbabwean PM Robert Mugabe.
READ MORE: 'Verging on criminal': Fury at Telegraph article suggesting PM Theresa May guilty of treason
"But I think people feel that America is a special country and, therefore, the leadership in America should be something that British people can look up to and respect. I'm afraid that there is very, very little respect for him."
He added: "I suspect that you will find the protests will be big. People will not want him to feel welcome at all. I think that goes very, very far across the board."
His remarks appear to back up a freshly released Guardian/ICM poll that reveals the extent to which the British public is both critical and preoccupied with the US president's controversial administration.
A total 63 percent of people said they believe the Trump presidency makes the world more dangerous. Only 20 percent would want to see a politician like him as British PM, while only 18 percent think he is good for the UK.
If you like this story, share it with a friend!