MPs jeer & laugh at May as PM pays tribute to Johnson & Davis (VIDEO)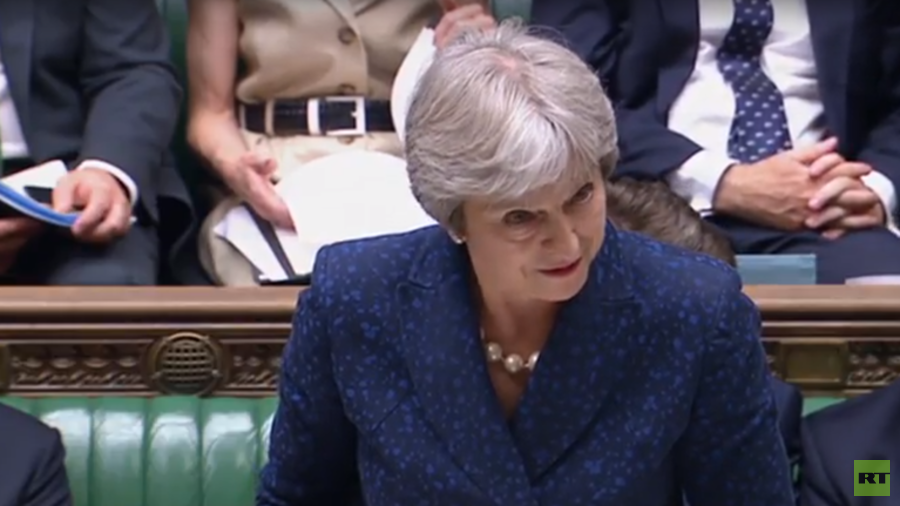 British Prime Minister Theresa May was roundly heckled by MPs as she attempted to pay tribute to her recently-resigned ministers in parliament on Monday.
"Turning to Brexit, I want to pay tribute to my right honorable friends," May said before being interrupted by loud laughter from her fellow politicians.
READ MORE: Corbyn says May is incapable of Brexit deal following Johnson exit (VIDEO)
May's Foreign Secretary Boris Johnson resigned not long before the parliament meeting, making him the third to do so in 24 hours after Brexit Secretary David Davis and Brexit Minister Steve Baker resigned on Sunday.
Despite the abandonment, May carried on with her words of thanks as the crowd continued to laugh and jeer. The PM began to highlight Johnson's "passion" in promoting a "global Britain," but was cut off again as loud laughter rang out in the chamber, with May herself appearing to fight back laughter.
Speaker of the House of Commons John Bercow called for "order" and said there was "a very unseemly atmosphere" in parliament.
Think your friends would be interested? Share this story!
You can share this story on social media: