Corbyn says May is incapable of Brexit deal following Johnson exit (VIDEO)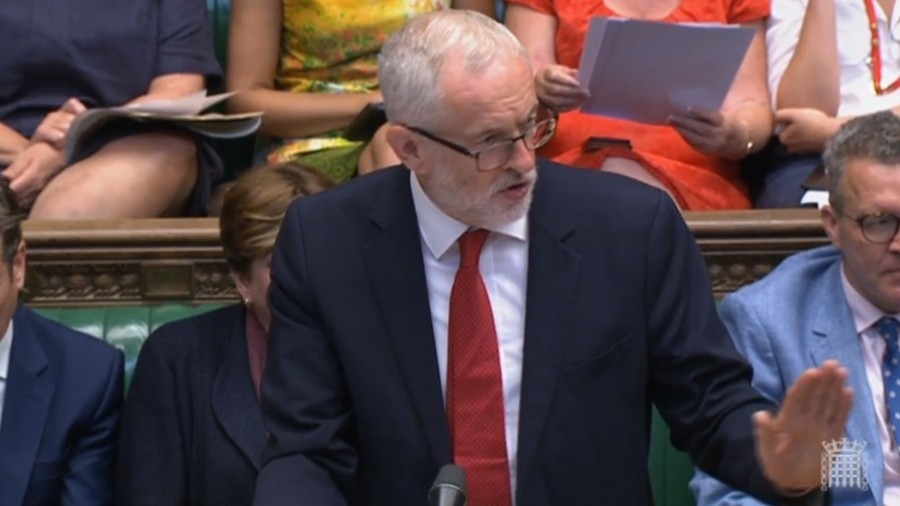 Labour Leader Jeremy Corbyn said Theresa May is incapable of negotiating a Brexit deal given the departure of three of her ministers, Boris Johnson, David Davis and Stephen Baker in the space of 24 hours.
Corbyn told May that the government should be dissolved if it is incapable of governing, during a meeting in parliament on Monday.
Johnson resigned as foreign secretary in protest at May's Brexit trade deal which proposes that the UK continues to follow EU regulations in return for a free trade agreement.
Brexit Secretary Davis and Brexit Minister Steve Baker resigned late on Sunday, with Davis saying he did not believe in the agreement as it "gave too much too easily."
Corbyn slammed the government for taking so long to reach an agreed Brexit negotiating position, which he described as an "illusion" which lasted a mere 48 hours.
"We're over two years on from the referendum, two years of soundbites, indecision and cabinet infighting, culminating in a series of wasted opportunities with more and more people losing faith that this government is capable of delivering a good Brexit deal and that is within her own cabinet," Corbyn said in the wake of the spate of ministerial resignations.
"We have a crisis in government," he continued. "Two secretaries of state have resigned and still we're no clearer on what future relationship with our closest neighbors and biggest partners will look like."
Corbyn said it is clear that "this government is not capable of securing a deal to protect the economy, jobs and living standards," and that it "cannot secure a good deal for Britain."
Think your friends would be interested? Share this story!