'Absolute chaos': Brits poke fun at Davis' Brexit tenure as 'dinosaur' Raab steps in
Published time: 9 Jul, 2018 14:15
Edited time: 10 Jul, 2018 07:49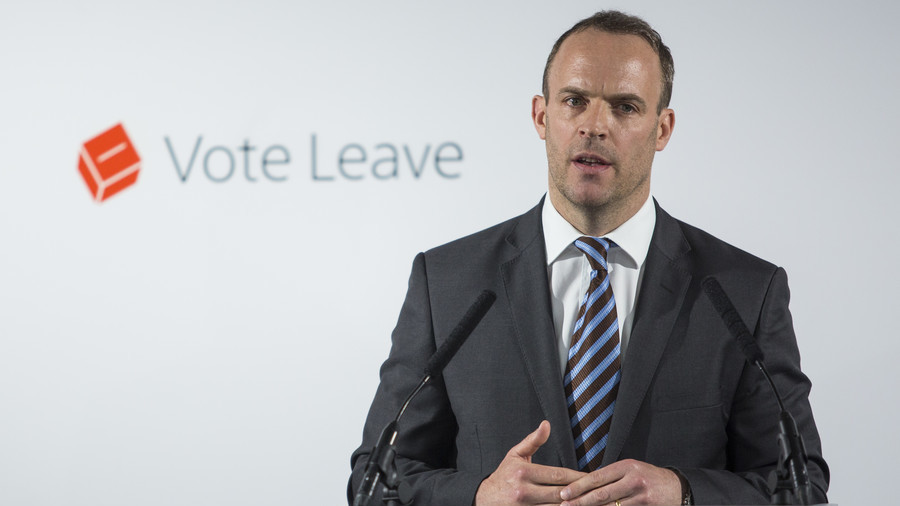 As the threat of a leadership contest looms for Theresa May following the sudden resignation of Brexit Secretary David Davis, political commentators and MPs have reacted differently to the new blow to the Tory government.
Downing Street confirmed on Monday morning that the PM has appointed 44-year-old housing minister Dominic Raab as the new Brexit Secretary following Davis' resignation on Sunday evening.
READ MORE: May appoints new Brexit secretary who once called feminists 'obnoxious bigots'
British journalist and writer Neil Clark told RT how there is now "incredible uncertainty" over how the UK will go about Brexit negotiations, given a "split" in the party over the country's future trade relations with the EU. He pointed out that while some Brexiteers want to leave the customs union and single market, others advocating for a so-called 'soft Brexit' want to stay.
"What Theresa May was trying to do with her proposal last week was to come up with a compromise that would keep all sides on ball within the Conservative party, and clearly that has failed," Clark said.
He went on to explain how the current political turmoil in Britain will work to the EU's advantage in Brexit negotiations.
Davis's sudden resignation on Sunday evening was much debated and discussed on Twitter the following morning. Many took the opportunity to make fun of the former Brexit Secretary over his short tenure and the timing of his decision to quit.
Meanwhile, Raab's appointment hasn't exactly inspired confidence across the political spectrum. While International Development Secretary Penny Morduant immediately welcomed the decision saying Rabb is "highly capable, across the issues, attention to detail, Leave supporter and pragmatist", others said Davis' resignation has plunged Britain into "absolute chaos."
Labour MP Andrew Adonis said Raab's appointment could spell the "death" of the Tory leader, while writer and editor Hitcham Yezza said Brexit has now become even more "shambolic."
Mark Garnett, senior lecturer at the Department of Politics Philosophy and Religion at Lancaster University, was somewhat more optimistic about Raab's appointment and the impact it would have on UK-EU negotiations.
"It will show European leaders that Mrs May has taken great risks to establish her stated negotiating position," Garnett told RT. "It makes it unlikely that those leaders will pressurise Mrs May for further concessions. The UK government is in turmoil, but that has been the case for more than two years."
"Boris Johnson, Michael Gove and Liam Fox (the senior 'Brexiteers') are seriously weakened and are no longer in a position to make serious trouble for Mrs May," he added.
Like this story? Share it with a friend!