UK will foot £5mn policing bill for Donald Trump's visit to Scotland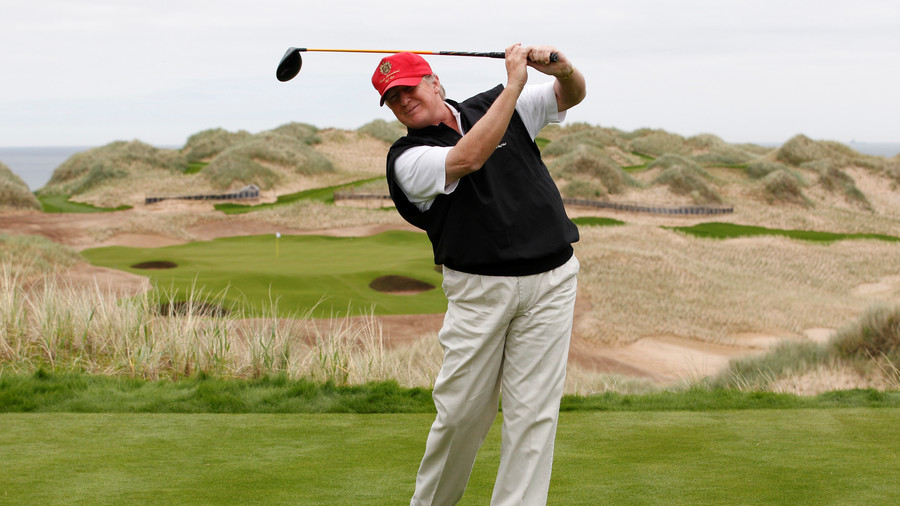 The UK Treasury will foot a £5 million bill needed for extra policing if US President Donald Trump visits Scotland in mid-July. It followed an outcry from Scottish officials who did not want to be the ones left with the bill.
The US president is expected to visit Scotland after he meets Prime Minister Theresa May at Downing Street in London or at Chequers, her country retreat.
But concerns were raised over the cost of the visit after Interim Chief Constable Iain Livingstone told the Scottish Police Authority it could require at least 5,000 officers at a potential price of £5 million (US$6.6 million). The police response would also have to cover mass protests which are planned in Glasgow and Edinburgh. Livingstone said that to ensure 24-hour policing, days off had been canceled and shifts rearranged.
Scottish Justice Secretary Humza Yousaf wrote to Home Secretary Sajid Javid saying it was "completely unacceptable" that Police Scotland had to foot the bill, and demanded clarity over who would have to stump up the cash.
Responding to the letter, Chief Secretary to the Treasury Liz Truss said, "The final details of the President's visit to the UK, including Scotland, are still to be confirmed… As you are aware, policing is a devolved matter in Scotland."
"However, on an exceptional basis, I can confirm that the Treasury would provide ring-fenced funding of up to £5 million to cover the costs incurred by Police Scotland should a visit by the President be confirmed."
While details of Trump's itinerary are yet to be disclosed, it is expected he will be visiting at least one of his golf courses in Ayrshire and Aberdeenshire after he meets the PM and Her Majesty the Queen at Windsor Castle.
He will land at London Stansted Airport on July 12 for his three-day trip to the UK. Scottish National Party (SNP) leader Nicola Sturgeon welcomed the decision by the UK government, hailing it as a "big result.
In view of Police Scotland's £35 million budget deficit, the news it will no longer have to foot the bill for the much-opposed visit by the Republican leader will be of great relief.
Authorities had previously been warned by Livingstone that the £5 million sum would have "clearly a significant impact on an already very disciplined and focused budget."
But relieving Scottish taxpayers of the financial burden means it is now down to UK workers to bear the cost. That's despite a mass protest taking place in London between July 13 and 14 to oppose Trump's controversial policies.
Up to 53,000 people are expected to walk out in opposition to him landing the UK after being invited by Prime Minister Theresa May shortly after he was sworn in as president in January last year.
The extra money for policing during the American leader's visit is likely to spark controversy given the 20,000-strong police cuts overseen by the Tory government since 2010. The cuts have been linked to the rising level of crime in the capital.
Scotland Yard last week launched its 81st murder investigation in London this year only.
If you like this story, share it with a friend!