40 schools in England ban girls from wearing skirts to accommodate transgender students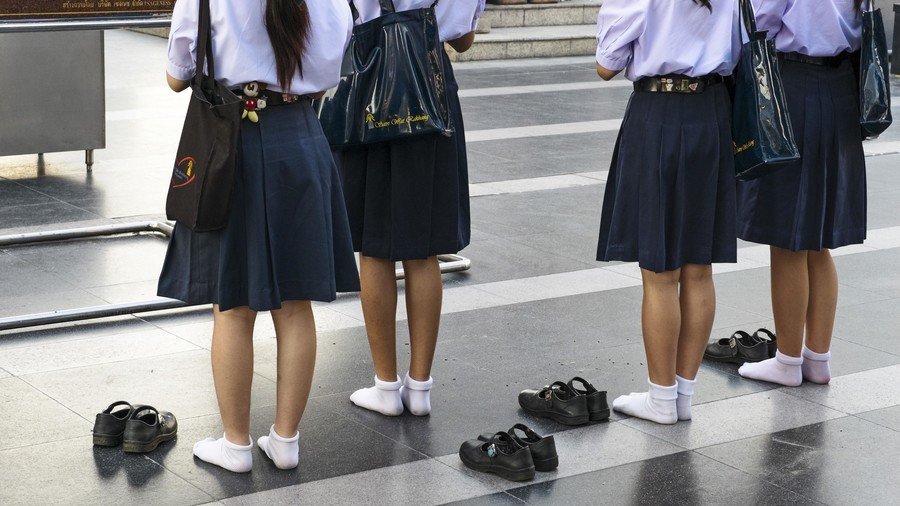 Some 40 secondary schools in England have banned girls from wearing skirts, one month after a school in Oxfordshire recommended it's male students wear them to deal with soaring temperatures.
According to the Sunday Times, schools are opting for gender-neutral uniforms to encompass transgender students, with others consulting on a ban.
Priory School, a secondary in Lewes, East Sussex enforced a ban on skirts and ordered girls to wear trousers instead in an effort to accommodate transgender pupils, after students had asked why girls and boys had to wear different clothes.
Headteacher Tony Smith said in September, "We have a small but increasing number of transgender students and therefore having the same uniform is important for them."
But feminists have complained that a complete ban on skirts in favour of gender-neutral uniform is not the answer to the growing number of transgender pupils, arguing that children should be offered a choice.
Renowned feminist, the American author and former Bill Clinton adviser, Naomi Wolf stated that: "I think that trousers-only for everyone is a silly way to go — unless you are going to also offer the option of skirts-only for everyone. I believe that if everyone is offered the option of both skirts and trousers, everyone can find his, her or their comfortable fit."
Copleston High School, in Ipswich, has put skirts on a list of inadmissible items alongside "skinny jeans and facial piercings". In Ipswich, a total of eight secondary schools prohibit skirts, which means the majority of female pupils in the town attend 'trouser-only' schools.
Skirts at Woodhey High School, in Bury, were classed as "undignified and embarrassing" for staff and visitors when girls sit on the floor for assembly and in drama classes.
I swear most people watch @GMB with the sound off. I do not want to 'ban the skirt' I'm simply supporting Schools who have taken the decision to make their uniform more uniform by making it uniformally trousers for everyone. Outside school, wear whatever you like.

— Natasha Devon MBE (@_NatashaDevon) July 3, 2018
Just read that schools are banning skirts to encourage a gender neutral uniform. I'm sorry, but this is stopping girls from being girls. That's not being neutral that's like a ban in identity. Bloody ridiculous. How on earth has British society reached this point?

— Sarie Weaving (@SWeavie) July 2, 2018
I don't see why they need to ban skirts in schools. I get that we want to include transgender children and we should, at my school it was always a choice if we wanted to wear a skirt or not and no one would've thought anything of someone wearing trousers over a skirt. #GMB

— laura.🧜🏼‍♀️ (@PopcornDonuts) July 3, 2018
There has been a backlash from some schools, who are fighting to save the skirt. Students at Philips High School, Bury, have assembled hundreds of signatories to their petition in reaction to plans to make wearing trousers compulsory for boys and girls next year.
They argue that a ban on skirts is "sexualising" pupils' bodies. Female students at the school also claim that they feel more confident in skirts and forcing them to wear trousers could "damage our mental health." The petition states: "If any teacher believes seeing a child's leg is in any way 'too sexual'," then "they should be sacked immediately for gross misconduct."
Diane Burdaky, parent of a pupil at Philips High School told RT that there had been no consultation process and that the children did "not want to wear trousers all the time."
She said: "I was very shocked. There was no consultation with any parents or students. There was no explanation for the ban. No reasons given whatsoever. I know the children at school do not want to wear trousers all the time."
The latest school skirt furore, follows an Oxfordshire school telling its male students that they can join their female peers by donning the school skirt if they find trousers too hot and uncomfortable.
The advice issued by Chiltern Edge Secondary School came after the school introduced a 'more formal' uniform policy at the beginning of the school year, which stipulated that students' legwear may only be either trousers or skirts.
The growing popularity of adopting gender-neutral uniform policies have grown among UK schools since the introduction of the Equality Act in 2010. Under its provisions, the law leaves schools with a duty to protect transgender students from discrimination.
Like this story? Share it with a friend!
You can share this story on social media: