Arsonists spotted lighting fires only miles away from out-of-control moorland blaze
Published time: 2 Jul, 2018 12:58
Edited time: 3 Jul, 2018 08:17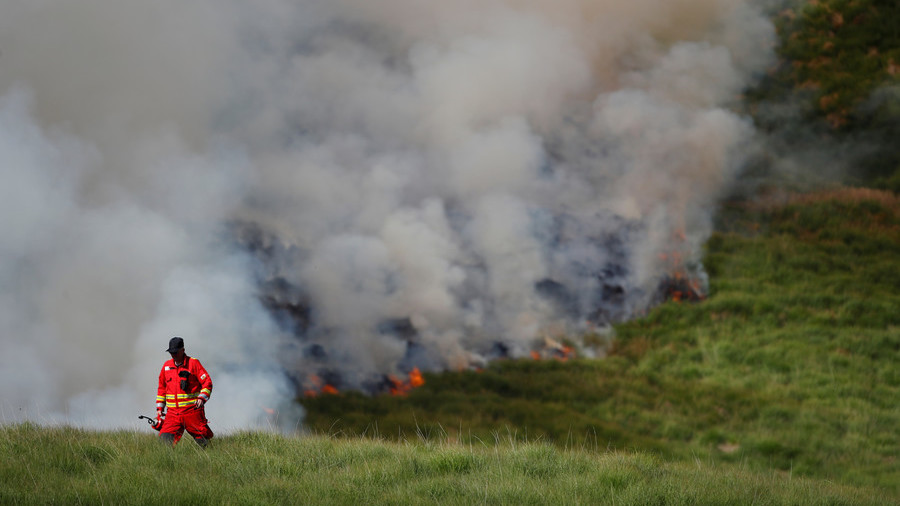 A helicopter has spotted people lighting new fires on a Lancashire Moor, as firefighters battle to contain a blaze raging nearby, at Winter Hill. Fire crews have described the discovery as "heartbreaking and unbelievable."
More than 20 fire engines were ready to take on a new day at the scene of the moorland fire on Monday, with firefighting resumed at dawn. Crews remained at Winter Hill, near Bolton, overnight. Lancashire Fire and Rescue Service (LFRS) confirmed that extra crews arrived at dawn, bringing the total number of fire engines to 22.
"These fire engines are continuing to focus on hotspots around the 8km (5mi) site," the LFRS tweeted. Adding further fuel to the already well-established moor blaze, arsonists were spotted lighting grassfires in the nearby Healey Nab area by a police helicopter.
"As they've been trying to extinguish the fire, people have been seen lighting other grass fires in the vicinity," Tony Crook from Lancashire Fire and Rescue Service told Sky News "Police are now attending the scene, to try to apprehend those arsonists. It absolutely astounds me."
The Lancashire Moor fire was declared a major incident on Saturday after two large fires merged into one monster blaze due to increasing wind speed. Helicopters added to the arsenal of firefighters to drop water bombs on smoldering hot spots and to soak nearby woodland, preventing the fire from spreading further.
The LFRS has been assisted at the Winter Hill fire by Greater Manchester Fire and Rescue Service (GMFRS), which has been fighting its own wildfire on Saddleworth Moor. GMFRS head of prevention Paul Etches said that the moorland fires were "not going away" and it would take "many more days of intense sweat and effort" to extinguish them.
Fire crews have traveled from across the country to help battle the blaze – including crews from the South West and Nottinghamshire. Despite the additional forces, firefighters will have to deal with hot conditions as the week progresses.
Met Office forecaster Helen Roberts said that "the trend is for dry and very warm weather, which is far from ideal. Thunderstorms in the South West are unlikely to reach that far north.
"On Wednesday, there is the potential for showers in that vicinity but it could be a one-off, isolated and unlikely to hit the area. Thursday is similar and any showers would be isolated and fleeting. There is no significant rain forecast this week."
Think your friends would be interested? Share this story!