'Impeccable' baby, not Boris Johnson, praised in chaotic PMQs (VIDEO)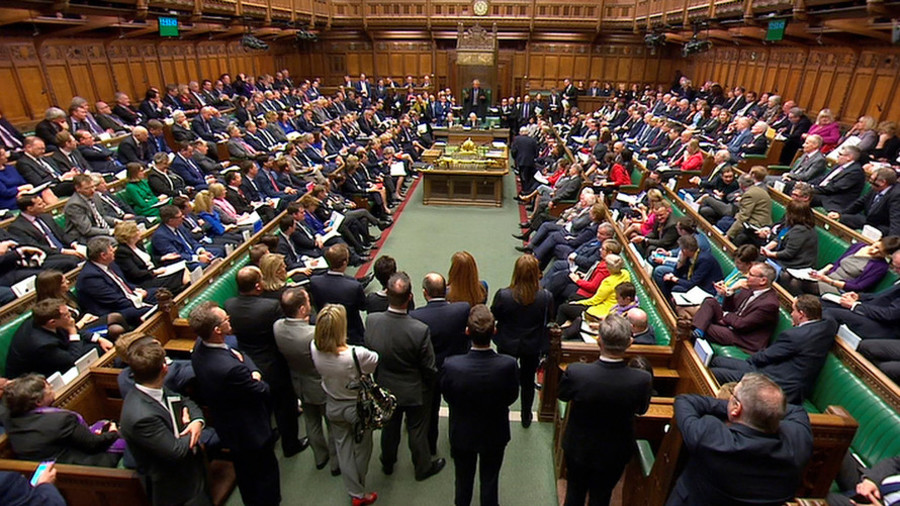 John Bercow, Speaker of the House of Commons, has heaped praise on the "impeccable behavior" of a baby, the daughter of Labour MP, Clive Lewis, after she bared witness to a chaotic PMQs.
Bercow paused proceedings in the House at the end of a disorderly PMQs which saw SNP MPs, led by Westminster leader Ian Blackford, storm out after the Speaker refused a request from him for an immediate vote on their motion "that this House sit in private."
Looking up at the public gallery with a wry smile, Bercow told MPs in the House of Commons: "For all of the turbulence and discord of today's proceedings, the little baby who has been observing them has been a model of impeccable behavior from start to finish."
Laughter and applause, normally forbidden in the House, then ensued. This was followed by gesticulations aimed at the Speaker, intimating that the father of the baby he was referencing was a sitting MP, present during proceedings.
READ MORE: SNP MPs storm out of PMQs after speaker refuses request for immediate vote (VIDEO)
Bercow noted: "And I've just been advised that the father is the Honourable gentleman, the member for Norwich South [Labour MP Clive Lewis]. I'm not going to go so far as to say his behavior is always impeccable but the little baby has been impeccable and I think we salute that."
Lewis responded in good humor to a tweet covering the unusual event that read: "Baby gets round of applause for behaving well". "She was clearly adopted," Lewis replied.
The harmonious end to PMQs was in sharp contrast to the scenes of pandemonium on the SNP benches, raucous laughter on the Tory side and the Speaker's flustered attempt to maintain decorum in the House of Commons.
After initially telling Blackford that he could hold a vote during PMQs, Bercow, to the incredulity of SNP members, then told the Westminster SNP leader that he would hold a vote after the remainder of PMQs, and not before, telling him to sit down. Blackford refused, and chaos followed.
Blackford eventually left the House of Commons with all of his SNP colleagues in tow, in a show of solidarity, much to the amusement of heckling Tory MPs.
Like this story? Share it with a friend!