Fake image of 'Tommy Robinson rally in London' sparks angry social media reaction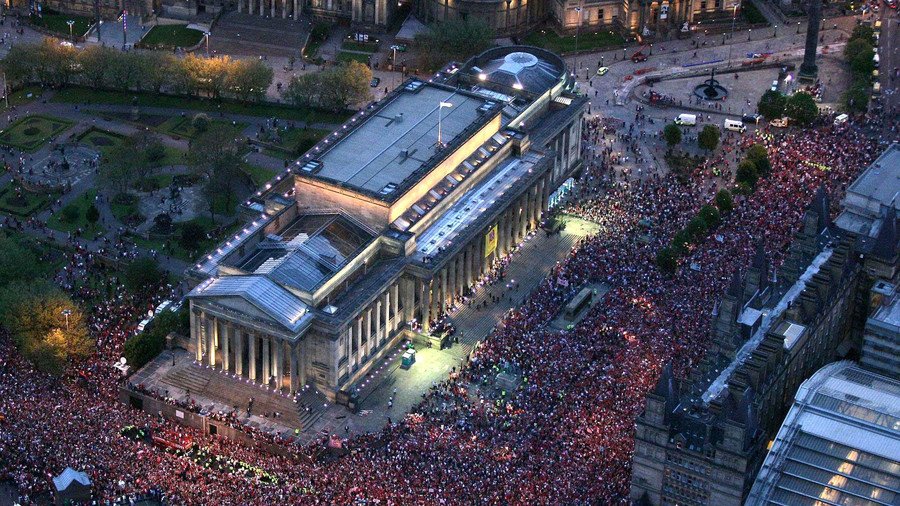 An image purportedly showing a massive demonstration in support of Tommy Robinson in London has turned out to be 'fake news.' Once noticed, the Twitterati were on hand to post angry memes.
READ MORE: Angry Tommy Robinson supporters descend on Leeds city center to protest jail sentence
The aerial photograph, which shows a huge mass of people on the streets around a public building, was posted to Twitter Saturday by Robinson supporter Jason Collins. It has since been shared more than 27,000 times."The left want this picture taken down because it shows the whole London calling for Tommy Robinson to be released so please don't retweet it," the caption read.
Despite Collins' history of posting fake images and videos, the image went viral – but everything was not as it seemed. Twitter users were quick to point out that the picture is actually from Liverpool Football Club's homecoming parade after the team's epic Champions League final victory in 2005. The public building is Liverpool City Hall and the streets are mobbed with supporters more in thrall to Steven Gerrard, Jamie Carragher and Xabi Alonso than the founder of the English Defence League.
READ MORE: Geert Wilders joins 'free Tommy Robinson' march in London (VIDEO)
Robinson was jailed in May after he pled guilty to contempt of court for breaching court reporting laws and threatening the outcome of a grooming trial. A large crowd of supporters staged a demonstration in London Saturday. Right-wing Dutch politician Geert Wilders addressed the crowd with a speech in support of Robinson.
Twitter responded to the attempted misdirection with its usual mix of mirth and memes – some pointing out the ridiculous obviousness of the ruse.
Think your friends would be interested? Share this story!
You can share this story on social media: