Angry Tommy Robinson supporters descend on Leeds city center to protest jail sentence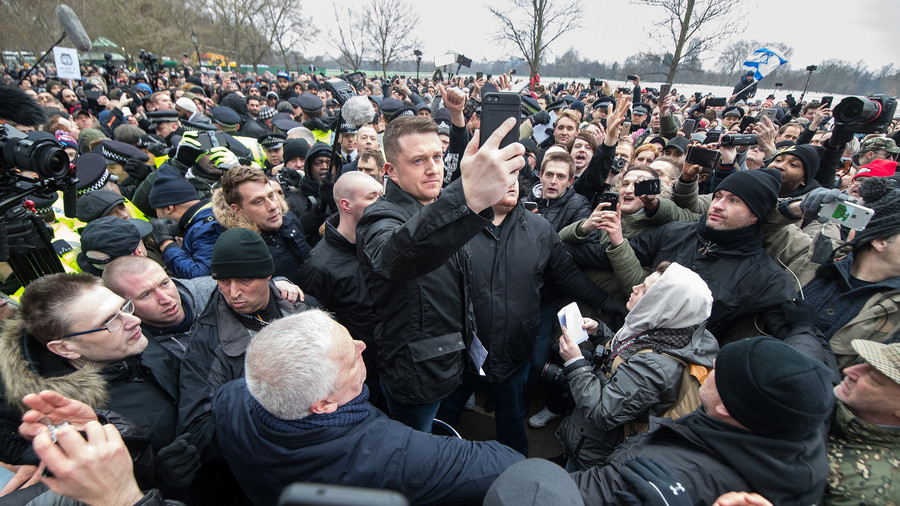 A demonstration in Leeds town center threatened to descend into chaos as hundreds of angry Tommy Robinson supporters turned out to protest the imprisonment of the ex-EDL leader. It's understood police made one arrest.
350 irate picketers gathered outside Leeds Crown Court, who reportedly hurled bottles at police and turning on media present at the march. Reports indicated that a flare was also set off.
One member of the group was seen carrying a banner emblazoned with the slogan 'Stand with Tommy. Free Tommy now'. Another was spotted dressed as the Grim Reaper carrying a sign "free speech is dead" .
Reports indicated that the police presence was increasing by the minute as crowds grew and became more rowdy, yelling"Whose streets, our streets", "shame on you". Chants of "Tommy is a legend" also echoed throughout the town.
Members of the English Defence League (EDL), a far-right street protest movement which focuses on opposition to what it considers to be the spread of Islam, live streamed the protests. In the video, police could be seen lining the streets and sirens could be heard wailing over the bellows of the crowd.
One EDL supporter was heard on video saying "I think that is what the judge needs to hear", as protesters wailed "shame on you". Robinson's fans have spent the last few days on social media lashing out at Judge Geoffrey Marson QC, the man who sentenced the 'free speech advocate' to 13 months in jail for contempt. Marson has been called a "traitor", "pedophile" and some have demanded his address be made public.
READ MORE: Meghan Markle's sister calls on Theresa May to free jailed ex-EDL leader Tommy Robinson
Last week Robinson put a case - which includes 29 charges of child sex and neglect - at risk of a mistrial by live streaming within earshot of jurors as they entered the court. He was sentenced to 13 months jail; ten months for contempt of court and an extra three months for disregarding the terms of his suspended sentence.
Think your friends would be interested? Share this story!
You can share this story on social media: