Trump negotiating Brexit 'would be a fantastic idea' – leaked Boris Johnson recording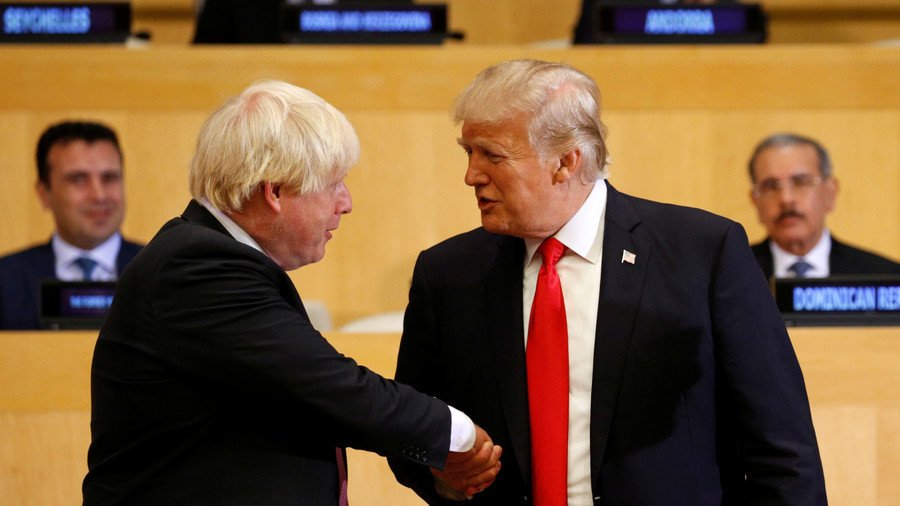 British Foreign Secretary Boris Johnson has praised Donald Trump's ham-fisted approach to deal-making, suggesting the UK would be better off if the US leader took over the Brexit talks. "There is method in his madness," he said.
Ardent Brexiteer Johnson made his remarks during a closed-doors Conservative dinner party on Wednesday evening. A recording of his speech, released by BuzzFeed News, shows the UK top diplomat being his usual flamboyant self as he confessed of his growing admiration for the US leader.
Trump's toughness in negotiating better terms for his country at all costs is what the UK might borrow from the author of the "Art of the Deal," Johnson suggested. Even if his no-nonsense approach might seem like pure craziness at first, it might work out in the end, he said.
"Imagine Trump doing Brexit. He'd go in bloody hard… There'd be all sorts of breakdowns, all sorts of chaos. Everyone would think he'd gone mad. But actually, you might get somewhere. It's a very, very good thought," Johnson said, half-jokingly suggesting to outsource the matter to Trump.
"Trump to negotiate Brexit would be a fantastic idea," he said, causing the audience to erupt in laughter.
While not everyone might have taken the British foreign secretary's words at face value, he then doubled down, saying that he is "increasingly admiring of Donald Trump."
"I have become more and more convinced that there is method in his madness."
Johnson was extolling the virtues of Trump's negotiating skills, which have, so far, put the US at the brink of a trade war with Europe and left the universally acclaimed nuclear deal with Iran in tatters, as he expressed concern that the "Remain Camp" at the heart of the British government may cross many of the Brexiteers' "red lines" with its overly cautious approach to the negotiations.
The UK risks remaining "locked in orbit around the EU, in the customs union and to a large extent still in the single market," Johnson said, adding that he believes British PM Theresa May "is going to go into a phase where we are much more combative with Brussels."
Noting that a potential showdown with the EU might lead to a "meltdown," he assured the crowd that "it's going to be all right in the end."
"OK? I don't want anybody to panic during the meltdown. No panic. Pro bono publico, no bloody panic."
'May to unveil 'rapid response unit' to counter Russia at G7'
Turning his attention to foreign issues, Johnson unleashed a new attack on Russia, accusing it of being "brilliant" in "spreading violence," and called on the international community to stand up to its "aggression."
At the upcoming G7 summit in Canada, May will propose creating a so-called "rapid response unit" to counter all sorts of threats Johnson claimed are coming from Moscow, such as "cyber warfare" and "assassinations."
Meanwhile, the ongoing probe into the poisoning of former double agent Sergei Skripal and his daughter, Yulia, which the UK blamed on Moscow, has so far produced little evidence that the Kremlin was behind the incident. On Wednesday, the German government said that three months after the start of the investigation, it still has not received an inch of evidence to suggest that Russia was culpable.
'US asked for help in dismantling Kim's nukes'
Speaking of the highly-anticipated summit between Trump and North Korea's leader Kim Jong-un in Singapore, Johnson revealed that he was asked by US State Secretary Mike Pompeo to offer British expertise on how to demolish Pyongyang's nuclear arsenal, namely, its ballistic missiles that were once estimated to be able to strike the US mainland.
"What they want us to do is to use our nuclear expertise to dismantle Kim Jong-Un's nuclear missile. That's what he asked me to do today," Johnson said of Pompeo's request.
Earlier, Johnson suggested that Trump should get a Nobel Prize if he is successful in fixing the North Korea issue.
You can share this story on social media: