Lily Allen and Piers Morgan row over machine gun necklace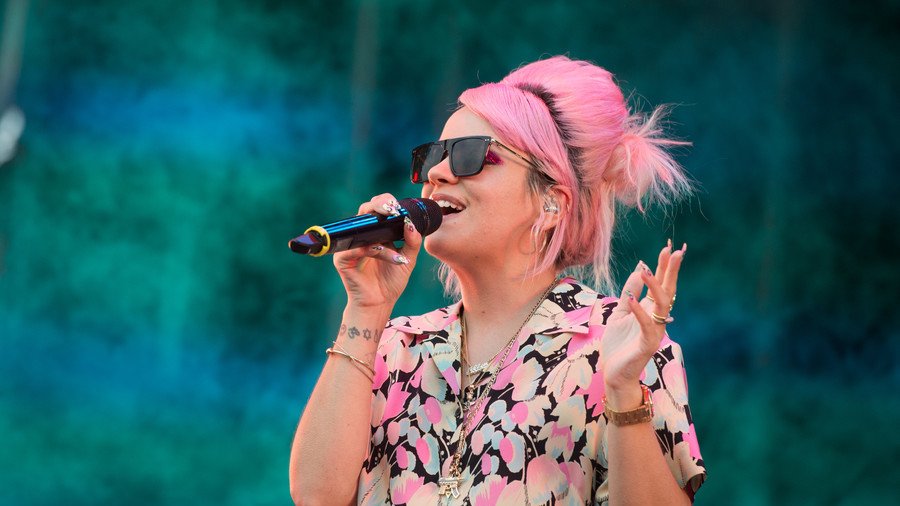 TV presenter Piers Morgan and pop star Lily Allen have been engaging in a Twitter spat about the glamorization of guns, after the ex-Mirror editor challenged the British singer on why she would "wear a machine gun necklace."
Allen, who was pictured at the weekend performing at a music festival in London with an AK-47 machine gun necklace, responded to the outspoken TV presenter by insisting "I'll stop wearing the necklace when you apologize for hacking the phones of dead children. Deal?"
Morgan reminded Allen that it was another national newspaper that was embroiled in that scandal and not his former paper, the Daily Mirror. He asked the singer again why she would wear such a necklace 'when gun violence was on the rise in her city of London.'
The apparent error from Allen didn't seem to put her off her stride in fighting back against Morgan's attack on her choice of accessory. She returned with an apology, claiming that she wears the necklace because "I like it," and then reminding Morgan of why he was fired from the Daily Mirror as editor, asking: "Why did you publish deliberately concocted fake images to smear the British army? That's not very patriotic Piers?"
There was strong support on social media for Allen, with some Twitter users telling Morgan to "stop policing fashion," while others suggested the TV presenter's profile picture 'glamorized cigarettes/cigars' and claimed his ego stops him from doing anything productive on the issue of gun violence.
It comes after Morgan hit out at Manchester City and England footballer Raheem Sterling for having a gun tattoo on his leg, in addition to his GMB show receiving a social media backlash for asking whether "Sterling should step down from England's World Cup squad following his decision to have a gun tattoo."
Allen concluded the altercation by telling Morgan that he should spend less time "provoking people like me and Raheem and more time lobbying his actual mates" who were in a position to do something about "cuts to policing and youth services;" insisting "Necklaces and tattoos are NOT the problem here."
Like this story? Share it with a friend!
You can share this story on social media: