Trump-praising, Tory-supporting Jewish leader labels Corbyn an anti-Semite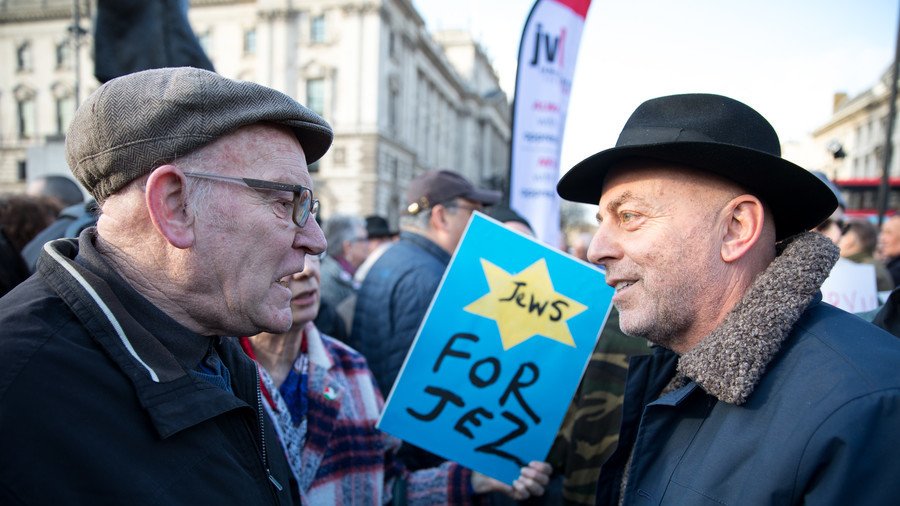 Jonathan Arkush, the outgoing president of the Board of Deputies of British Jews, has said that Labour leader Jeremy Corbyn "has views which are anti-Semitic and problematic" in an interview for The Telegraph.
The Jewish leader and barrister of more than 30 years has been an outspoken critic of Corbyn since he became president of the board in 2015. In the interview he asks the Labour leader to offer "some clarity on his real views about Israel."
He cites Corbyn's association with the Palestine Solidarity Campaign (PSC) group as being problematic, because "If you look at its [PSC] logo and language, it's quite clear its world picture has no room for Israel." He adds: "Delegitimizing the State of Israel is anti-Semitic. He was a chairman of Stop the War, which is responsible for some of the worst anti-Israel discourse."
Responding to the article, Corbyn's spokesperson said: "Jonathan Arkush's attempt to conflate strong criticism of Israeli state policies with anti-Semitism is wrong and undermines the fight both against anti-Semitism and for justice for the Palestinians. It should be rejected outright."
Arkush equating the 'delegitimization of the State of Israel' to anti-Semitism is just one of a many controversial statements made by the barrister.
Congratulating Donald Trump
In November 2016, Arkush congratulated Donald Trump on his US election win, sparking a backlash from British Jews, reports the Jewish Chronicle. In a statement published on the board's website after Trump's victory, Mr Arkush said: "I would like to congratulate Donald Trump on his victory.
"After a divisive campaign, I hope that Mr Trump will move to build bridges and ensure that America's standing as a beacon of progress, tolerance and free-thinking remains strong."
Around 200 young members of the community, including several deputies, members of the Jewish Labour Movement, and Jewish student society presidents, sent the Board of Deputies a co-signed letter, which called Arkush's statement "laughable," reported the Jewish News.
Supporting the moving the US embassy to Jerusalem
Writing in the Times of Israel in December 2017, Arkush hailed Trump's decision to move the US embassy to Jerusalem.
"Why is it apparently so controversial that the United States is taking the decision to recognize what we already know, that Jerusalem is the capital of Israel," wrote Arkush. He makes little reference to Palestinians in his article, only that the "US government is not passing judgement on what a final status agreement between the Israelis and the Palestinians will look like."
Protests that followed Trump's decision coincided with Palestinians' 'great march of return' that led to more than 100 Palestinians being killed, since March 30, 2018.
Encouraged people to vote Tory at the 2015 GE and expressed sadness at the 2017 GE result
The Jewish News reported that Arkush advocated the election of a Tory government at the 2015 GE because "we have a PM and Government who gets it on with Israel. Whether or not you are a Conservative supporter, isn't the communal interest best served by them getting re-elected?"
His support for the Conservatives was expressed again when he described the result of the 2017 GE, where Theresa May's Tory party lost their outright majority as an unequivocal "loss." Arkush told The Times of Israel that "If the governing party, which is a strong supporter of Israel, loses so much ground, then of course it has to be something of a loss for Israel and the Jewish community."
On Jeremy Corbyn's unexpectedly strong showing at the election he told the Jewish Post that "Corbyn is not a Labour Party leader who is trusted by the Jewish community."
This partisan display has prompted social media users to brand Arkush's latest attack on Corbyn as being either politically motivated or having nothing to do with antisemitism.
"Jonathan Arkush, the outgoing President of the Board of Deputies.....""... Jewish leader and Tory supporter ...."Not that he has an agenda or anything...... https://t.co/aCAjbYI6SV

— Neil Russell PTFE (@NeilRu55ell) May 30, 2018
Total disgrace. As Howard Jacobson pointed out, worst smear against Jews is they fabricate anti-Semitism to serve own agenda- and Arkush seems to have done just that. There is no evidence Corbyn is personally anti-Semitic. Fight against real anti-Semitism has now got much harder. https://t.co/wUpXkJbARV

— Jonathan Lis (@jonlis1) May 31, 2018
Action against AS in the Labour Party is taking place, Richard. But the likes of Arkush will only be satisified with the blanket purge of all those who speak up for the Palestinian people. If you can't see his agenda, you must be willingly blind.

— Mitch Blood (@mitchellblood) May 31, 2018
Condemned Tory Ruth Davidson for her criticism of Israel's illegal settlement building
Arkush's criticism is not solely directed at the Labour party. He also chides figures on the right should they criticize Israel. In September 2017 Arkush condemned Scottish MP Ruth Davidson after she said building illegal settlements in the occupied Palestinian territory was "unacceptable." He responded by saying that "Anyone who knows me will know that I would take issue quite strongly with (Ms Davidson's) language."
Why would Arkush condemn Davidson for highlighting what is recognized under International law; that Israel has and continues to build illegal settlements in the occupied Palestinian territories?
UN Security Council, December 2016 – "Israel's Settlements Have No Legal Validity, Constitute Flagrant Violation of International Law"
Arkush does not promote a neutral line when it comes to his political inclinations. He makes it explicit that he trusts May and the Tories and is suspicious of Corbyn's Labour party, seemingly his only basis for this is which party supports Israel, criticizing it the least.
Omar Baggili, RT Journalist
Like this story? Share it with a friend!
You can share this story on social media: