'Chopping up animal corpses is barbaric': Vegan 'terrorists' threaten to petrol bomb UK butchers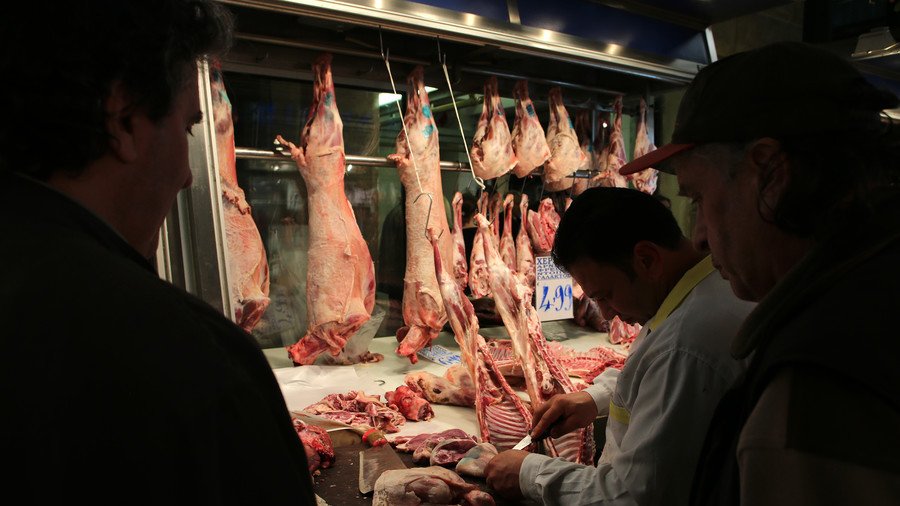 Staff of a family-run butcher shop are living in fear after receiving death threats from vegan activists. In a less violent approach others have also targeted the shop by leaving negative reviews on social media.
Activists spray painted 'Stop Killing Animals. Go vegan' and the logo of the Animal Liberation Front across the front of Marlow Butchers in Kent. The business has received dozens of threats, including one message that said the shop would be petrol bombed, along with slightly less sinister one-star reviews on Facebook.
It is unclear why this business in particular has been targeted.
Wayne Marlow, who runs the shop with his father, Trevor, and brother, Martin, said that vegans from around the world were terrorising their family business. "It has got ridiculous," he said.
"Activists from as far away as Australia are getting involved. Not only are they threatening to physically destroy our business but they are also trying to ruin our reputation by leaving negative reviews and comments. They want to close us down and people are threatening to smash the windows or petrol bomb the store."
Trevor Marlow – who has been a butcher for five decades – was so worried about the threats being made against them that he reported the threats to police after the May 7 graffiti attack.
Vicious vegans also flooded the shop's Facebook page to leave negative reviews of the family business. Henry Washington Hutchings left a one-star Facebook review, stating that: "Chopping up the corpses of innocent animals and using their flesh for food is barbaric."
Another user, named Avril Elaine Sims said that Marlow's is a "terrible place that profits from the sales of animal body parts. No different to others that trade in elephant, tiger or rhino body parts. In fact it's worse as farmed animals are born only to be murdered." A spokesman for Kent Police said officers are investigating the report of "malicious communications and harassment" aimed at the business.
Others have used social media to defend the family-run shop. Vegan and Facebook user Gary Wills condemned the behavior of his fellow vegans, stating: "I bet you've got a very reputable business with great quality products.
"It's unfortunate that some so-called vegans think trying to vandalise someone's business is a legitimate way to get their message across," he said. "All it does is give the vegan lifestyle a bad name. As a vegan myself I hope your business recovers from this as I know it's your livelihood."
Manchester resident Robert Ward chimed in with words of support. "...I am absolutely disgusted and sickened that these extreme left wing vegan terrorists are targeting your business," he said.
Chief executive of rural advocacy group the Countryside Alliance Tim Bonner told The Telegraph that attacks on butchers, markets, and even abattoirs are on the rise. "It's an extension of animal rights campaigns we have seen around other areas, using the same tactics including online abuse," he said. "They usually attack small independent businesses rather than taking on the big boys – it's quite cowardly."
"Social media has been a catalyst for much of this campaigning, both in terms of bringing together international groups and, if they find the right independent business, it does bring a lot of pressure on family businesses and farmers."
He added that social media companies did not take the threats seriously enough. "None of the social media platforms view the abuse of those involved in meat production as they would other minorities," Bonner said. "This is understandable but there has to be an equality of response when people like this butcher or others are being targeted.
"It's both personally threatening and people feel unsafe, they are not putting themselves forward on a controversial issue, they are just carrying on the business that their family has for generations.
"There's a really nasty and cowardly tactic, using things like TripAdvisor and other online platforms to do fake reviews and it can have a direct effect on their livelihood."
Think your friends would be interested? Share this story!
You can share this story on social media: