Party like a Russian... minister? Saratov officials caught drunk & half-naked inside state-owned car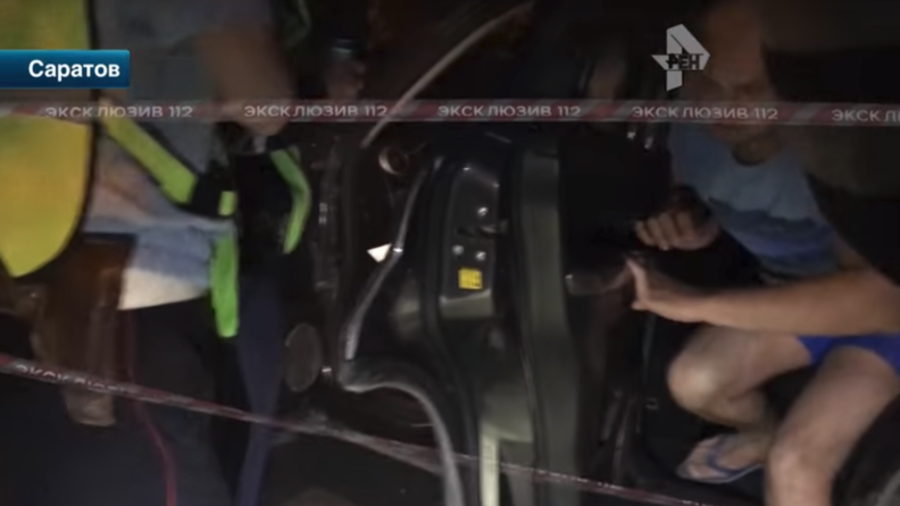 A routine traffic stop triggered a full-scale political scandal in Russia's Saratov region after police discovered a local minister and a young female official drunk and half-naked inside a state-issued car during his vacation.
The incident took place early in the morning on May 25, when road police stopped a vehicle travelling with its lights off. Behind the wheel was a female driver wearing an unbuttoned bodysuit, while a man, sporting only a t-shirt and boxers, was sleeping in the car's backseat. Both of them were seemingly heavily intoxicated.
The woman, who resembled a local bureaucrat assigned to child care and wellbeing, Maria Mischenko, tried to wake up her passenger by shaking his leg and calling him "Sasha, Sasha" (short for Aleksandr) while threatening the police officers that would be "problems" when he woke up.
The man eventually regained consciousness, producing papers for the state-owned vehicle. He turned out to be the finance minister of the Saratov region, Aleksandr Viskrebentsev, who, according to the ministry, is on holiday until the end of the month. He asked the police for a lighter to have an after-nap smoke and even tried to escape the scene before the showdown.
Since the driver failed to provide any papers and the man could only identify her by name, the officers took the woman to a nearby police station, where she refused to take an alcohol test. A relative of Mischenko told Ren TV that the woman could not possibly be involved in an incident of such sort because she is "on maternity leave," and, moreover, "does not drink at all."
The scandalous footage triggered an investigation into the alleged misuse of the state-owned vehicle. If it emerges that Viskrebentsev ordered Mischenko to get behind the wheel, both officials will lose their driver licenses.
"The governor ordered to create a special commission, led by the deputy governor Igor Pivovarov to look into all the details, draw conclusions and draft a decision on the matter. The commission is working, the decision will be made shortly," a spokesperson for the Saratov governor's office told Gazeta.Ru. A source in the regional administration, meanwhile, told the outlet that Viskrebentsev would likely get fired as soon as he returns from his "vacation."
Like this story? Share it with a friend!
You can share this story on social media: