'Britain is not racist, Meghan Markle proves it' - argues white, Etonian, neocon Douglas Murray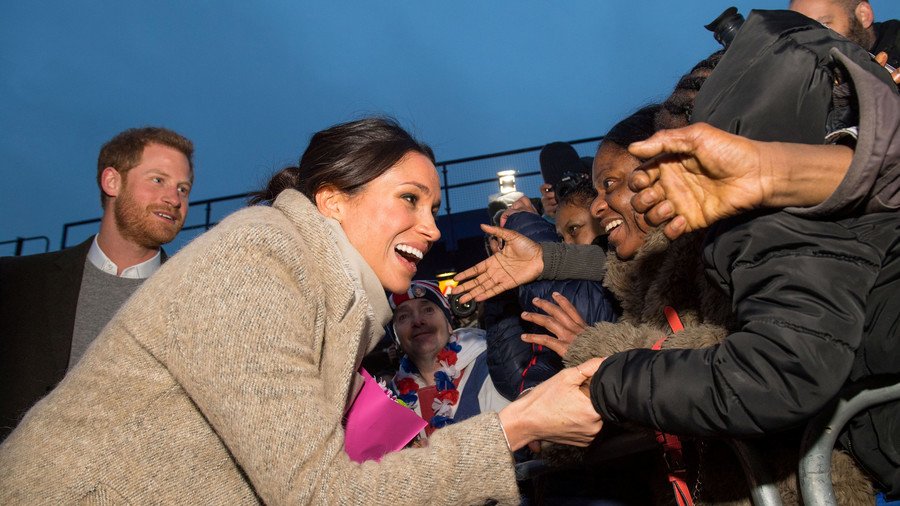 Neocon Douglas Murray's attempt to destroy 'the myth of British racism' by citing that Brits 'warmly received' Meghan Markle 'into their hearts,' is ambitious for an author with a litany of Islamophobia accusations to his name.
In a frankly bizarre piece by the white, middle class, Eton and Oxford educated, associate director of the right-wing neocon think tank, The Henry Jackson Society, Murray tried to make the argument that the recent royal wedding between one white, privileged, royal and a mixed-race celebrity, was proof that Britain has no racism issue.
"Why would Meghan Markle have been so warmly received into the heart of the British public?" the author asks in his Spectator piece. Musing more, Murray wonders: "why did angry crowds not line the route of the royal carriage to shout insults at the newly married couple?"
READ MORE: 'They called me Bin Laden': Muslims most hit by hate crimes in Nottingham, new study reveals
Don't expect to see Murray's system for judging a population's prejudice, a comparison between the amount of flags waived to the decibel level of insults shouted at a royal carriage, at a university humanities department near you.
Murray opens his piece by delegitimizing figures that showed a rise in hate crimes following the EU Referendum, saying that there had been a "parade of pseudo-scientific claims that 'hate crime has soared'", insisting he and the majority of Brits "knew all this to be nonsense."
It's safe to say that some on social media have been left aghast at Murray's bold claims. Guardian journalist, Afua Hirsch, asks whether Murray, as a white man that appears to have had a privileged upbringing, is really the right individual to make such grand claims on race, as she tweeted:
While academic Jonathan Portes, among others, questions how the Spectator could ever profess to claim there is no racism in Britain when the magazine published an article last week by right winger, Taki Theodoracopulos originally headlined: "In praise of the Wehrmacht".
The accusations of racism stretch beyond Murray's colleagues, with the writer himself widely regarded by many as Islamophobic for, among many assertions, suggesting in his book 'Islamophilia' that the idea that Islam is a religion of peace is "a nicety invented by Western politicians."
Paul Goodman from Conservativehome.com reported that Douglas Murray made a speech in the Dutch Parliament in 2006 called "What are we to do about Islam?" In which he recommended that a hostile environment for Muslims was the answer to the Islam 'problem' as he told elected officials "conditions for Muslims in Europe must be made harder across the board: "Europe must look like a less attractive proposition".
As a result of his inflammatory speech to the Dutch parliament, Murray now requires police protection when visiting the Netherlands, according to the BBC.
What is striking about Murray's article is that he fails to detail any statistics to back up his claims. How can a well-to-do white man base his judgement on personal observations alone? Does he seriously think that peppering his piece with mentions of people of color at the Royal Wedding provides substantive evidence that racism in Britain is a myth? How often does Murray leave the Spectator, Henry Jackson, Eton old-boy bubble?
There is some actual expert analysis mentioned in Murray's piece, though it is only included for the writer to mock. He cites the recent conclusion made by the UN's 'special rapporteur on racism', Tendayi Achiume, who found that "racism had been 'normalized' in the UK since the Brexit vote".
But not one to listen to experts he disagrees with, Murray suggests that the UN official must have felt pressured to come up with something negative to justify their trip, writing "I suppose no one likes to do themselves out of a job, do they?"
On that warm welcome Murray talks about, British publications like the MailOnline welcomed Meghan Markle and her family into the hearts of the British public with features that describe her hometown of Crenshaw, LA as "straight outta Compton" that is "plagued by crime and riddled with street gangs." While the MailOnline's comment section, frequented by trolls from across the world no doubt, was awash with racist and sexist language.
While we can only hope that great bastion of race equality, Harry's grandad - Prince Philip, has not been left alone with Meghan where he could get the opportunity to deliver one of his own famous 'warm welcomes'. Greetings such as: "If you stay here much longer you'll all be slitty-eyed" (to a group of British students during a royal visit to China) or "Still throwing spears?" (question put to an Aboriginal Australian).
For real evidence of British racism, Murray would do well to sit down with a black MP, such as Diane Abbott who was revealed by Amnesty International as receiving nearly 50% of all abuse directed at British parliamentarians on social media, during the lead up to the 2017 General election. Abbott told the Amnesty International study, that she had received hundreds of letters including ones "covered in swastikas and pictures of monkeys and chimpanzees".
Spend some time with her and then tell your Spectator readers that racism in Britain is a myth.
Omar Baggili, RT Journalist
Like this story? Share it with a friend!
You can share this story on social media: