'Too old for ISIS, they'd behead her' – Local Labour official condemned for Thornberry remarks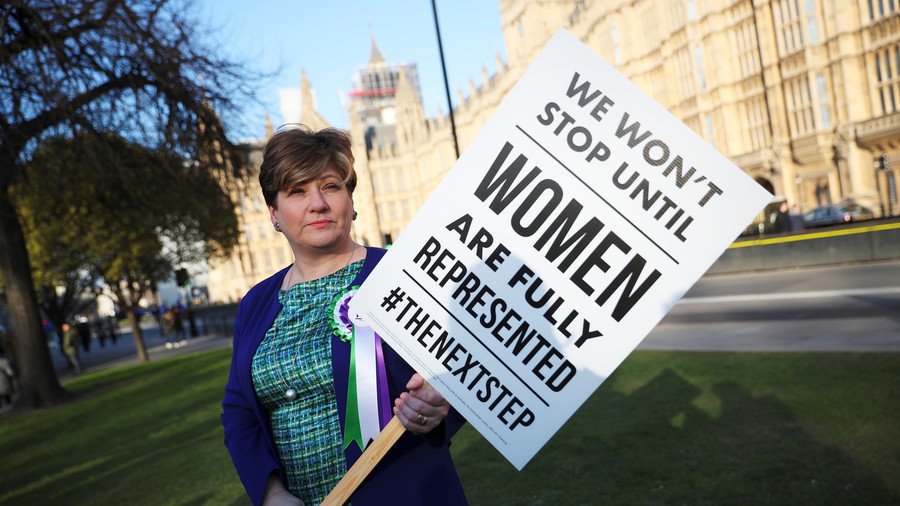 A local Labour Party official has come under fire for a tweet that dates back to 2016, when he claimed Shadow Foreign Secretary Emily Thornberry was "too old for ISIS," adding they'd "behead her and dump her in a mass grave."
Guardian journalist and author Owen Jones tweeted the now-deleted post from Lewisham East CLP chair Ian McKenzie, who said: "Emily Thornberry is too old for ISIS [Islamic State/IS]. They won't make a sex slave of her. They'll behead her and dump her in a mass grave."
In an additional tweet he said: "Maybe she'd agree sex slavery to one man only, provided he didn't sell on or insist on gang rape." The post provoked consternation from many on social media.
The tweet was hardly befitting of a senior local official for Labour, some may suggest, particularly in light of the reported purge of members who backed Jeremy Corbyn in the run-up to the leadership election in 2016. Corbyn-supporting members reported that they were suspended for trivial reasons such as previously being a member of the Green Party, or naming a fellow Labour member a Blairite – a term seen by Labour's compliance unit as "abusive," according to those suspended.
On social media there have been calls for McKenzie to resign and one Labour member describes her "unfortunate" meeting with the Lewisham East chair.
It comes after a weekend that saw Lewisham East Labour select Janet Darby, to edge out Momentum's favored Corbynista candidate, Sakina Sheikh. The pair were among those vying for the chance to replace Heidi Alexander as MP, after she took a job at city hall as deputy mayor for transport of London.
READ MORE: Assad more widely supported in Syria than West estimates - Labour's Emily Thornberry
Many mainstream political journalists interpreted this local party candidate election as a victory for 'moderates' and a defeat for the 'left', despite Darby claiming she had voted for Corbyn at both the 2015 and 2016 leadership elections.
One such journalist was Dan Hodges, the Mail Online's 'political guru', who famously predicted that Corbyn would be "Crushed. Marmalised. Absolutely humiliated," in the 2015 Labour leadership election. Hodges took exception to what he saw as the 'targeting' of Lewisham East chair McKenzie, by Corbynites such as the aforementioned Jones who were highlighting his controversial 2016 tweet.
Sympathy for McKenzie from Hodges, but not for Thornberry – even though it would appear that she has been the victim of violent misogynist abuse by the chair of Lewisham East Labour.
Labour 'moderate' Mike Gapes was asked by Jones to condemn remarks made by McKenzie after it was claimed the MP for Ilford South retweeted support for the Lewisham East chair.
Responding to Gapes labeling him a "troll" and "sectarian bully", Jones asked:
There has been no response from Gapes. Has the consistent Corbyn critic and defender of the Israeli government forgotten this tweet in 2016, where he asks a social media user: "When anyone calls out misogyny and anti semitism I support them. Don't you?" Or is this simply an illustration of the likes of Gapes playing politics to support his agenda and that of other moderates against the left of the Labour Party?
Novara Media's Aaron Bastani reports that, to date, not one Lewisham councillor has condemned McKenzie's remarks.
Jennie Formby, the new general secretary of Labour, has a serious job on her hands to take charge of what appears to be a minefield of internal politics at play. She and Labour's compliance unit, already inundated with issues of members' conduct that predates her appointment, is now seemingly tasked with deciding whether McKenzie has brought the party into disrepute.
Omar Baggili, RT Journalist
Like this story? Share it with a friend!
You can share this story on social media: