Tory discount chicken card won't fly as Nando's cries foul over plan to lure young members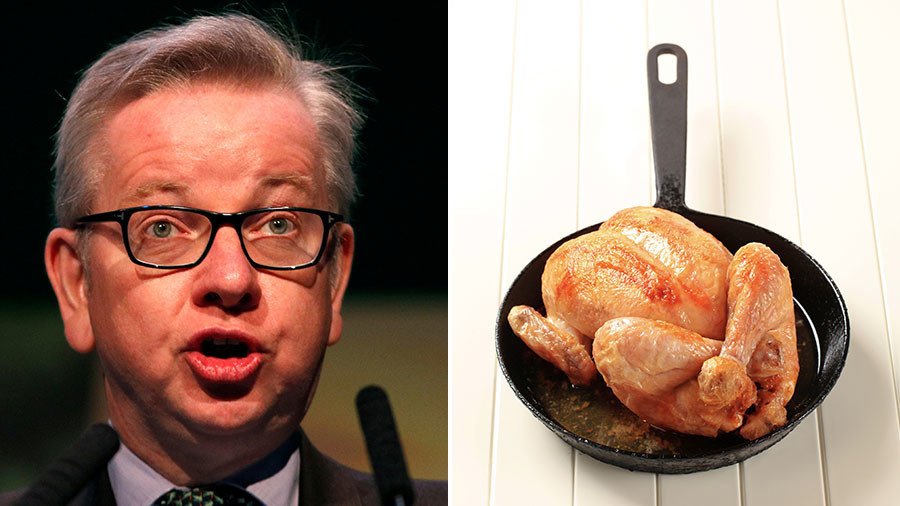 It may have sounded like a good idea at the time, but discussions by the Tories to offer a discount card for restaurant chains like Nando's in order to attract younger members has fallen foul with the spicy chicken firm.
Cheaper piri-piri along with clothes and other deals were suggested as potential incentives which could increase the take up by Britain's youth of the party's £25-a-year standard membership subscription.
At present, such a subscription entitles activists to a party membership card, regular party updates and the option to buy a pass to attend the Conservatives' annual conference, which comes in at a further £110.
The measures were proposed by the Tories ahead of a speech by Environment Secretary Michael Gove later tonight, who will urge party chiefs to "go further" in attempts to widen its activist base at the launch of another center-right think tank, Onward.
Ahead of Gove's speech, a senior party source told The Times that talks about discount cards are "a very real possibility," but are in "early discussions," with the party not sure about "how many businesses would want to take part, but we're keen to give members more in return for their membership."
But before the talks, and Gove's speech, could get off the ground, Nando's has come out denying that chicken-loving Tories would be availing of such a discount scheme saying that the company "has no political affiliations as a brand and no political discount card exists."
Hey, Nando's has no political affiliations as a brand and no political discount card exists.

— Nando's (@NandosUK) May 21, 2018
Onward was set up by Conservative MP Neil O'Brien, and former adviser to Theresa May, Will Tanner, and is also backed by the Conservative's leader in Scotland, Ruth Davidson.
While Onward and Gove are unlikely to talk chicken at Monday night's event, Gove is expected to say that the party's at its "best when it appeals beyond its core vote and puts forward a reforming, forward-looking agenda that responds to the concerns of the entire nation."
Pointing to the Tories gains in certain Labour strongholds, Gove will say: "At last year's election we proved that our values and policies resonate in places once thought impenetrable Labour strongholds, but we need to go further to convince more people that we understand the need for change."
Onward is also likely to point to new figures which show that only one in five BAME (Black Asian and Minority Ethnic) voters support the Conservatives while the proportion of BAME voters in the UK is expected to double over coming decades.
READ MORE: Grenfell rehousing effort has been 'too slow', Conservatives admit (VIDEO)
"The Conservative Party will not win from its ideological fringes. We need to be the party of both traditional working class who are disillusioned with Corbyn's Labour and the party of younger, metropolitan voters at ease with the modern world. If we don't we will forfeit our political relevance and be finished for at least a generation," Mr Tanner said.
While Labour Party membership has soared in the last two years to an excess of 550,000 members, making it the largest political party in western Europe, Conservative Party membership stands at around 124,000, a quarter of Labour's, leading to discussions within the party on how to boost its youth membership.
While the increase in Labour's numbers still leaves its average age at around 53 years old, a lack of clear data on the Conservative Party means conflicting studies in the last 12 months puts the average age of a paid-up Tory between 57 at its lowest and 72 at its highest, meaning the average member for both parties are no spring chickens.
READ MORE: Tory-linked Activate risks legal action over 'libelous' claim Corbyn met with Assad 2 years ago
Previous efforts of engaging with young people have had mixed results. An earlier incarnation of its youth wing, Conservative Future, was shut down in 2015 amid links to a bullying scandal and the suicide of an activist.
In August 2017, young Tory members attempted to set up Activate, the Conservatives equivalent to the Labour-supporting, 40,000-member strong Momentum. The group was still in its infancy when it became embroiled in controversy after a WhatsApp group showed members joking about "gassing Chavs" and "shooting peasants."
Activate later clarified for The Independent that: "None of the people included in those messages currently have any seniority with the organisation. We are working on ensuring that the people in question are removed from the group as a whole, if still members. They were banned from the WhatsApp group in question when comments like this were made."
In a surreal twist rival Twitter accounts, each claiming to speak for the Activate while labeling the other one as fake, bickered as the group - much like it's predecessors - drifted into obscurity.
Think your friends would be interested? Share this story!
You can share this story on social media: