Spy plays politics: MI5 chief uses terrorism and Russia threat to beg for Brexit clemency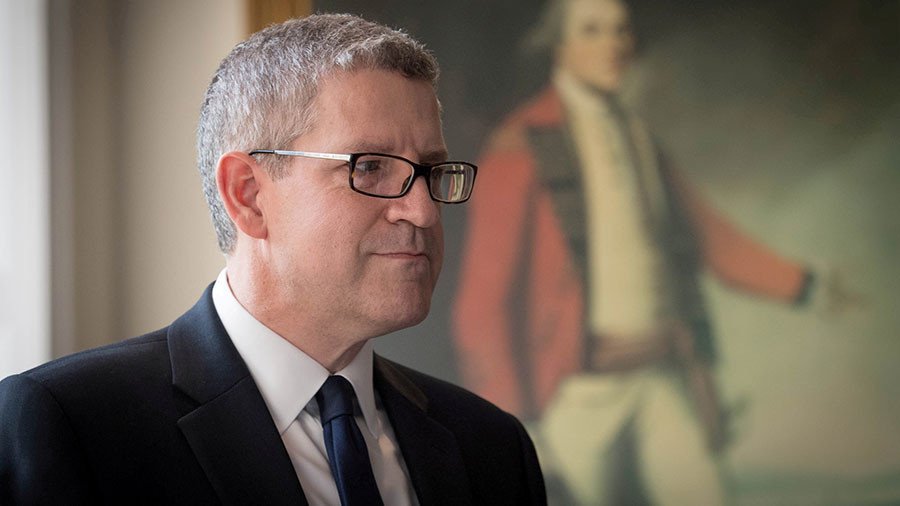 Andrew Parker's visit to Berlin on Monday is being held up as historic, the first public speech outside Britain by a serving head of MI5. However, rather than a spy, Germany got a politician with a Brexit begging letter.
The basic message was that Russia and Muslim terrorists are coming to get you, and you need Britain to help, so please don't hold Brexit against us. The structure of the speech from Parker to other intelligence agencies was classic political theory. Introduce an enemy (Russians and Islamic terrorists), create fear (the Reds are in your Twitter feed), offer a solution (just be our friend after Brexit).
Some of the initial lessons we learned: Being the head of MI5 does not rely on charisma. Being Britain's chief domestic spy is very much a political position. Spies and politicians are being given the same talking points.
In Britain at the moment it's hard to decipher whether policy on key issues is being driven more by intelligence, or the intelligence services are being driven by politics. This is a potentially serious issue because politics in Britain is a mess, and the intelligence service has been repeatedly tarnished.
The Tory cabinet is at war with itself and needs a distraction, and MI6 has just been found complicit in the torture of a Libyan man and his pregnant wife at the hands of Colonel Gaddafi. Let's not even mention Iraq. This is why so few people are willing to blindly accept accusations made by the establishment in Britain, especially as it increasingly seems that the need for evidence is secondary.
Parker used two enemies to make his points. First Islamic militancy, which in some ways is problematic as a foe to rally around. On the one hand, MI5 can use Islamic terrorism and ISIS as a way of claiming non-specific success. Parker for example said 12 attempted terror attacks have been foiled since the Westminster terror attacks in 2017, although you'll have to take his word for that, as is the way with intelligence services. Being able to make claims of success without the need to produce evidence is an extremely useful political weapon.
READ MORE: MI5 vetted thousands of BBC staff to keep 'evil' and 'subversive' lefties out
Then there's Russia. MI5's enemy of choice is back in fashion and extremely useful as you can throw almost any accusation at Moscow because realistically the threat is much less real and actual conflict is extremely unlikely. Parker, who remember is a spy, said of Russia that: "Bare faced lying seems to be the default mode, coupled with ridicule of critics."
He said Moscow's alleged tactics are "known these days by the term hybrid threats." These threats he listed as "media manipulation, social media disinformation and distortion."
If you looked at all the morning newspapers in Britain ahead of this speech, you would have seen detailed accounts of this address before it had even happened, and let's not forget that the Foreign Office recently admitted deleting tweets on social media about the Sainsbury poisoning. To accuse the Russian government of media manipulation or disinformation has more than a hint of throwing stones in glass houses.
Is MI5 Andrew Parker talking about UK or Russia? Throw confusion and doubt? Reckless intervention in other countries? Repeating accusations until people think they are true? He's talking into a mirror.

— Dangerous Times (@truthtrulove) May 14, 2018
MI5 director general, Andrew Parker tells us how lucky we are that we can enjoy the freedom of a true democracy (?!), two thirds of social media that don't agree with him are Russian Bot accounts (me), oh and to vote conservative.

— Comrade Philski 'Back in the USSR' Mikinnonoff (@philmckinnon2) May 14, 2018
When addressing the nerve agent attack on former spy Sergei Skripal and his daughter Yulia in Salisbury, Parker accused Russia of launching a "cynical and distasteful information campaign", with at least 30 different "so-called explanations". Again there is always this underlying hypocrisy when accusations like this are made, because there is no denying that that the British press has been full of theories about what happened in Salisbury, with many of them sourced to anonymous figures in the security services.
It pays to remember that even if the head of MI5 appears to be giving a political speech, he's still a spy with spy tactics. One of the more interesting criticisms from Parker was to call the Russian government the "chief protagonist" in trying to undermine European democracies which risked making it a "more isolated pariah". Considering that this speech was in many ways a Brexit begging letter to Britain's European allies not to sideline the UK after it leaves the EU, it's not unreasonable to suggest that London should be more concerned about its own isolation.
You can share this story on social media: