'The smelly kid in class': Former Met officer taunts Julian Assange's mother on Twitter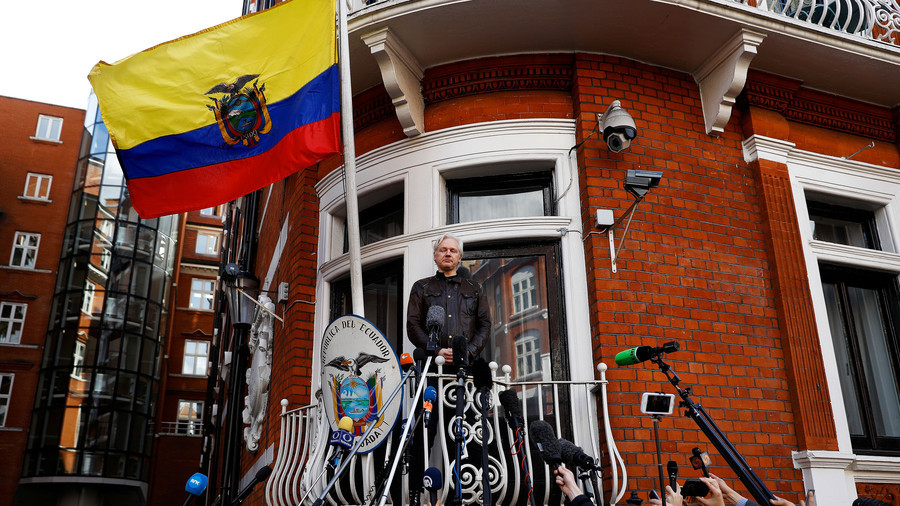 A former Met detective superintendent, who was in charge of Scotland Yard's investigation into the Edward Snowden leaks, took to Twitter to troll Julian Assange's mom ahead of Mother's Day.
Christine Assange tweeted messages highlighting her son's seven-year detention in the UK without charge. Former cop Caroline Goode replied, taunting her to get her son to leave the Ecuadorian embassy in London, where he has remained since seeking political asylum there in 2012.
READ MORE: 'They're trying to kill him': Pamela Anderson wants Kanye's help to free Assange
"I don't know what he's told his old Mum, but he can leave any time he chooses. Tell him to come on out. Btw, how did you let your baby boy be the smelly kid in class?" Goode wrote in a message that has since been deleted.
Christine Assange responded to Goode's tweet, telling her that she appeared to be ignorant of the legal facts in the case. In a later tweet, Assange's mother called out trolls generally, challenging them to "try harder" in their efforts to undermine her support for her son.
Goode was the senior investigating officer in the Metropolitan Police's Counter-Terrorism Command, and headed up Scotland Yard's investigation into the distribution of material leaked by NSA contractor Edward Snowden. She gave evidence that material seized from Davide Miranda, the partner of journalist Glenn Greenwald, was a risk to national security. Miranda was held and questioned for nine hours at Heathrow Airport in 2013 as he attempted to travel home to Rio de Janeiro.
The retired Met officer made Britain's New Year's Honours list in 2011 for leading the investigation into the murder of 20-year-old Banaz Mahmod, the victim of a so-called honor killing.
Supporters of WikiLeaks called out Goode's "bullying" behavior on Twitter and accused her of being a hypocrite, pointing to a previous statement she made calling for common decency and compassion.
Others pointed out the particularly harsh timing of the tweet, coming on the cusp of Mother's Day, which is celebrated on Sunday in Australia and the US.
Meanwhile, Assange's mother has thanked supporters for sending her messages of gratitude for her son's work on the occasion.
On Wednesday, it will be 50 days since the Ecuadorian embassy in London blocked Assange's access to the internet. Last week, his communications were limited even further as officials placed a ban on phone use and access to visitors.
If you like this story, share it with a friend!