Brexit battle: May divides cabinet into rival teams in attempt to break customs deadlock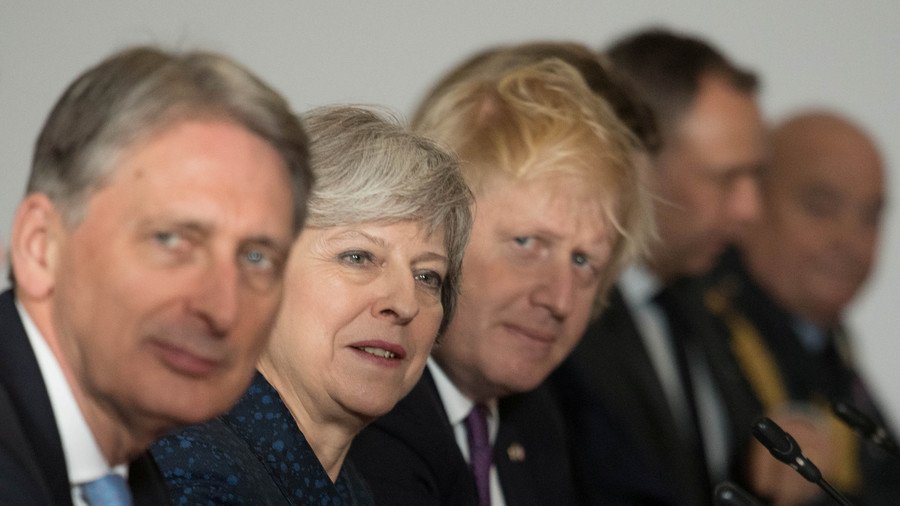 UK Prime Minister Theresa May has divided her Cabinet into two working groups in the hope of securing a way forward with her proposals for a customs arrangement with the EU.
Though it is unclear how pointing out the differences between squabbling ministers will achieve Cabinet unity, May has pressed ahead.
One group, consisting of Brexiteers, International Trade Secretary Liam Fox and Environment Secretary Michael Gove will lock horns with the sole Remainer, Cabinet Office Minister David Lidington, to look at the PM's preferred option of a 'customs partnership', in which Britain would collect tariffs on behalf of the EU - an option Boris Johnson characterized as "crazy".
The second group, made up of pro-Remainers, Business Secretary Greg Clark and Northern Ireland Secretary Karen Bradley, and pro-Leave Brexit Secretary David Davis, will investigate further the Brexiteers-favored option of a "maximum-facilitation" solution that would encompass technology to minimize but not eradicate import checks in a "highly streamlined" way.
The key sub-committee ministers not assigned a team are the Foreign Secretary Boris Johnson and Chancellor Philip Hammond as it's thought May viewed them as the "ultras" on either side and wanted to avoid any clashes that may have arisen from their involvement, The Guardian claims.
This latest attempt from the Prime Minister may be seen as a last throw of the dice to unite a Cabinet with divisions running through it - particularly on the contentious Brexit issue. The stakes are high for May, after reports that ministers such as David Davis and Boris Johnson and are prepared to quit over the customs union arrangement.
While the PM attempts to heal Cabinet divisions, the elephant in the room remains the EU's rejection of Theresa May's two customs options. An EU diplomat close to the Brexit negotiations said that the proposals were subject to a "systematic and forensic annihilation" at discussions in mid-April.
As much as May's faltering attempt at Cabinet unity may alarm EU negotiators, it has aroused fury among leading figures in the British public.
One social media user appeared to leap on the issue of a perceived indecisive Prime Minister.
It's okay @theresa_may, take as long as you need. It's not like it's REALLY important for businesses to know whats going to happen, or anything.Why the hell did we trigger Article 50 to start negotiations before we knew what we wanted to ask for? https://t.co/PM02fmLVnG

— Chris Armstrong #RemainerNow #PeoplesVote (@HistoryMaker316) May 11, 2018
Fabian Zuleeg, Chief Executive & Chief Economist at European Policy Centre tweeted: "Which group will be looking at an option that is acceptable to EU27? Neither of these work.!"
BBC News - Theresa May splits cabinet to consider customs options https://t.co/NJ5WN0AGUV Which group will be looking at an option that is acceptable to EU27? Neither of these work

— Fabian Zuleeg (@FabianZuleeg) May 11, 2018
Steve Peers, Professor of EU, Human Rights & World Trade Law at University of Essex, reacted humorously to news that two teams had been formed, remarking "Dullest ever episode of The Apprentice".
It comes as hard-line Brexiteer Jacob Rees-Mogg, chair of the Euroskeptic European Research Group (ERG), said the customs partnership proposal "seems to be running into the sand... because it practically doesn't work".
The Financial Times reports that a breakthrough over customs arrangements and the Northern Ireland border issue is unlikely before Tuesday's meeting of the inner Brexit committee.
Like this story? Share it with a friend!
You can share this story on social media: