UK drones firing organ-destroying 'vacuum bombs' on the rise in Syria - FOI request reveals (VIDEO)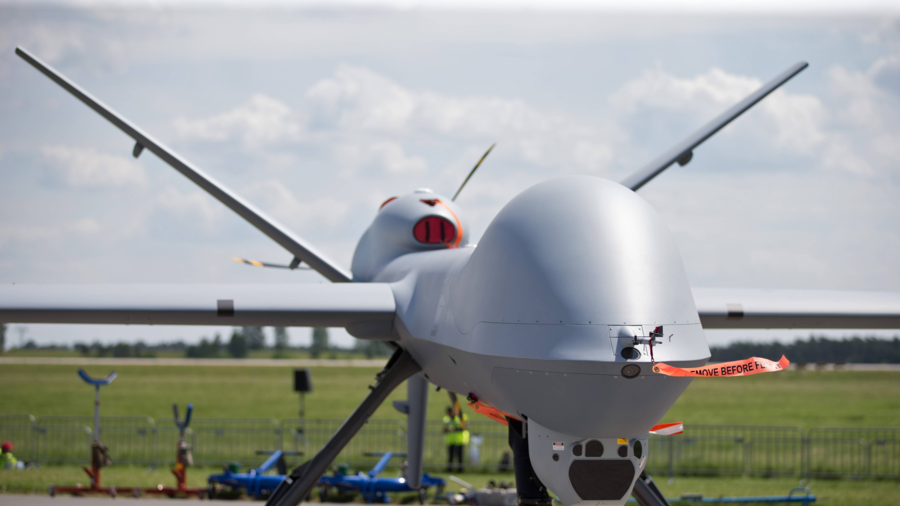 The UK is 'indiscriminately' using thermobaric missiles as part of its ongoing air war in Syria, a Freedom of Information (FoI) request has revealed.
The Ministry of Defence (MoD) admitted, for the first time, using thermobaric weapons during strikes carried out by Royal Air Force MQ-9 Reaper drones during missions in January and February, in response to the FoI request by anti-war campaign group Drone Wars UK.
Thermobaric weapons, known colloquially as "vacuum bombs," differ from conventional munitions - which cause damage by spreading shrapnel - as they create a high-temperature explosion with an extremely powerful blast radius. The pressure created causes severe internal damage to the organs of people caught in the blast radius.
According to Drone Wars, the request saw "officials give a breakdown of the type of Hellfire missiles fired, stating that 19 AGM-114N4 and 44 AGM-114R2 had been used. The 'N' version of the missile uses a Metal Augmented Charge (MAC) warhead that contains a thermobaric explosive fill using aluminum with the explosive mixture. When the warhead detonates, the aluminum mixture is dispersed and rapidly burns."
While use of vacuum bombs remain legal under international law, their use has been criticized by human rights organizations as they have the potential to create unnecessary human suffering.
"Anyone in the vicinity is likely to die from internal organ damage," the group added.
Manufactured by US arms giant Lockheed Martin, the company boasts that over 21,000 units of the missile have been delivered to the US Air Force and over 13 of Washington's international partners, including the UK.
Coming in three configurations, Hellfires have been integrated on a variety of air platforms including the Apache and Super Cobra attack helicopters. As well as Predator and Reaper drones. They have also been added to turboprop fixed-wing aircraft, offering operators a cheaper platform to carry out counter-insurgency missions.
Increased use by the RAF
The UK's use of thermobaric missiles was first reported in 2008 when the British military used Apache helicopters equipped with Hellfires to tackle Taliban insurgents in Afghanistan. News that troops were using such weapons caused a stir in Westminster with The Times reporting that "MoD weapons and legal experts spent 18 months debating whether British troops could use them without breaking international law."
They settled on redefining the missiles as "enhanced blast weapons" in order to get around any potential legal wrangling.
Since then, and until the request granted by the FoI, the MoD has tried to avoid answering questions on their use of the thermobaric variant of the Hellfire.
READ MORE: RAF strike killed one civilian in Syria as it targeted ISIS, defence secretary admits
Admission of their use comes the same week as UK Defense Secretary Gavin Williamson admitted that a recent RAF airstrike resulted in a civilian casualty. In a ministerial statement, Williamson said that the casualty "crossed into the strike area at the last moment," during a targeted strike in northeastern Syria on March 26, that killed three militants of the Islamic State (IS).
In recent months, the RAF has been upping its use of drone strikes in Syria in favor of its dedicated multi-role strike bomber, the Tornado. According to Drone Wars, between January and March of this year, "UK drones fired as many weapons in Syria (92) as they have over the previous 18 months," and is seeking further information on whether their use is increasing in favor of manned aircraft.
Like this story? Share it with a friend!
You can share this story on social media: