Trump to visit UK in July: Sadiq Khan, Twitterati fire up, promise 'loud' protests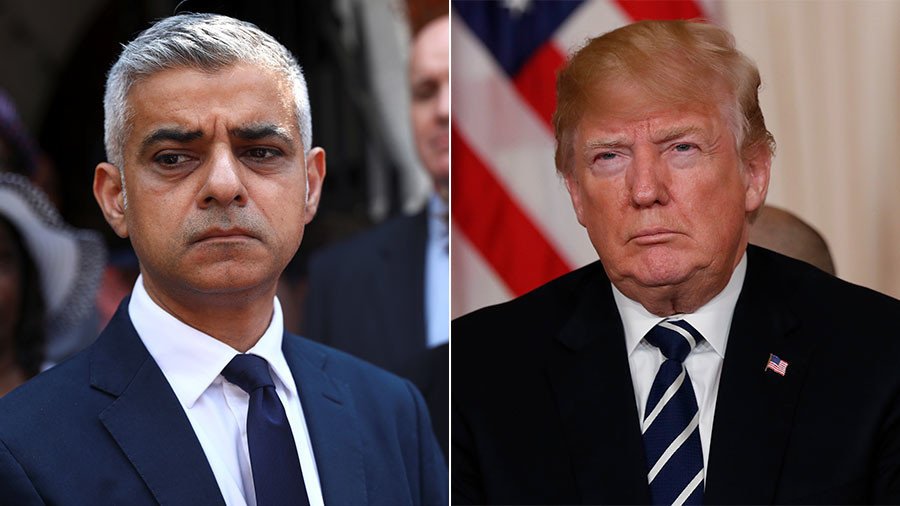 Donald Trump is slated to visit the UK in July, much to the horror of many across the country. The news of the US leader's trip has sparked a Twitterstorm, and London Mayor Sadiq Khan is fanning the flames of discord.
Trump has previously cancelled a trip to the UK, refusing to open the new US embassy in London, which relocated from Mayfair to Nine Elms. Trump blamed the Obama administration for a "bad deal" on the embassy, despite the fact the move was agreed under George W. Bush.
Speaking at a St George's Day event in Trafalgar Square earlier in the week, London Mayor Khan warned Trump to expect "loud" protests if he visits Britain this summer. He slammed the Republican leader for "amplifying far-right messages."
"I hope if he does come, he reflects on the difference good leadership can make. We have got a great history in our city of protests... we have got a great history in our city of bringing about change by protest, the key thing is for it to be lawful, for it to be peaceful.
"I have no doubt that if he does come, there will be some people who want to express their views loudly and peacefully to the president."
Khan has previously found himself a target of Trump. The president launched a scathing attack on the mayor following the terrorist attacks in Borough Market and on London Bridge in July.
Scottish Labour leader Richard Leonard has jumped on the anti-Trump bandwagon, vowing in an online video to ensure mass protests will take place in the event of the American president's visit.
Trump has a checkered past with the people of Scotland, boasting both family heritage and a string of business investments including hotels and a golf course. Many of Scots, however, seem to want little to do with the outspoken president. In 2016, 50 left-wing activists forced their way into two of Trump's hotel resorts in Scotland, to protest a man they called "one of the world's most prominent racists." In 2017, a Scottish woman sued one of Trump's golf courses after staffers photographed her weeing without her knowledge or consent.
News of Trump's latest planned visit has sparked a storm on Twitter, with UK Trump fans taking to the platform to welcome the president and to celebrate his impending visit.
Others have used Twitter to express an outpouring of fury, as well as pledges to protest the embattled American leader. UK police expect hundreds of thousands of people to turn in any planned demonstration against Trump.
Khan has also copped a beating at the hands of the Twitterati. Condemned by Trump supporters for his stance against the US leader, UKIP London Assembly Member David Kurten took to Twitter to slam London's mayor in a string of tweets for encouraging protests.
Think your friends would be interested? Share this story!
You can share this story on social media: