Oh what a lovely war! Thought of Syria strikes galvanizes breathless British media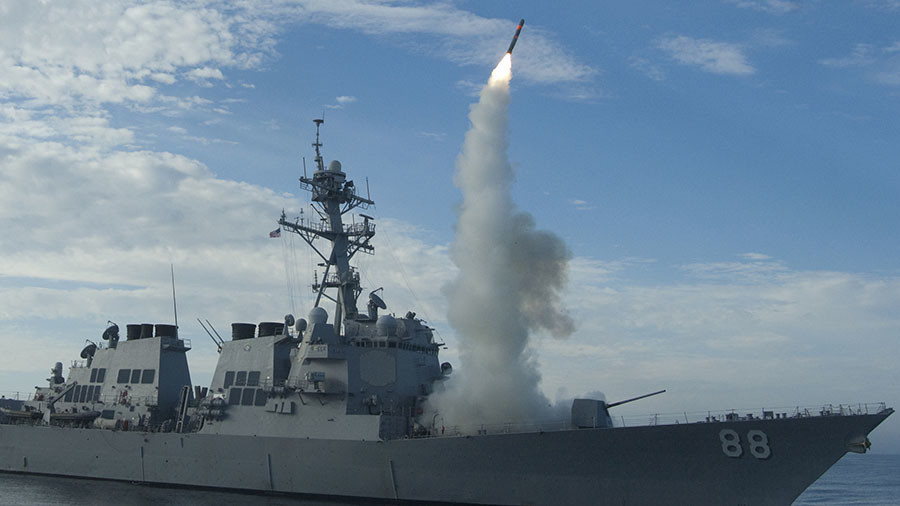 "War, what is it good for?" Edwin Starr asked to the backing of an old school funk soundtrack. Well, the answer is: the British press, their columnists and above all their graphics departments.
The growing risk that an alleged gas attack on the Syrian town of Douma could see the UK join US-led strikes against Syria has galvanized the more war-thirsty parts of the media. Brimstone and Tomahawk missiles, Typhoon fighter jets and Paveway bombs – it's all just too much for a slightly perspiring news editor.
READ MORE: May & Trump agree it's 'vital to deter chemical weapon use by Assad' in Syria – UK
The idea of conflict is scary enough in the imagination, but in case people aren't concerned enough, the press in Britain just can't wait to show you how it's going to happen, and the tools that will be used to achieve it.
There's a strange shift in Britain's reporting on the military when the chances of conflict loom. In peaceful times the press is full of stories about how the military is the smallest it's been since the days of Napoleon and couldn't deploy enough troops to rescue a cat stuck up a tree.
When the prospect of airstrikes appears, suddenly readers are told the armed forces have enough 'smart' bombs to wipe out every tree from here to the horizon from an altitude of 11 miles, as part of a humanitarian intervention to save all the stuck cats.
For example, the Daily Mail used this graphic entitled "Poised for attack: Britain's lethal force."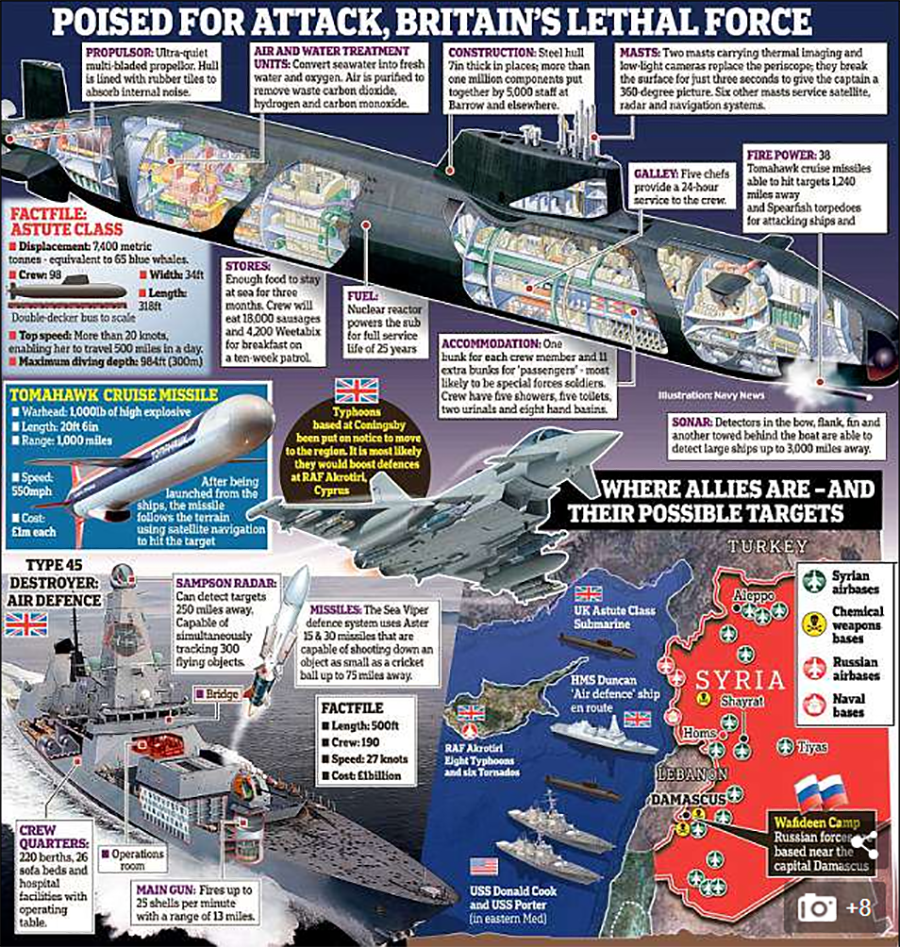 With the amount of content shown in this image, there's a good chance it includes the British military's entire inventory. It's reassuring to note that the attack subs have enough room for five chefs.
If you read the Sun, it's surprising that there's even room on British submarines at all, because Rupert Murdoch's tabloid says they're "loaded with Tomahawk missiles." This is the image included to demonstrate how the apocalypse will arrive.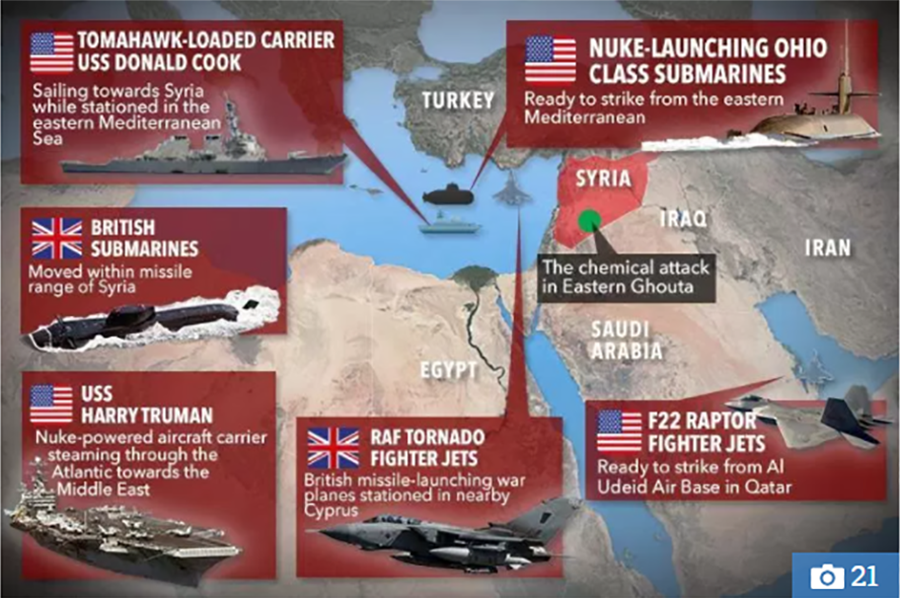 The Sun, never one to exaggerate to sell a few papers, reported that "BRITISH submarines loaded with Tomahawk missiles have reportedly been moved within striking distance of Syria as the world braces for all-out war."
It's interesting that the British submarine appears to be sailing away from Syria. Perhaps it forgot one of the chefs.
The Daily Star is also playing down the danger posed by the current crisis, lumping all of its stories under the title "World War 3 Fears."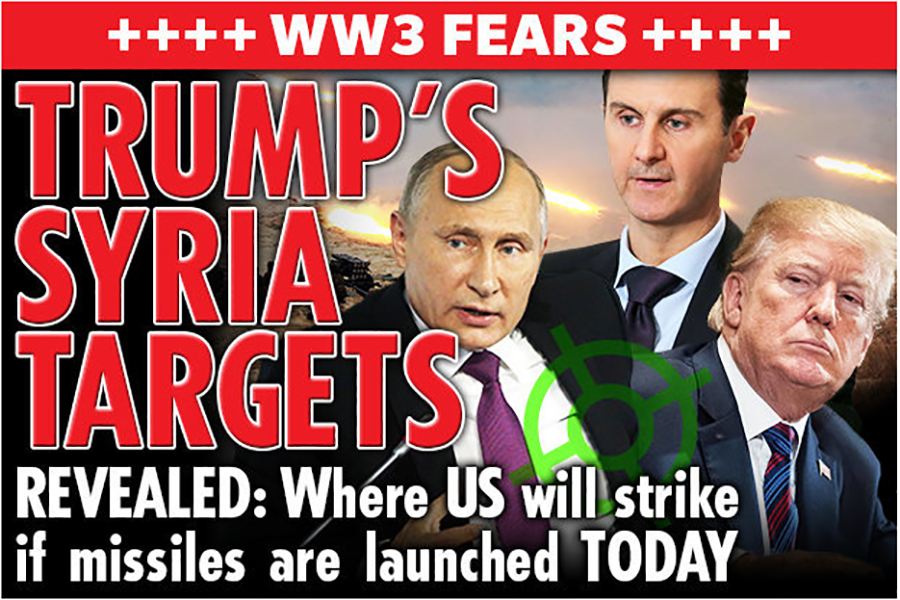 Next to a low-key image of Trump, Putin and Assad looking mean and mysterious, the Star's headline reads: "Where US will strike if missiles are launched TODAY." I wonder if the Star knows where the missiles will strike if they're launched TOMORROW. As long as Assad reads the Daily Star every morning, he should be fine.
Someone in British military intelligence needs to have a word with the producers at Sky News. Once an hour on Thursday, the news channel carried a two-minute sequence showing what Britain could offer if it were to join in a strike against Syria. Now, in case Assad wasn't paying attention to that, it has a full presentation available online.
However, it's not just the national press getting in on the scaremongering, war-thirsty action. The tiny Watton and Swaffham Times offers a real journalistic lesson in finding the local angle. The paper from sleepy Norfolk says it's possible planes from a nearby airbase could be dropping "bunker buster" cruise missiles in Syria any time now. In other news from Watton and Swaffham, the Boxing Day burglar with a distinctive bald patch is still being sought by police.
The Richmond and Twickenham Times also manages to fit in a brief list of Britain's war-waging weaponry. Locals can read that, alongside a report on how a court has ruled that limits on the number of dogs walked by one person are lawful after all. Twenty-first century Britain. Waging wars and walking dogs.
Think your friends would be interested? Share this story!