May & Trump agree it's 'vital to deter chemical weapon use by Assad' in Syria – UK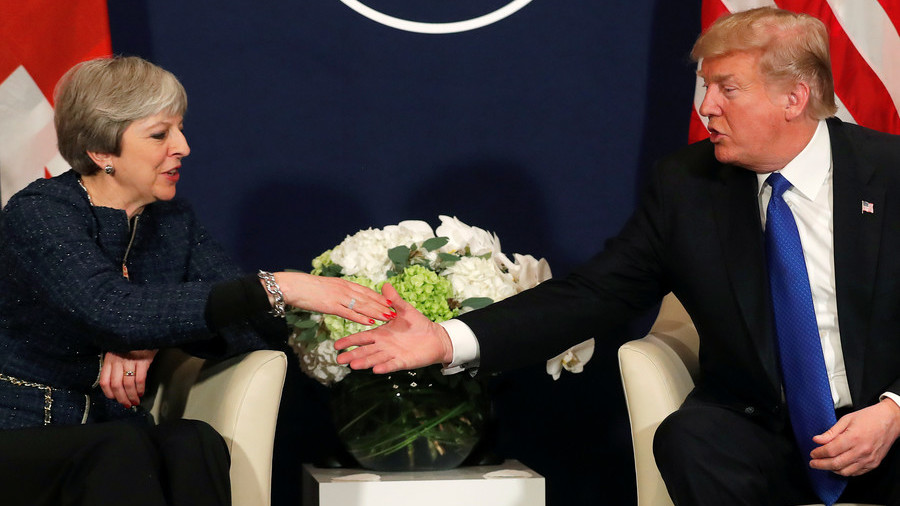 British Prime Minister Theresa May and US President Donald Trump have agreed to keep working on an international response to the alleged chemical attack in Syria's Douma, vowing it would not "go unchallenged."
The UK and US leaders discussed Syria in a phone call on Thursday evening, a Downing Street spokesman said in a statement. The two have once again pointed the finger at the Syrian government, accusing it of "a pattern of dangerous behavior in relation to the use of chemical weapons."
Hinting that a retaliation is imminent, May and Trump agreed that it was "vital" that what they claim was a chlorine attack on civilians on April 7 "did not go unchallenged." A concerted response by the allies would serve "to deter the further use of chemical weapons by the Assad regime," the statement issued by the prime minister's office reads.
The US and the UK would continue exploring the options with regards to Syria while "working closely together" it added.
The call took place shortly after an emergency meeting of the British government, where ministers concluded that it was "highly likely" that the Syrian government bears responsibility for the attack, which, according to the Syrian opposition and linked media sources, killed and injured dozens of civilians.
Earlier, French President Emmanuel Macron, who, together with Trump and May, is spearheading the Western response to the alleged chemical attack, claimed that the Syrian government "at least" used chlorine in Douma, without providing any new evidence to back up the claims.
The Pentagon chief, James Mattis, also admitted that the US military is still "looking for the actual evidence," but said he still believes that the attack did take place.
While the accusatory rhetoric from the US, the UK and France is becoming more vociferous, the Organization for the Prohibition of Chemical Weapons (OPCW) experts are yet to embark on their fact-finding mission to determine if chemical weapons were deployed in Douma, but not assign blame for their use.
The first group of four experts arrived in Syria on Thursday and the second is due to travel there on Friday.
You can share this story on social media: