Nigel Farage breaks with 'friend for life' Donald Trump over military intervention in Syria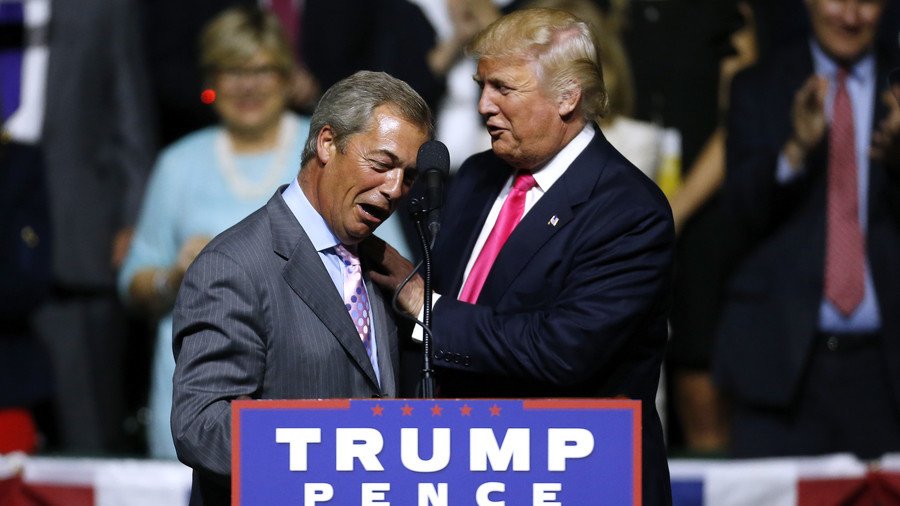 Nigel Farage has turned his back on US President Donald Trump, as the former UKIP chief cautioned Britain against intervening alongside the US in Syria.
In an unprecedented break with the Republican leader, Farage said he would not want the UK to join forces with the US against Syrian President Bashar Assad. Farage's statement follows a volley of tweets from Trump warning Russia he intended to launch "nice and new and 'smart'" missiles against Syria.
While Prime Minister Theresa May has joined French President Emmanuel Macron and Trump in saying those responsible for an alleged chemical attack in Douma, Syria, should be held to account, Farage warned military intervention could lead to chaos.
Referencing UK intervention in Libya and Iraq as examples of botched operations, Farage said on his LBC radio program: "We intervene, we get rid of these Arab nationalist dictators because we think it is the right thing to do, having never thought through what the long-term consequences are."
Farage rejected the idea of military strikes even if Assad were found to be responsible. "Look I don't know whether Assad used chemical weapons or not. I don't know why he would given he is winning the war anyway. But even if we knew it was him, and we decided we are going to attack military bases, attack the palace, if the result of concerted action with us, the Americans and the French results in the overthrow of Assad, is that the right thing for us to do?
"Well we might think morally it is the right thing for us to do… because of some of the horrible, awful things he has done. But what comes next? Chaos, instability and maybe a chance for ISIS [Islamic State/IS] to build its forces again.
"So even if tomorrow Trump attacks, not waiting for a UN resolution... I don't think we should join. Even if we got a UN resolution I would still be very thoughtful about this. What in the longer term are we actually trying to achieve?"
It comes as a series of MPs and political commentators took to Twitter to condemn President Trump's words. They raised concern his comments might trigger World War III.
That is a scary thought. Worse than Cuban Missile crisis? Post Hungary? And Czechoslovakia? If true, then really concerning https://t.co/B8bLXSlcTj

— Jon Sopel (@BBCJonSopel) April 11, 2018
We must all urge anyone who can influence President Trump to think very carefully indeed & consider any reaction to Assad & Russia very carefully indeed.

— Barry Sheerman (@BarrySheerman) April 11, 2018
Both the Syrian government and Russia deny the allegations that a chemical attack took place in Douma, a formerly rebel-held town outside Damascus. On Sunday, the White Helmets, a volunteer organization which operates in areas under the control of Syrian rebels, including groups linked to Al-Qaeda, published a statement that said a chlorine gas attack had taken place in the area on Saturday. The alleged attack was said to have killed dozens, including children, but footage of the alleged incident has yet to be verified.
If you like this story, share it with a friend!
You can share this story on social media: