'No mandate': Tweeters react to Hillary Clinton wading into Brexit debate on Irish border issue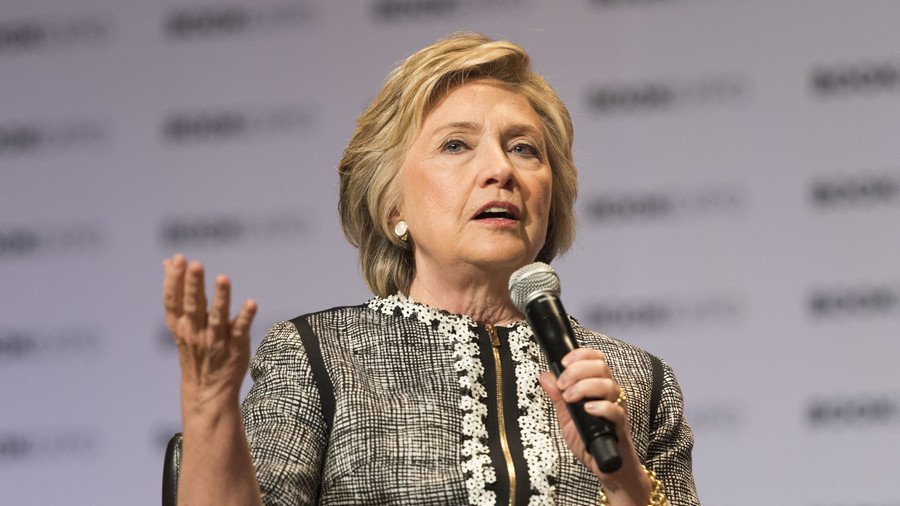 Hillary Clinton has weighed into the key Brexit debate over the Irish border, saying it could jeopardize the Good Friday Agreement. Though some are questioning how suitable the "failed politician" is.
Speaking on the 20th anniversary of the Good Friday Agreement between the United Kingdom and the Republic of Ireland, the former US secretary of state wrote that Brexit could constitute a real threat to the peace settlement. Clinton made the comments as her husband and former US President Bill Clinton prepares to receive the Freedom of Belfast next week for his role in brokering the peace agreement in 1998.
"We cannot allow Brexit to undermine the peace that people voted, fought and even died for," Hillary Clinton wrote in the Guardian in her first opinion piece since losing the US presidential campaign to Donald Trump.
READ MORE: Ex-PM Blair pleads with EU leaders to stop Brexit by changing free movement laws (VIDEO)
"Reinstating the border would be an enormous setback, returning to the 'bad old days' when communities would once again be set apart."
The EU and UK have agreed there should be no hard border once the UK leaves the bloc, but they have until now failed to say exactly how that will be prevented. The EU's proposal is that Northern Ireland effectively stays in the customs union and bits of the single market. Prime Minister Theresa May said that is "unacceptable" but has so far failed to present an alternative acceptable to the bloc. The implementation of any transition deal is conditional on whether an agreement is reached on the Irish border issue.
Adapting one of her husband's quotes from the time of the original agreement, Clinton went on:"If short-term interests take precedent over solving the long-term challenges that still exist in Northern Ireland, then it is clear that the hand of history will be both heavy and unforgiving."
But Clinton's intervention did not go down well among some of the British public, with many saying she has no mandate to intervene in UK affairs.
The Good Friday Agreement brought an end to 30 years of internal conflict in Northern Ireland, which claimed the lives of 3,600 people. A settlement was reached by establishing a power-sharing administration in Belfast. That, however, collapsed 15 months ago when its leaders, the Democratic Unionist Party (DUP) and Republican Sinn Féin, split in a bitter row over a series of issues placing the continuation of the agreement in doubt. The deal has been further threatened by Brexiteers, who claim that it is unfit for purpose upon the UK's EU exit.
If you like this story, share it with a friend!
You can share this story on social media: