Weaponizing anti-Semitism against Corbyn could endanger Jews, Israeli academic warns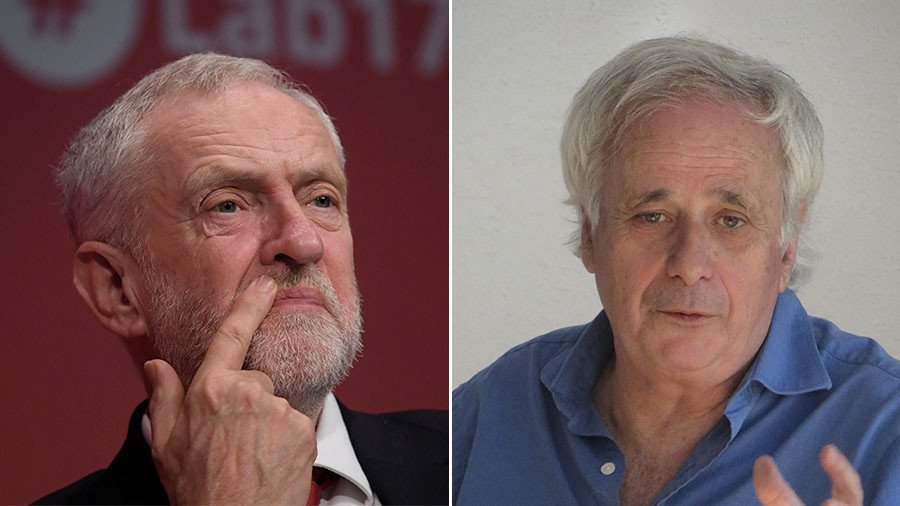 Anti-Semitism has been weaponized to attack Jeremy Corbyn, according to Israeli-British historian Ilan Pappé. Speaking to RT, the University of Exeter professor said Corbyn is being attacked due to his Palestinian sympathies.
In an exclusive interview with RT's London Bureau, the expatriate Israeli historian and socialist activist "totally [rejects]" allegations of anti-Semitism hurled against Labour leader Jeremy Corbyn.
Pappé, a lifelong political activist, warned that those who are using anti-Semitism to attack Corbyn and the Jewish people around him are at risk of endangering Jews further.
READ MORE: Corbyn attends left-wing Jewish group's Passover event... and is attacked regardless
"It will further ignite anti-Semitic accusations of double loyalty and will create a gulf between the universal struggle for human rights and against racism and a community that until now was identified with such causes," he said.
The Israeli academic did say that anti-Semitism is a problem on both sides of the political spectrum… not only for the Jewish but marginalized ethnicities as well.
"There is more anti-Semitism in the right than in the Left in Britain and in Europe in general. There, anti-Semites everywhere – but all in all, the Jewish community in Britain is as prosperous and safe as it had never been before.
"It is other communities like Muslims and Polish immigrants who far more exposed to xenophobia and racism."
The University of Exeter professor went on to refute claims that Corbyn is an anti-Semite, saying: "I have been involved with him in the past in some political activism and ever since I follow closely his political career and I could not find a shred of evidence for his anti-Semitism," Pappé said. "He was, and is, very critical on Israel's policies, as are many Jews including myself."
Pappé, who is a consistent collaborator with linguist Noam Chomsky, added that accusations of anti-Semitism have been weaponized to attack Corbyn due to his sympathy to the Palestinian cause.
READ MORE: 'The absolute goy': Jewdas responds with humor to attacks over Corbyn Passover meal
"The Labour party, like the Conservative party, were bastions of pro-Zionist and pro-Israeli policies for years," he said. "It was very alarming for Israel and its lobby in the UK when this party elected as a leader someone who sympathizes with the Palestinian struggle for peace and justice.
"It is the first senior politician in western Europe to hold such views and Israel is afraid of a precedent and will do all it can to bring him down."
Corbyn has faced an onslaught of attacks by some Jewish groups and members of his own party, accusing him of being sympathetic to anti-Semites. Last Monday, protests against the Labour leader over the issue took place in Parliament Square. One week later, Corbyn attended Passover with Jewdas, a left-wing Jewish group within his constituency, and was slammed again for taking up with 'far-left' Jews.
Instead of focusing on the atrocities between the two warring peoples, the British media have instead focused on whether or not Jeremy Corbyn is hanging out with the right sort of Jew – a distraction, Pappé says, from recent actions in Gaza.
"I think the recent attacks, including the demonstration in front of the Parliament was meant to stifle the debate on Gaza," the academic said. "So yes this will continue – the attempt to distract the public opinion attention from Gaza, where the carnage has just begun, but inventing or blowing out of proportion cases of anti-Semitism."
Over the weekend, 17 Palestinians were killed and hundreds were wounded by Israeli forces in Gaza, according to Palestinian medics, as protesters kicked off a planned six-week demonstration demanding the right of return for Palestinian refugees.
According to Israel's military, 17,000 Palestinians were "rioting" in six locations in the Gaza strip on Friday. The military reported that protesters were rolling burning tires at the security fence and soldiers, which it said responded "with riot dispersal means and firing towards main instigators."
At least 500 Palestinians were injured by a mixture of live ammunition, rubber-coated steel pellets, or teargas from Israeli forces along the fence, according to reports by the Palestinian Health Ministry.
Think your friends would be interested? Share this story!
You can share this story on social media: