'A gift from Stephen': Professor Hawking's last act of kindness from beyond the grave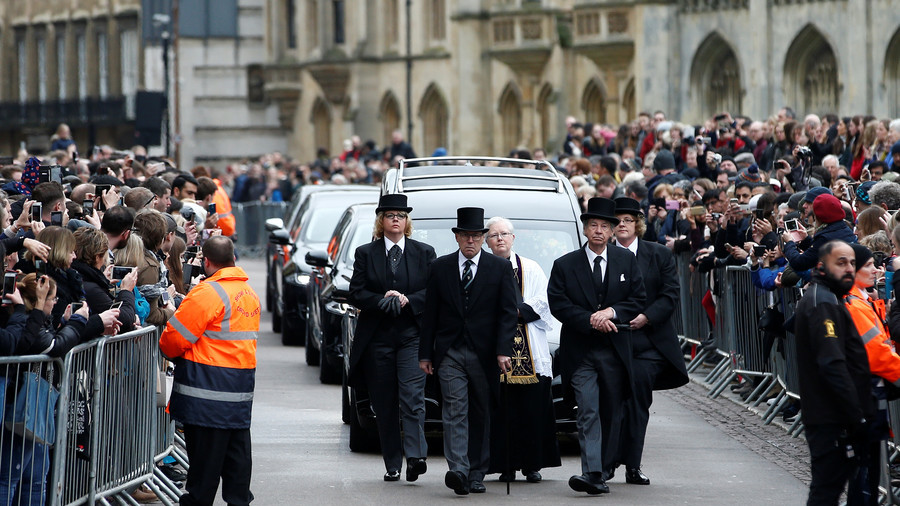 Stephen Hawking carried out one final act of kindness from beyond the grave, as his funeral went ahead. The legendary professor arranged for 50 homeless people to be given a three-course Easter meal in Cambridge.
As the recipients enjoyed his generosity, his funeral procession gathered nearby to celebrate Hawking's life. Mourners included actor Eddie Redmayne, who won an Oscar playing Hawking in the film about his life – 'The Theory of Everything.'
Dozens of people who usually live on the street dined on luxury chocolates at the Wesley Methodist Church. His daughter, Lucy Hawking, contacted the charity FoodCycle Cambridge to tell them the family planned to make a donation so that people would be sitting down for a "hot meal on Stephen."
The charity said guests cheered and raised a glass in the world-famous physicist's honor. FoodCycle Cambridge said in statement: "We're really honoured to have been involved, and touched that Professor Hawking's family thought of FoodCycle.
"Our volunteers do an absolutely amazing job 52 weeks of the year, supporting their local community – and not just in Cambridge, but across the UK.
"The guests on Saturday were so surprised and touched by the family's gesture and raised a glass to Stephen before tucking into lunch."
More funds were donated to the charity to feed others, but the spokeswoman did not disclose how much was donated.
At the funeral, Redmayne gave a biblical reading at the service to around 500 guests. While astronomer Royal Martin Rees also spoke, among others, at the funeral at the University Church of St Mary the Great in Cambridge.
Hundreds of people lined the streets ahead of the service. A spontaneous round of applause broke out as six porters from the physicist's former college, Gonville and Caius, carried Professor Hawking's coffin from the hearse into the church.
The world famous cosmologist was remembered in the church as decorations were labelled "gift from Stephen."
Like this story? Share it with a friend!
You can share this story on social media: