'BBC crisis': Adonis calls for Channel 4 to get license fee after Farage fish stunt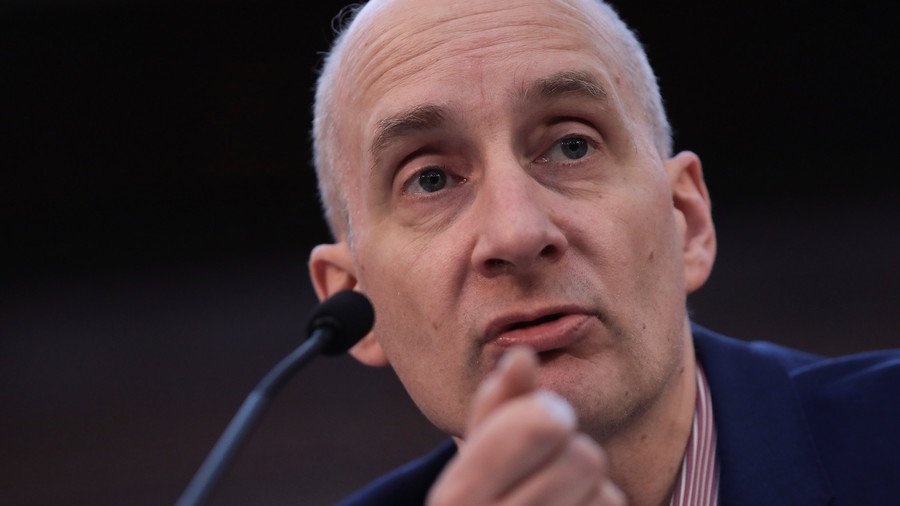 The BBC has breached its charter and continues to report Brexit with extreme bias, according to fierce new accusations from Labour peer and anti-Brexit campaigner Andrew Adonis.
The corporation failed to cover anti-Brexit protests and has repeatedly approached Britain's split with the EU with an agenda, according to Lord Adonis. Ex-Transport Secretary Adonis also launched a scathing assault on the BBC for its coverage involving former UKIP leader Nigel Farage.
Adonis is locked in a row with BBC UK News editor Richard Burgess over his claims the corporation is covering Farage "wall to wall" but ignoring 'Remainer' protests and actions.
Labelling it the #BrexitBroadcastingCorporation, Adonis said Farage had "huge" coverage when he dumped dead fish in the Thames and accused the Government of letting fishermen down during Brexit negotiations.
He tweeted: "BBC News needs new leadership after BBC News Editor @rburgessbbc's astonishing 'defence' of BBC boycott of big anti-Brexit marches last weekend - rubbishing them as of little account on @bbcr4feedback, then giving Mr Farage huge coverage for his fish stunt 2 days later."
Adonis said Burgess was wrong to defend the UK coverage by the BBC, although the news editor hit back, saying the peer was exaggerating. He wrote: "An inconvenient truth for @Andrew_Adonis who has described the BBC News coverage of the Nigel Farage trawler as 'huge' and 'wall to wall.' Untrue."
Burgess had retweeted a post by Daily Telegraph chief political correspondent Christopher Hope, who said the BBC "was nowhere to be seen" during the Farage fish stunt.
Adonis said the BBC is in crisis and called for the public license to be handed to Channel 4. He added that he is creating a pamphlet on "what needs to be done to save public broadcasting," which he plans to debate on the BBC. He later claimed he would be made to debate it with Farage, who would be given "two-thirds of the air time."
Astonishing. The 'inconvenient truth' cited approvingly here by the BBC's Head of News comes from the Daily Telegraph which, er, has an agenda on Brexit. It's also the BBC's agenda, which is presumably why he cites it. In factual terms this is wrong btw. https://t.co/wtzPkOcy9x

— Andrew Adonis (@Andrew_Adonis) April 3, 2018
Many have backed Adonis, and called on the BBC to have a genuine debate over concerns raised. One user wrote: "@burgessbbc Actually, I think Lord Adonis has hit the nail on the head, the pro-Brexit bias within the BBC and the assumption that it's a done deal are staggering."
Another said: "I will defend @BBCNews until I die but on brexit & Global warming they've been institutionally unconsciously terribly biased - almost to the point of denial. If you look into either issue the disaster is obvious. I watch Sky (tho' I hate Murdoch) and Channel 4 for balance now."
However, the BBC has also been accused of Brexit bias from the pro-Brexit camp. A report from the Institute for Economic Affairs (IEA) said the broadcaster was in favor of covering the views of Remainers.
The IEA research found that out of 281 guests on the Question Time show from June 2016 until December last year, 60 percent were Remain supporters, 31 percent were in favor of Brexit, and 9 percent were Remain voters turned Leavers.
It also looked at BBC Radio 4's Any Questions, where 59 percent supported Remain, 32 percent were for Brexit, and 10 percent were Remainers who now support Brexit.
Jesus wept, @rburgessbbc actually lies to the public - you covered it, and it was featured on multiple platforms - but almost NO coverage of the ant-Brexit marches across the country. Shameful bias from #BrexitBroadcastingCorporation

— Seymour Quilter #FBPE (@SeymourQuilter) April 3, 2018
Is it time to organise a mass boycott of the License Fee, I wonder?

— Ted Smith #FBPE #SecondReferendumNow (@TedUrchin) April 3, 2018
Hi Richard I just want point out to you that in the past two years the #BrexitBroadcastingCorporation has wholeheartedly ignored anti-Brexit events across the country - be honest and tell us license fee payers that your organisation is now nothing more than Fox News.

— Seymour Quilter #FBPE (@SeymourQuilter) April 3, 2018
If you like this story, share it with a friend!
You can share this story on social media: