UK funding 33,000 teachers promoting jihad & martyrdom in Palestine schools, minister admits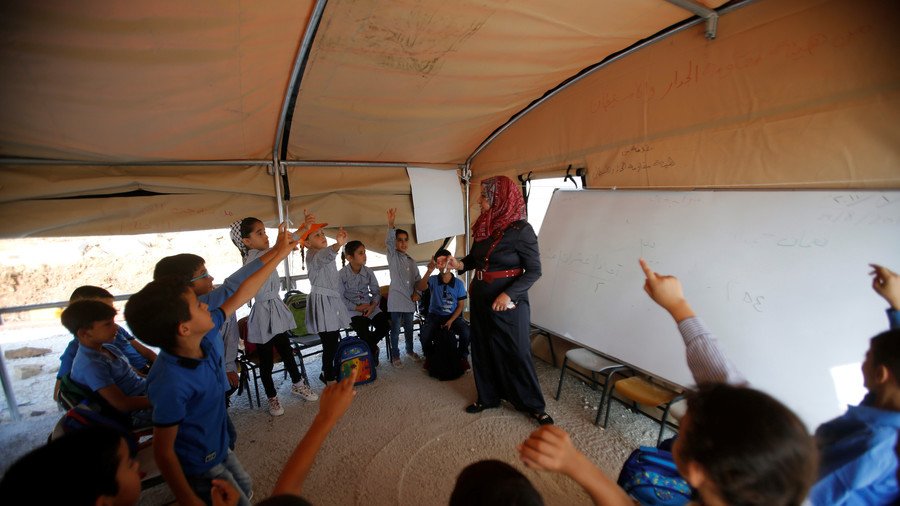 Millions in UK taxpayer money being spent on helping Palestinians is also funding schools teaching a curriculum that promotes martyrdom and jihad against Israel, a government minister has confirmed.
In his answers given to the UK Parliament, Minister of State for International Development Alistair Burt confirmed that British taxpayers' money is funding the wages of some 33,000 teachers who use the new curriculum.
Earlier last week, Burt said that "all of their [the Palestinian Authority's] schools in the West Bank are using the revised 2017 PA curriculum. UK-funded public servants and teachers … are therefore involved," the Sunday Times cited him as saying, adding that £20 million (US$24.6 million) was spent on supporting Palestinians last year alone.
Study material from the schools in Palestine pushes children toward violence, a review by the Institute for Monitoring Peace and Cultural Tolerance in School Education (IMPACT-se) discovered back in October 2017. It said the school program not only demonized Israel but also "provided a rationale for war."
"The curriculum exerts pressure over young Palestinians to acts of violence in a more extensive and sophisticated manner," IMPACT-se wrote. "The discourse is couched in terms of nationalist and religious martyrdom, across science, literature, history and religious education textbooks." The report provides numerous illustrations supporting the claim. It describes how violence has even penetrated physics textbooks.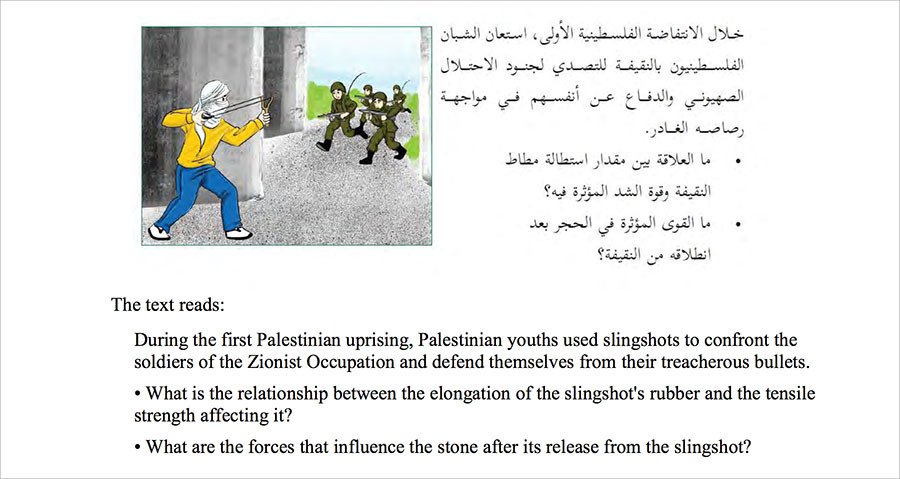 "A science textbook teaches Newtonian gravity through the image of a boy with a slingshot targeting soldiers, to explain power, mass, and tensile strength," the watchdog wrote in the report. "An eleventh-grade physics textbook teaches circular motion through the use of a slingshot in another clash with IDF soldiers."
Another textbook encourages nine-year-olds to be martyrs with a picture of students looking at their friend's empty desk with the sign "The Martyr." A poem in a history book meanwhile calls for violent resistance against Israel: "I vow I shall sacrifice my blood to saturate the land of the generous and will remove [uzilu] the usurper from my country will exterminate [ubidu] the remnants of the foreigners."
Sacrifice of life is also widely encouraged, as dying is "better" than living: "Drinking the cup of bitterness with glory is much sweeter than a pleasant long life accompanied by humiliation." Martyrdom and jihad are "the most important meanings of life," claims one fifth grade Arabic-language textbook.
"Giving one's life [fida'], sacrifice, fight, jihad and struggle are the most important meanings of life, especially for a people suffering from the scourge of occupation, of siege, repression, harassment, demolition and arrest," another page says.
The Palestinian Authority introduced the new school curriculum for grades 5-11 in August. It is the first full reform of the Palestinian curriculum since 2000.
MP Joan Ryan, chairwoman of Labor Friends of Israel, has slammed the funding of Palestinian schools that use the curriculum.
"It is absolutely appalling that UK taxpayers' money is helping to support the teaching of a curriculum which incites violence and terrorism and spreads anti-Semitism," she told the Sunday Times. "The government must immediately suspend all aid to the Palestinian Authority until it commits to wholesale and urgent revisions of the curriculum."
The Department for International Development said in a statement to the newspaper: "Our support is helping around 25,000 young Palestinians go to school each year. The UK government strongly condemns all forms of violence and incitement to violence."
You can share this story on social media: