UK complicit in Israeli drones killing Palestinians, activists tell RT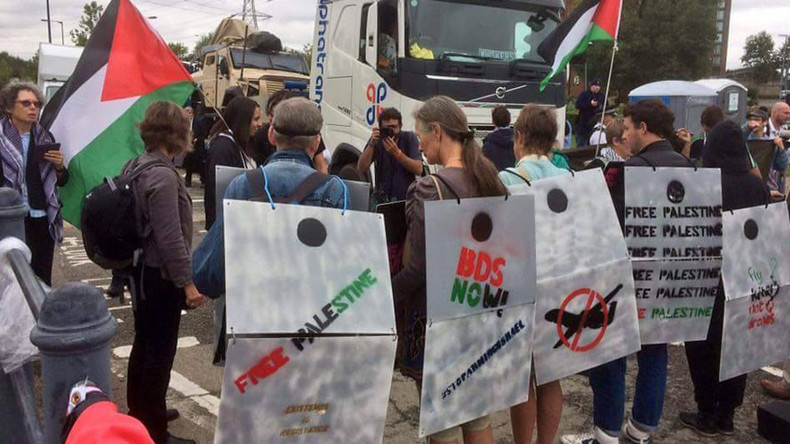 The UK is complicit in Israel's killing of Palestinians because it allows its drones to be produced and sold on British soil, a group of activists claim.
Protesters, mostly from the Palestine Action campaign group, have hit out at the UK for granting a space for the manufacturing of drones that Israel will use in what they say is the "ethnic cleansing" of Palestinians in the West Bank and Gaza.
The Stop Arming Israel protest took place on Monday outside the Excel centre, which will next week be hosting the Defence and Security Equipment International (DSEI) conference, one of the world's largest arms fairs.
Protesters were trying to stop Israel's drone manufacturer Elbit, which produces drones that are allegedly being used against Palestinian civilians in Gaza, from marketing its weaponry to people who are "profiting from the murder of innocent civilians".
In August 2014, Israel launched a major military operation against the Palestinians in Gaza, known as Operation Protective Edge.
Up to 2,205 Palestinians were killed, including more than 500 children, and over 400,000 were displaced.
Pro-Palestinian activist Adie Mormech, who was a lecturer in Gaza back in 2012, told RT: "There are a lot of companies in the UK complicit in what is happening in Gaza, and this is why we are building a movement to stop the two-way arms trade between the UK and Israel."
Since the Gaza bombardment in 2014, the UK has licensed £140 million worth of arms to Israel according to Campaign Against Arms Trade.
"Sadly the UK government is still complicit," Mormech said.
"Remember it is the second largest [arms] exporter in the world.
He added: "The UK is also selling arms to Saudi Arabia, who are currently bombing Yemen, awful crimes against humanity taking place right now with UK weapons."
Israel's Elbit has four UK factories, including: UAV systems in Shenstone; Instro Precision in Broadstairs, Ferranti in Oldham and Elite KL in Tamworth.
Mormech described how he was protesting in 2014 in Shenstone in England's West Midlands, for the closure of the UAV plant, when he learnt that one of his students had been killed by a drone in Gaza.
He alleges the drone had been manufactured by Elbit, and that it had killed not only her, but also her two babies, husband and mother in-law.
"This is the direct connect between these weapons being built here and what is happening on the ground," Mormech remarked.
Mormech currently risks jail or a fine of up to £5,000 after protesting outside the same Shenstone plant in July of this year.
Another protester and defendant in the Shenstone case, Huda Ammori, claimed the UK is "fully aware" of where the weapons produced and sold on its soil end up, and that they are in "contravention of international law".
"Britain has been complicit in the occupation of Palestinian territory since the Balfour declaration a hundred years ago when they basically handed over Palestinian land to somebody else without consulting with the people."
Palestine Action, the group behind the protest – which was organised on the third anniversary of the 2014 bombing of Gaza – said all of those accused would plead not guilty.
The defendants will enter their pleas on September 13 at Cannock Magistrates Court, and a call has been made for supporters to come and show solidarity.
Ammori, who is currently a student at the University of Manchester, said: "We're being treated like criminals, we're the ones facing time in prison […] when Israel continues to commit war crimes, they continue to bulldoze into Palestinian territory, making Palestinians homeless every single day, to make way for […] illegal Israeli settlements."
When asked if she was willing to go to prison for her cause, Ammori said: "Palestinians can get arrested in their homes, Palestinian children can be held for six months without any charges in Israeli prisons and compared to that nothing they can do to us here compares to what Palestinians go through every day."
RT has requested comment from the Israeli government about the allegations that it is using the UK to manufacture drones for its military to use against Palestinians, but it is yet to respond.
RT is also awaiting comment from UAV Engines LTD, which owns the plant in Shenstone.