UK minister on Ahed Tamimi: 'Israeli soldiers should not have been there'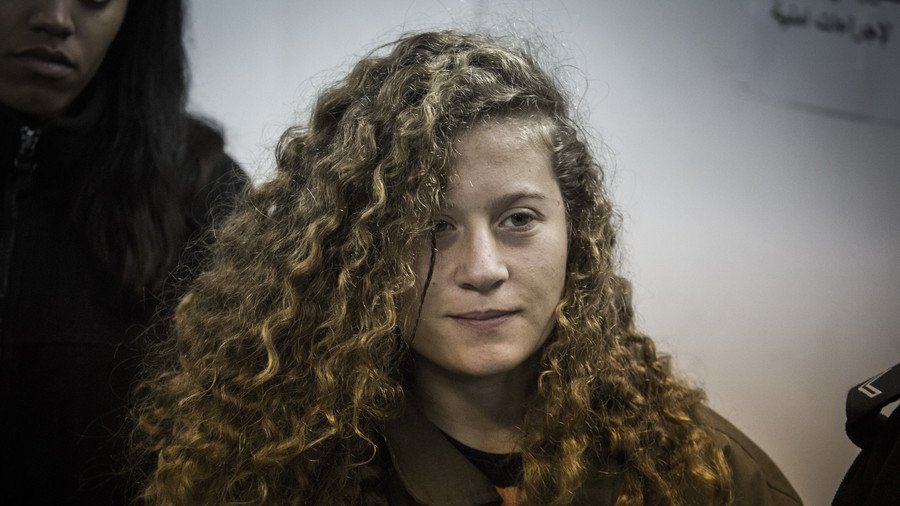 A UK government minister condemned the arrest of Palestinian teenager Ahed Tamimi, saying Israeli soldiers shouldn't have been in the occupied territory of the West Bank in the first place.
Foreign office minister Alistair Burt condemned the arrest of the Palestinian teenager, who made international headlines when a video emerged of her slapping a heavily-armed Israeli soldier standing on her family's property in Nabi Saleh, last December.
The arrested girl's father, Bassem al-Tamimi, said soldiers had earlier fired tear gas and broken windows at the family's house.
According to al-Tamimi his daughter was angrily protesting after learning that her teenage cousin was severely injured after being shot in the face with rubber-coated steel bullet, reportedly fired by an Israeli soldier at close range.
The high-profile video stirred a wave of solidarity for Ahed, who is now widely viewed as an international symbol of Palestinian resistance to the Israeli occupation.
Alistair Burt, minister of state for the Middle East at the UK's Foreign & Commonwealth Office, spoke out in defense of the teenage girl, whose family he said he knows personally.
"The truth is the soldiers shouldn't have been there and the young woman shouldn't have needed to do what she did," said Burt.
He continued: "We should be working hard to get a settlement for this issue so that these young people don't have to continue to do what they're doing."
UK Minister of State of the Foreign Office @AlistairBurtUK says Israeli Soldiers shouldn't be in Judea&Samaria. Well Israels claim to the ancestral home goes a bit further back than the UK's claim on the Falklands or Gibraltar never mind Northern Ireland. pic.twitter.com/6t8RrFKfu6

— Avram Tal (@MountTzion) January 9, 2018
Burt confirmed that the British government has made representations to the Israeli authorities about the Ahed Tamimi case.
Widespread and often violent protests followed Donald Trump's announcement that the US now recognizes Jerusalem as Israel's capital.
During the unrest, some 300 children, including Tamimi, were reportedly detained in Israeli jails.
A pro-Palestinian campaigner hit out at the UK government for failing to take action until now.
Huda Ammori, of Palestine Action, told RT: "It is all well and good that the government say it is going to make official representations, but representations are not going to be enough and it is not going to be enough to talk about one case when this has been happening for decades, and so many children, so many innocent Palestinians have had to suffer because they are being illegally occupied."
In contrast, Paul Charney, Chairman of the Zionist Federation of Great Britain and Ireland, told RT that he felt the soldiers acted "correctly" by arresting the 16-year-old.
"It is important not to part quote from Alistair Burt MP's statement in the House of Commons yesterday.
"It is clear from his entire statement that he was speaking idealistically, at a time of peace where no soldiers are needed at all in Area B (the area of Nabi Saleh) ensuring safety in this region. Clearly, this is not the case here.
"Tamimi's assault on an IDF officer, with the soldier showing immense self-restraint, led correctly to her arrest to be dealt with through due legal process.
"I would not be so certain that as a violent demonstrator, she would be treated so mildly any where else in the Middle East."
You can share this story on social media: