Alleged neo-Nazi terrorist appears in court charged with plotting murder of Labour MP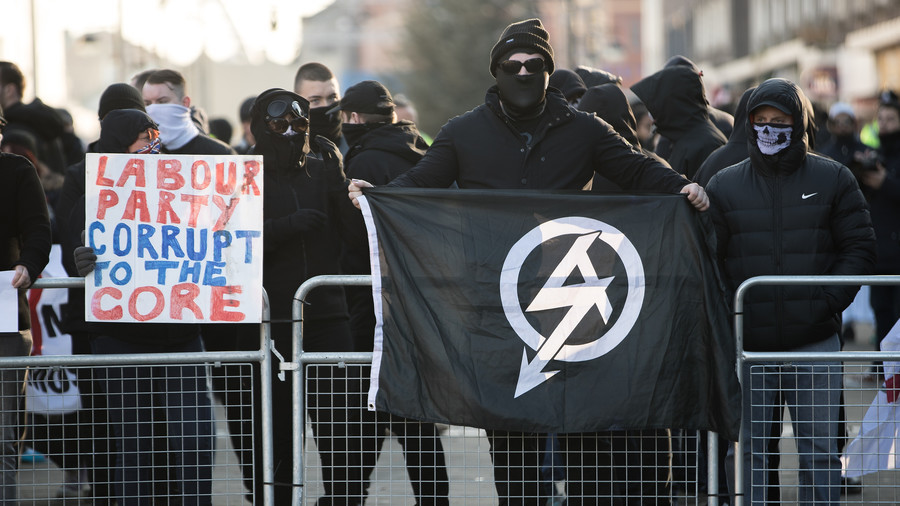 A man who is alleged to belong to banned neo-Nazi terrorist group National Action has appeared in court charged with plotting the murder of a female Labour MP.
The 22-year-old defendant, who for legal reasons cannot be named, has been charged with preparing an act of terrorism. He allegedly bought a 'Gladius Machete' – a typical weapon wielded by Celtic tribes and Roman legions – with the intent to use it against MP Rosie Cooper.
The man, from Lancashire, is also accused of threatening to kill a female police officer and belonging to proscribed neo-Nazi terrorist group National Action. He appeared at London's Old Bailey along with five other men, who also stand accused of belonging to the banned group.
READ MORE: Generation Identity activist was 'also member of banned Nazi terrorist group'
In December 2016, National Action became the first far-right group to be banned under counterterrorism laws, following its stated support of the murderer Thomas Mair, who killed MP Jo Cox. Home Secretary Amber Rudd labeled the group "a racist, anti-Semitic and homophobic organization which stirs up hatred, glorifies violence and promotes a vile ideology."
One of the defendants, Christopher Lythgoe, 31, of Greymist Avenue in Woolston, is accused of being the group's regional leader and has also been charged with encouragement to commit murder. The remaining defendants have been named as Garron Helm, 24, of Seaforth, Matthew Hankinson, 23, from Newton-Le-Willows, Andrew Clarke, 23, of Paddington, and Michal Trubini, 35, from Warrington. They did not enter any plea during Monday's preliminary hearing, and they have been remanded in custody as they await their trial on June 11.
It comes as official figures reveal the number of far-right individuals being referred to the government's counterterrorism program has risen by more than a quarter between 2016-17. In the year to March 2017, 968 such individuals were referred to Prevent, an increase of 28 percent from the previous year.
They now account for 16 percent of all referrals as the number of cases relating to Islamist extremism remains the highest at 61 percent (3,704). That was down 26 percent from last year's 4,997 referrals.
If you like this story, share it with a friend!
You can share this story on social media: