Telford child-rape scandal: Police slammed for 'victim-blaming' over 'consensual sex' note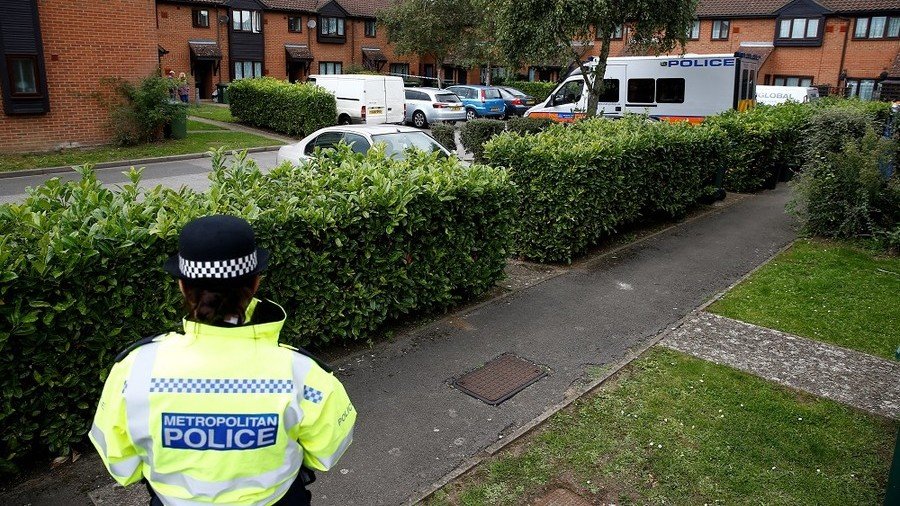 UK police have been accused of "victim-blaming" after the rape and exploitation of hundreds of children. More than 1,000 cases could ultimately be uncovered in Telford.
However, a note has reportedly emerged that claims the sex was 'consensual.' Children as young as 11 apparently gave permission for their abusers to have sex with them, an internal police message relating to the Telford sex-abuse scandal said.
The message has been uncovered in the probe looking into the sex abuse of children, many of whom were sold for abuse, beaten and forced into taking drugs. It allegedly read "in most cases the sex is consensual."
Outrage has spread among campaigners and those involved in the case, as West Mercia Police comes under fire for the latest grooming-gang scandal to rock the UK.
Child-abuse lawyer Dino Nocivelli of Bolt Burdon Kemp, told the Daily Mirror: "The authorities just don't seem to get it. Children cannot agree to sex. Just because a child is not being physically forced to carry out sexual acts, it doesn't mean they consented. Many of these children will have been groomed and manipulated by their abusers and would have been threatened to keep silent. How can you say an 11-year-old is capable of consenting to sex with a 40-year old? This is rape."
Officers are being accused of "victim blaming" the children. It is currently unclear how many victims the police could unearth, but some claims say 1,000-plus children may have been groomed over four decades in the Shropshire town.
A probe found that two predatory pedophiles began targeting girls from a local children's home in 1981. This appears to have been the starting point for years of systemic abuse, according to the investigation.
Home Office figures show that Telford, a town of 170,000 people, has the third-highest number of child sexual offences recorded in the UK, after Blackpool and Rotherham. West Mercia Police Supt Tom Harding has, however, disputed claims that this could be the UK's worst scandal.
"I don't believe Telford is any worse than lots of places across England and Wales," he told the BBC. "I am confident that, in the main, we do know the scale of CSE. Therefore, I significantly dispute the 1,000-plus figure and do feel it is sensationalized.
"Read the headlines, read the reports. What are they actually discussing? They're discussing cases from 20 or 30 years ago, offending back in the 1990s. We've never said there aren't cases, there are always cases we are working on and seeking to prosecute."
However, West Mercia Police has said tackling child sexual exploitation remained its 'number one priority' for officers in Telford. In 2017, the approach of the officers was 'subject to independent scrutiny' from the Home Office last year.
Horror cases from the area have emerged, including the treatment of Lucy Lowe. The child, 16, was pregnant with her second child when she was murdered by her 'boyfriend' alongside her sister Sarah, 17, and their mother Eileen, 49.
Taxi-driver Azhar Ali Mehmood first targeted Lucy in 1997. She gave birth to his child when she was just 14. Two years later, her burned down their house in Telford. He was never arrested or charged with any sex abuse crimes over his involvement with the young girl.
Becky Watson, 13, was killed after a car she was in crashed. It later emerged she had been the victim of Child Sex Exploitation (CSE) for two years. Vicky Round, a friend of Becky's, was forced into a crack-cocaine addiction, aged 12. She died aged 20 after a suspected drug overdose.
Torron Watson, Becky's mother, said: "Girls like Becky were treated like criminals. A girl of 13 is not a criminal for being raped and abused, she is a victim and it is the disgusting perverts who abused and violated her who are the criminals," she said.
Other women who survived abuse spoke about being taken to "rape houses" where they were repeatedly abused. Their sickening adult abusers reportedly told them that they would "burn their house down" if they told anyone – referring to the killing of Lucy Lowe. Prime Minister Theresa May told the Commons it is important that an inquiry into child sexual exploitation in Telford gets under way as quickly as possible.
Seven members of a grooming gang were jailed in 2013 after a police investigation. Officers admitted at the time that up to 200 men from across the country had been involved in the ring, but many remained unidentified.
This is not the first such scandal to rock the UK. Asian grooming gangs were found to have raped and systematically abused hundreds of girls in Rotherham. Local MEP Jane Collins called for an "urgent, immediate investigation into the apparent industrial scale child sexual exploitation in and around Telford."
"It brings me to tears to think that despite everything people said had been learnt from the scandal in Rotherham, and the suffering and abuse of those victims, we still have young girls being raped by predominantly Pakistani Muslim men, just as they were and, I believe, still are in Rotherham," she said.
"When did some people in the police, in social services and in local and national government, start thinking that the systematic rape and abuse of children was acceptable, which trying to stop an investigation seems to indicate?"
If you like this story, share it with a friend!
You can share this story on social media: