'Fantasy politics': France accuses May of punishing Russia prematurely over ex-spy poisoning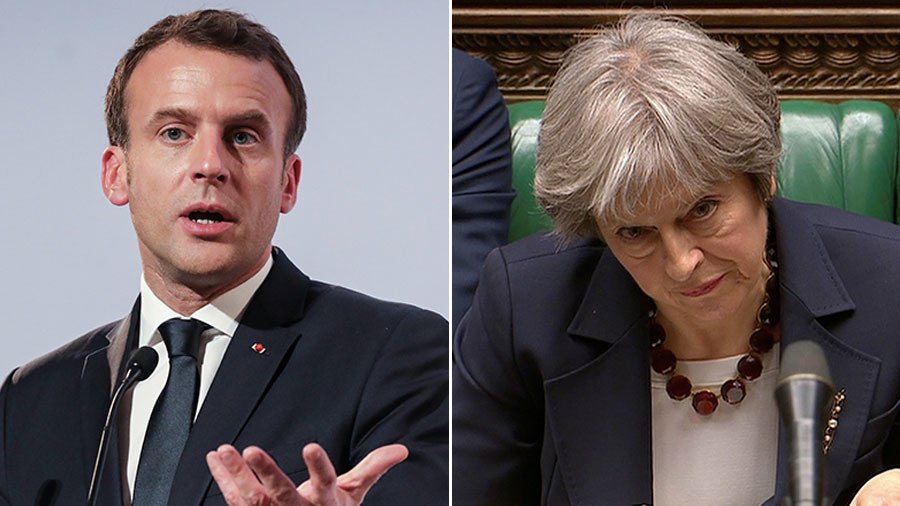 France has undermined Theresa May's attempts to garner support for punitive action against Russia, saying it wants more proof Moscow was behind the Salisbury poisoning. It accused the PM of engaging in "fantasy politics."
On Wednesday, May announced the expulsion of 23 Russian diplomats and the suspension of bilateral talks. May claimed Russia was "culpable" for the poisoning of former double agent Sergei Skripal and his daughter Yulia, which amounted to "unlawful use of force against the UK."
However, President Emmanuel Macron's spokesman suggested May was acting prematurely. "We don't do fantasy politics. Once the elements are proven then the time will come for decisions to be made," Benjamin Griveaux told a news conference in Paris.
Griveaux added that France was waiting for "definitive conclusions" and evidence that the "facts were completely true" before taking a position. He said that the Salisbury poisoning was a "serious act" against a strategic ally, but France would await evidence of Russian involvement before taking a position.
Russia has repeatedly asked for a sample of the toxin which was used to poison Skripal and his daughter. Moscow has denied any involvement in the incident.
However, Britain is not prepared to hand any samples over to Russia.
Moscow's permanent representative to the United Nations, Vassily Nebenzia, told the UN on Wednesday night: "We demand that material proof be provided of the allegedly found Russian trace in this high-resonance event. Without this, stating that there is incontrovertible truth is not something that we can take into account."
Russia's Ministry for Foreign Affairs branded May's statement as "an unprecedentedly crude provocation that undermines the foundations of a normal interstate dialogue between our countries."
Labour leader Jeremy Corbyn has also challenged May's evidence of Russian culpability. He believes there is not enough proof to conclude Russia was behind the incident.
"The government has access to information and intelligence on this matter which others don't. However, there is also a history in relation to weapons of mass destruction and intelligence which is problematic, to put it mildly," Corbyn's spokesman Seumas Milne told reporters. "I think the right approach is to seek the evidence to follow international treaties, particularly in relation to prohibitive chemical weapons."
Think your friends would be interested? Share this story!
You can share this story on social media: