Dead spies, hybrid warfare and meddling diplomats – MPs unleash anti-Russian onslaught in Commons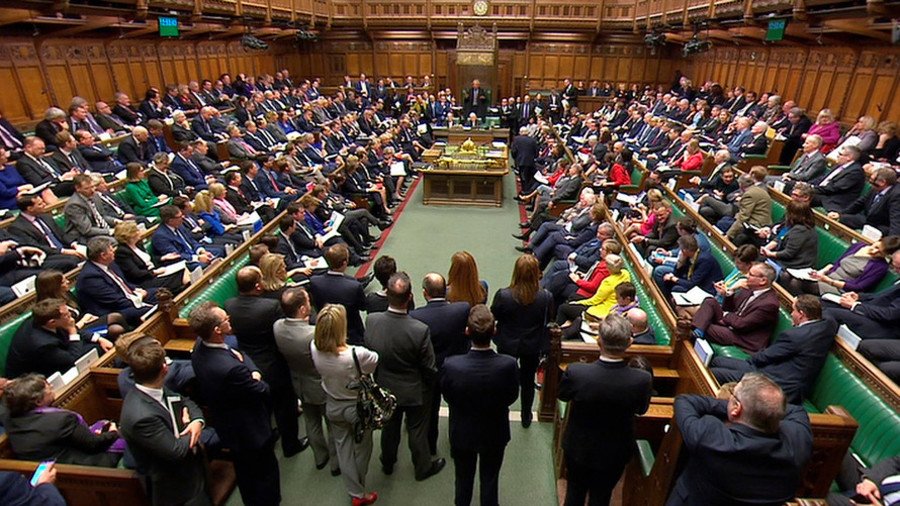 As if Theresa May's raft of sanctions weren't enough, MPs are now calling for more punishment to stop the perceived Russian threat. The usual anti-Russian MPs told the Commons exactly how Britain should take on Vladimir Putin.
UK Prime Minister Theresa May has ruled that Sergei Skripal and his daughter Yulia were poisoned, "likely" by the Russian state, announcing a raft of sanctions in response. Luckily, she had MPs on hand to help her come up with more responses if, in her words, there is "any further Russian provocation."
No proof has been publicly presented confirming it was Russia – but why should that stop MPs? Tory MP for Maldon John Whittingdale came up with the perfect solution to end aggression from Russia – more of the BBC.
READ MORE: Britain seeks urgent UN Security Council meeting over Salisbury spy attack
He said: "One of the best assets we have against Russian disinformation and propaganda is the BBC World Service. Will she look at ways in which we can extend the reach of the world service, perhaps by incorporating world television, and does she also agree that we need to be very careful not to give any pretext, however unjustified, for the Russians to take action against the BBC and other free media outlets?"
Theresa May backed the suggestion (obviously) that UK government propaganda should extend its on reach abroad. She said: "I would hope that the Russian state would be prepared to accept the importance of free media. Sadly, from one or two things we heard last night, that may not be the case. The broadcasting of the BBC World Service is an important element of the reach that the UK can have.
"It's an important part of helping those people who believe in democracy and the rule of law and free speech and freedom of expression to have an outlet which is doing just that."
Chris Evans, MP for Islwyn, chose to bring up an eight-year-old 'spy in a bag' murder case as potential evidence against Putin himself. He called for police to investigate cold cases as part of the response against Russia.
In 2010, Gareth Williams, a GCHQ employee, was found in a "padlocked holdall, naked and decomposing." A coroner ruled in 2012 that the spy was "probably killed unlawfully," but also ruled it unlikely his death would ever be "satisfactorily explained."
Evans said the case should be re-opened, while pointing a finger at the Russian state. He said: "Will she now reopen that case and look to find out if Mr Williams was a victim of Vladimir Putin?". Theresa May said it was a "matter for the police."
READ MORE: Russia is 'culpable' over ex-double agent poisoning, claims Theresa May
Ben Bradshaw MP stuck with his usual paranoid mantra and questioned the prime minister about Russian influence in the UK. Listing centers of influence in the UK, Bradshaw said Putin is installed in all of them.
He said measures to tackle Russia "could have come a bit sooner" as he welcomed them. However, he went on to insist that Moscow has eyes and ears in just about every pillar of UK influence.
"On the wide issue of Putin's hybrid warfare against our country," Bradshaw said. "Will she task the intelligence and security services to investigate Putin's influencing operations in our universities, our think tanks, our financial institutions and our political parties?"
May replied: "He raises an important issue about propaganda activities being undertaken by the Russian state."
Russia was then accused of meddling in the House of Commons by another MP. Moscow apparently infiltrated Brexit voters minds, although not a scrap of proof can be found. Now, apparently the parliament itself is being targeted.
Labour MP Chris Bryant called for the expulsion of the Russia's Ambassador to the UK Alexander Yakovenko. The ambassador has obviously had an opinion on events in the Commons – as is his job – but airing those opinions was branded as "interfering" by Bryant.
The MP, who was once a welcome guest on RT, then went on to accuse Putin of killing enemies and saying Russia is now made up of "all the worst facets of communism and all the worst facets of rampant capitalism."
"He (Yakovenko) has repeatedly lied to parliamentarians. He has tried to interfere in the internal elections of this house. Surely to God, it's time to tell him we order our affairs in this country, not him, and he can go home."
Theresa May said she would ensure that nobody outside of politics could be involved in house votes. She said: "We will not be told what to do by a Russian ambassador and I fully expect house authorities to ensure it is not possible for an external party to interfere in elections in this house."
If you like this story, share it with a friend!
You can share this story on social media: