'Canine eugenics': Chaos at Crufts dog show as 'terrier-ist' storms winner's circle (VIDEO)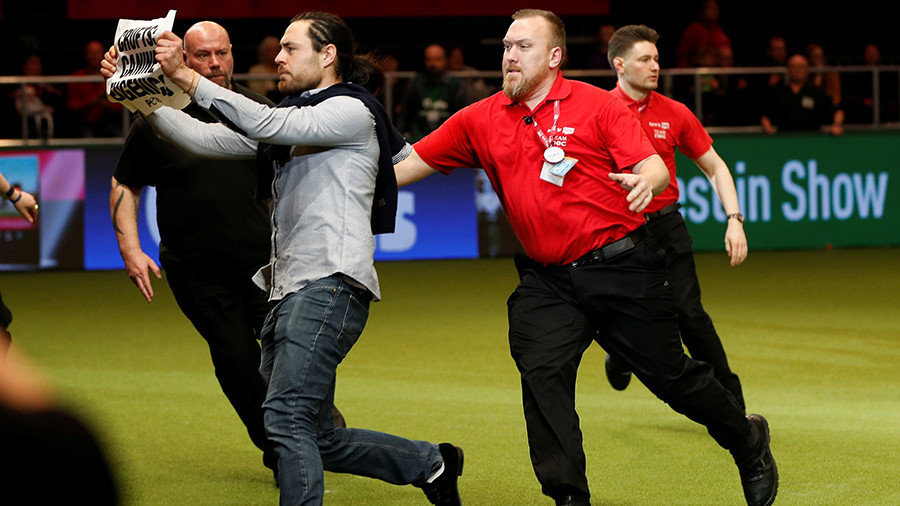 Crufts dog show ended in chaos after animal-rights protesters stormed the arena as the winner was being announced on live television. Peta UK has taken credit for the 'terrier-ist' attack.
Protesters descended on the ring during the live broadcast announcing the Best in Show – the culmination of the Crufts four-day dog extravaganza, held at the NEC in Birmingham. Audiences were left stunned and confused as people began running, and handlers were scrambling to scoop up their prized pooches to escape.
The two intruders broke through a barrier and onto the show floor, but were quickly spotted by security as they tried to unfurl banners reading "canine eugenics." Peta UK was quick to praise the two activists, who were from the Vegan Strike Group, an international organization which uses direct action to campaign against animal abuse. It has since been revealed that Peta UK organized the stunt.
A Crufts spokesman slammed the activists for putting the very animals they are supposed to advocate for at risk. "It appears that protesters from Peta gained unauthorized access to the ring in the main arena at Crufts, and in doing so scared the dogs and put the safety of both dogs and people at risk in a hugely irresponsible way.
"Our main priority at the moment is the wellbeing of the dogs that were in the ring, who are looked after by their owners and show officials. The NEC Group have extensive security procedures in place at Crufts and we, along with the NEC Group, will be reviewing what happened as a matter of urgency."
Peta said the demonstrators had "highlighted the suffering of dogs bred by humans to have grossly exaggerated features," and were carrying banners which read "Crufts: Canine Eugenics."
Elisa Allen, Peta UK director, said: "Crufts glorifies pedigree fetishists' twisted pursuit of the 'perfect' dog. There's nothing natural about breeding dogs with extreme and debilitating physical traits, and PETA urges everyone to stay away from this cruel beauty pageant."
Social media users, however, had a different point of view. Some took the chance to highlight the absurdity of the stunt, with puns coming in quick and fast.
The whole debacle was a bit ruff on Yvette Short, who stepped up to the podium with her Best in Show winner. She snatched up her pick of the litter – a two-and-a-half-year-old female whippet named Tease – when the protesters stormed the ring.
The runner-up of the near 21,000-entrant event was a pointer named Chilli. Chilli was the winner in the gundog breeds category.
If you like this story, share it with a friend!
You can share this story on social media: