Iran summons UK envoy, vows 'decisive response' to embassy flag incident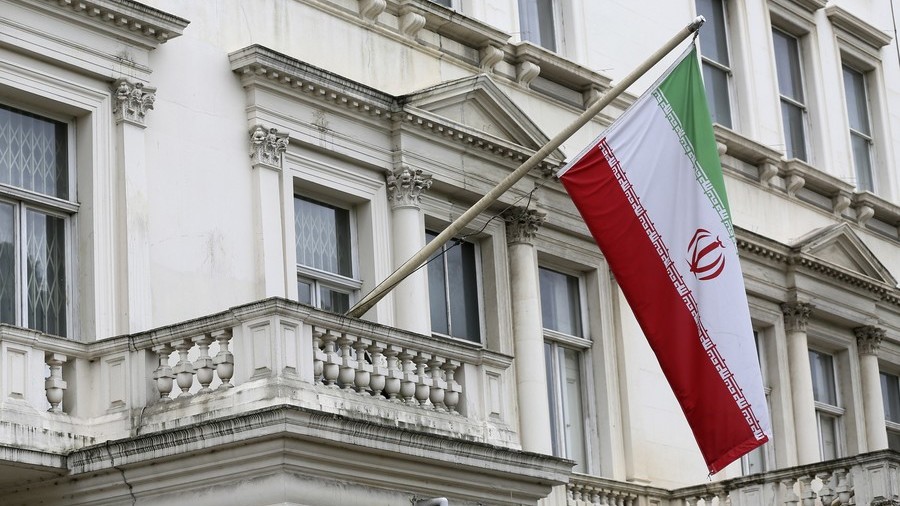 Iran has summoned the British Ambassador over the London embassy incident in which four armed men scaled its UK embassy and tore down the Iranian flag. The men, who are from a radical Shia Muslim group, have been released on bail.
Tehran has strongly condemned the Friday incident at the London Embassy, urging British law enforcement to provide proper security for the diplomatic facility. Shortly after the incident, the UK Ambassador to Iran was summoned to Iran's Foreign Ministry to provide explanations over the incident.
"Immediately after the incident was reported, Dr. Araqchi, the [Iranian] deputy foreign minister for political affairs, expressed the Islamic Republic of Iran's strong protest to the British ambassador to Tehran and demanded that the UK police fully protect our diplomats in London and immediately deal with the assailants," the ministry's spokesman, Bahram Qassemi said, adding that the UK envoy, Nicholas Hopton, offered an official apology.
Late on Friday, four assailants got onto the balcony of the embassy, taking down the Iranian flag and erecting banners of UK-based radical Shia Muslim Khoddam Al-Mahdi's organization. The group was filmed shouting slogans and waving their flags from the balcony. The men were eventually detained by the police.
Slow actions of London police, who managed to capture the trespassers only "several hours after the attack" constituted a failure "to observe the international law," spokesman for the Iranian government, Mohammad Bagher Nobakht, said in the aftermath of the incident, as quoted by the Mehr news agency. The official vowed Iran's' "decisive response" to the incident without providing any details.
The assailants have been promptly released on bail, IRNA news agency reported, citing a Metropolitan Police spokesperson. The assailants were 29, 18, 17 and 16 years old, and their identities have not been disclosed. An investigation into the incident is underway.
The Khoddam Al-Mahdi group, claiming to follow the ideas of the late Shia Muslim cleric, Grand Ayatollah Muhammad Al-Shirazi, was founded by UK-based radical preacher Sheikh Yasser Habib. The Sheikh has repeatedly expressed quite controversial views on Muslim history and insulted the Prophet Muhammad's companions, drawing criticism from both Sunnis and Shias.
You can share this story on social media: