Labour's deputy leader calls out Tories over press freedom as Murdoch scandal emerges (VIDEO)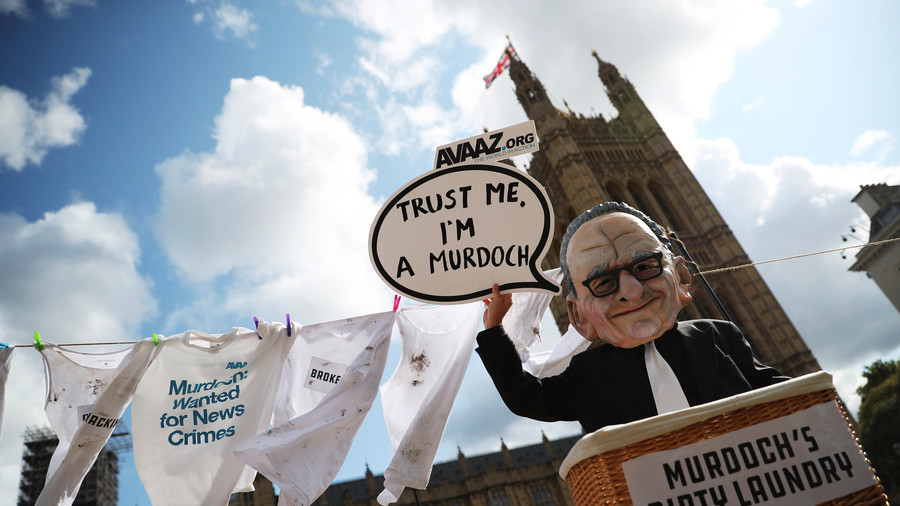 Rupert Murdoch's news outlets were involved in more criminality than the Leveson Inquiry uncovered, it has been claimed. The Tories want to "close the story down," however, according to Labour's deputy leader Tom Watson.
Whistleblower and ex-private investigator John Ford has claimed he was used by the Sunday Times to illegally to spy on politicians – including former prime minister Tony Blair – while they were in power. Ford said his spying methods included blagging, a term for tricking sources into revealing information by pretending to be a legitimate authority.
Ford claims he was contracted between 1995 and 2010, and targeted both the Labour government and members of the public. The former PI said he would go on "fishing expeditions often" and there were "hundreds of telephone interceptions, hundreds of bank interceptions. I've stolen rubbish. I'm afraid the list is endless," he added.
Watson said he is furious over claims that people were targeted by the paper. In a video on Twitter, Labour leader Jeremy Corbyn's right-hand man said the Leveson Inquiry, which delved into the UK press and its relationship with those in power, appears not to have uncovered everything.
The inquiry found that police had been paid for information, while phones were hacked, including that of missing teenager, Milly Dowler. The move could have impacted the investigation, since a voicemail on her phone had been opened – leading officers to believe she may have been alive.
Watson said Labour will fight for "genuine press freedom" and the victims of phone hacking. He said: "A few days ago, the Conservatives announced that they are breaking their promise to the victims of phone hacking, and ditching plans for the next stage of the Leveson Inquiry that was supposed to examine possible press criminality and collusion with the police.
"They said that the Leveson Inquiry was done, that it was comprehensive, that there was nothing more to see. Well, the BBC have just broken a remarkable story that shows that's not quite accurate."
A whistleblower has claimed that Murdoch's Sunday Times was involved in criminal activity for over a decade by blagging the personal finance records of Labour cabinet ministers. And, rather than coming clean about it, they've covered it up. It seems far from this story being over, there's much more to come.
"Yet, the government wants to close the story down. They are capitulating to the press barons and their billionaire backers – protecting them from scrutiny," said Watson. The Sunday Times said that it "strongly rejects" claims it had hired anyone to act illegally on their behalf. A spokesperson said the paper had "a strong record of investigative journalism over decades and has employed many contributors and researchers to work on stories, or parts of stories."
Think your friends would be interested? Share this story!