What really happened to Sergei Skripal? British press revels in speculation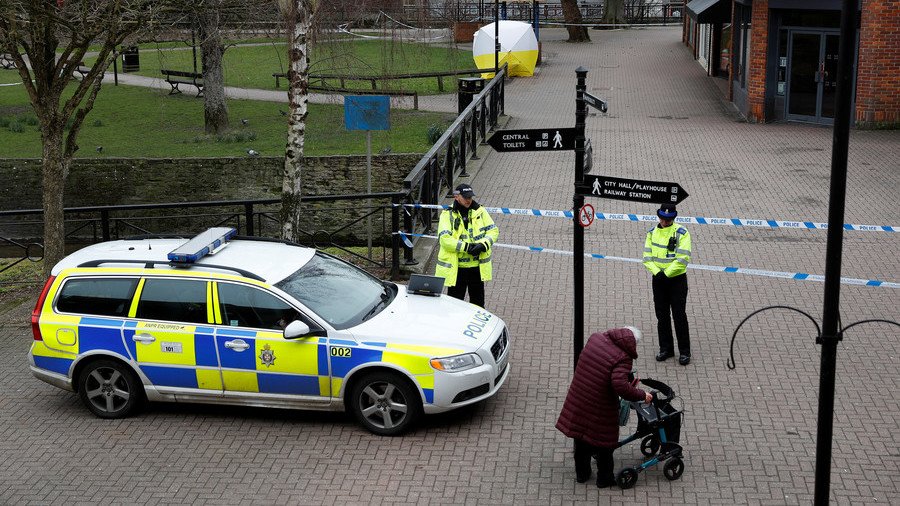 An ex-spy is in a critical condition this week – fact. But that alone makes for a pretty boring story about Sergei Skripal and his exposure to poison. So, the British press has typically decided to fill the gaps with theories.
The Times – of course – listed the top scare stories around the discovery of Skripal and his daughter Yulia on a park bench in Wiltshire. Meanwhile, the Financial Times ran fanciful articles, suggesting he may have been a valuable target – local railway club membership aside.
All the papers made it clear who they were blaming, suggesting it is impossible for anyone to get hold of the nerve agent that was used in the incident without "state support." The timing also became a focus of the journalists-turned-police-investigators at the Times Towers.
The Russian elections are in 9 days, so apparently bumping off a former double agent who arrived in Britain in 2010 was Putin's trick to seal victory – in Russia. But, every western press organisation says the elections are rigged regardless. So, would there be any point?
The Daily Mail, meanwhile, went with the theory that Skripal is linked to the agency set up by former British spy Christopher Steele, Orbis Business Intelligence. Orbis was behind the now-notorious dossier on Donald Trump, which claimed Moscow had compromising information on the US president. Company sources said Skripal wasn't involved.
Well, that's that theory out the window. Have no fear, the Daily Telegraph found its own spy source. Funny, isn't it? These elite spying machines go undetected by governments and rival agencies, but can be tracked down by reporters within days.
Anyway, The Telegraph's rent-a-spy says an Orbis consultant was pals with Skripal. Try and keep up, now. Skripal had nothing to do with Orbis but he apparently had a friend who was connected to the agency, who released controversial information about Trump.
And how do they know about this budding bromance? LinkedIn and location. "The British security consultant, according to a LinkedIn social network account that was removed from the internet in the past few days, is also based in Salisbury," the paper says.
Meanwhile, The Independent says the ex-informer was a "freelance spy." A Russian exile apparently reckons Skripal was still at it, trading info and spying from his home in Salisbury. And the Indy is backing the claims.
The Financial Times is also having fun with a range of unnamed sources on the Skripal story. According to them, the former double agent was not "fully decommissioned." The paper says an informant told them: "There was interest from friendly foreign services after he was released in the spy swap. He was useful for a limited period."
Another "official" said he would have had "ongoing" usefulness. And friends of Yulia said there is no chance she could have been of interest to authorities in Moscow. But, nothing and no newspaper reporting can compare to The Times, and it's very own rating system.
Theory one: A present for Putin
The Times reckons this one is pretty likely… in fact, a 3/5 rating on probability. They call it the "mouse on the doorstep." Comparing the president to Henry II (thank you very much), who asked who would rid him of Archbishop of Canterbury Thomas Beckett in 1170.
Theory two: A present for Putin's enemy
Ok, so here The Times concedes that Putin may have had nothing to do with the murder, which is something of a breakthrough. Instead, it was done by those ever-present shady figures to make sure relations with the West don't improve after the election. The likelihood rating on this one was 3.5/5.
So, in a way, The Times is backing Putin!
Theory three: The Hollywood connection
Now, we're getting silly. We've moved from MI6 to the movies. The "horse's head" theory is taken straight from 'The Godfather.' Since Skripal was a double agent, he could have upset a few people. Obviously. And those people could have attempted to kill him and his daughter in public.
A double agent – but only one side is under the spotlight. Times probability rating: 2.5/5
Theory Four: The 90s… Double denim, Spice Girls… Old spy info
Skripal was part of a spy swap between Russia and the UK. He made his early career in the intelligence unit of the Russian military or GRU. Following a career in the Russian foreign ministry, Skripal was arrested in 2004 and jailed. He was accused of being recruited by British special services as an informant in 1995.
In 2010, he was released and pardoned by the then-president, Dmitry Medvedev, as part of a swap for 10 Russian spies captured by the West. So, the "broker" theory is that he was trading intelligence – unable to shake old ways. The theory, awarded a 2/5 probability rating, suggests ancient information from the 90s is still valuable now. So, there you have it: a mystery, but don't worry – they'll have it solved soon.
Think your friends would be interested? Share this story!
You can share this story on social media: