Scurrying for safety: Footage shows terrified London commuters after 2017 tube blast (VIDEO)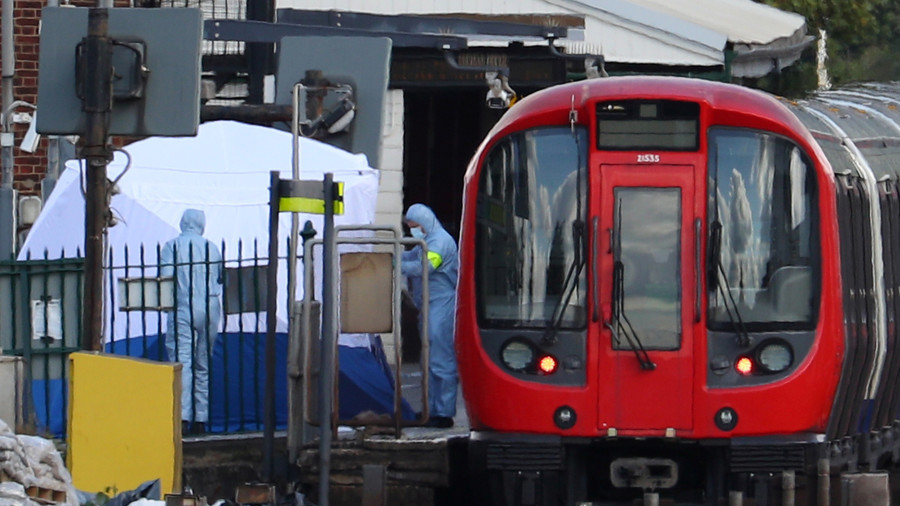 CCTV footage released by the Metropolitan Police of the explosion on a London tube in September 2017 has released. It comes as the trial of the teenage asylum seeker accused of launching the attack is underway.
The video shows the inside of a tube carriage at Parsons Green station. A sudden eruption of flames prompts terrified commuters to flee as quickly as they can.
It comes as suspect Ahmed Hassan, an 18-year-old asylum seeker from Iraq, faces trial for allegedly launching the attack. He has been charged with attempted murder and using the chemical compound TATP to cause an explosion which was likely to endanger lives.
Earlier this week, the jury heard that Hassan had won a £20 (US$27) Amazon voucher for being "student of the year" at Brooklands College in Surrey, UK, and used the money to purchase hydrogen peroxide with which he allegedly assembled the bomb, Sky News reported.
The prosecution also stated during the trial that Hassan had previously said he had been trained to kill by Islamic State (IS, formerly ISIS) in Iraq. "They trained us on how to kill. It was all religion-based," he reportedly said when he made his asylum application in January 2016. In another interview, Hassan reportedly said he had been taken by force by IS and feared that his brother and uncle would be killed if he had attempted to resist, according to the Guardian.
Thirty people were injured in the September 2017 blast. The bomb partially detonated in a District Line carriage at Parsons Green station during rush hour.