Cold shoulder: Heartless hotels sent homeless back out into snow after rooms donated to charity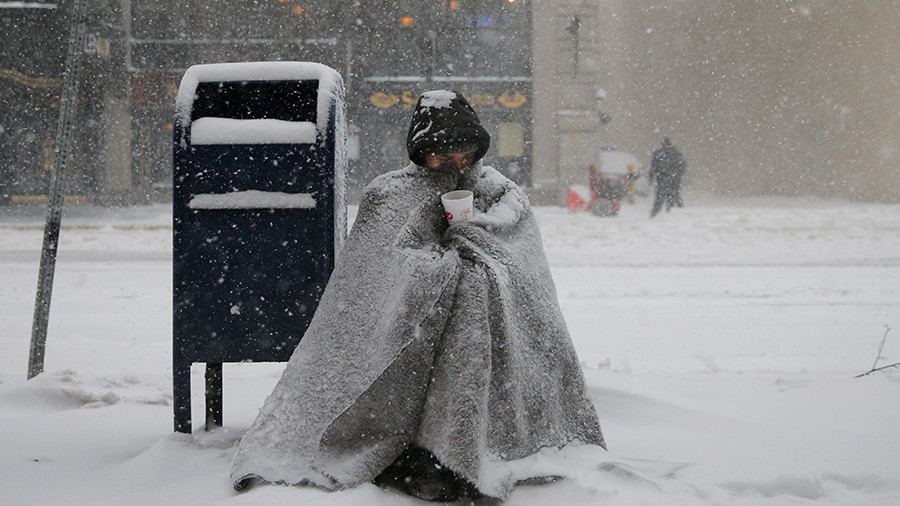 Guests who were unable to travel due to last week's snow asked for at least 20 hotel rooms to be donated to the homeless as shelter from the 'Beast from the East'. Instead, hotel bosses at Travelodge and the Premier Inn refused.
Big wigs at the Premier Inn allegedly refused to let homeless people sleep in 19 rooms which had been bought and paid for by Sarah Parker-Khan, 38. She had booked the rooms at the Premier Inn in Weston-super-Mare for the Friday night to house a large group in town for the southwest Young Farmers' Gathering. The guests were unable to attend due to the inclement weather.
Although the conditions had prevented their journey, the hotel refused to refund her the nearly-£3,000 (US$4,145) she had spent on the rooms. To prevent them from going to waste, Parker-Khan, decided to give the rooms away to those rough sleeping in the snowy, freezing conditions.
According to reports, however, the hotel was having none of it. Parker-Khan told SomersetLive that when a homeless charity sent rough sleepers to the hotel with her booking reference details, staff turned them away – leaving them to sleep rough in the snow.
I think people need to know @premierinn in Weston-Super-Mare turned away freezing cold homeless people a couple of days ago, in blizzard conditions, despite 19 rooms being paid for and donated by a kind lady. This disgraceful decision will cost them.

— Rachael (@Rachael_Swindon) March 4, 2018
"The heavy snowfall meant that we had been unable to travel to the area. I asked if we could have a refund for the rooms, but I was told that wasn't the policy in circumstances such as this," Parker-Khan said. "Given that we had spent nearly £3,000 on the rooms we were a little disappointed about this."
Parker-Khan and her friends therefore decided to do something with the spare rooms and them away for free to the homeless in the area.
"We thought as we couldn't use the rooms then we might as well do something decent with them. I contacted a number of local homeless groups and told them that we had 19 rooms available at the hotel. I also notified the hotel that these homeless groups would be bringing people along later that day."
One of the local groups, Comfort and Warmth, reportedly sent two of their homeless down to the hotel. Chairman of the group Jon Codd said those who they sent to occupy the rooms were turned away.
"We sent two rough sleepers down at around 7pm," Codd said. "They went with the booking reference but were sent away because they did not have ID."
This was much to the dismay of Sarah and her friends.
"The homeless were turned away from the hotel," Parker-Khan said. "It was absolutely disgraceful. They could have shown some compassion and let them stay.
"We were putting our necks on the line by letting people we did not know use our rooms. That could have made us liable for any costs if they had damaged them. But we put our faith in them. It was a shame Premier Inn could not do the same."
Two of the local homelessness groups Parker-Khan contacted were Wormwood Rocks and Comfort and Warmth.
The former had issued a statement on its Facebook page yesterday evening claiming it had been contacted in relation to the 19 free rooms.
"In our little home town of Weston-super-Mare, we have witnessed many acts of kindness from many people and groups," the post said. "To all these people, thank you, you all truly rock.
"One such person contacted one of our homeless groups today to inform them that due to weather conditions their party would not be able to travel to Weston today. As a result of this they had 19 rooms including breakfast for two days available for free at The Premier Inn, Weston-super-Mare. This was due to the fact that the Premier Inn would not refund anything from their booking.
"However, such a generous and thoughtful act could not go to waste, so the coordinator of the group was informed and given booking details. He then got a group of people together and took them to The Premier Inn. It was at this point The Premier Inn turned them away."
Premier Inn says CCTV footage does not support this claim. It has since explained that it is unable to offer rooms to people without proper identification checks.
"We spoke to the guest involved and informed her of this both on Friday morning, and again in the evening, but unfortunately no names were supplied," a spokeswoman said in a statement. "Extensive checks of our CCTV footage does not appear to support anyone being turned away from our Hutton Moor hotel on Friday evening, but we are clearly disappointed vulnerable people feel let down through absolutely no fault of their own and will be reaching out to the two local homeless organisations involved."
Premier Inn was not alone in refusing to allow the homeless to shelter from the weather in a donated room. Lucy Patterson from Hartlepool Marina had planned to visit York, but was no longer able to due to the cold weather. In an effort to be kind, Patterson contacted Travelodge to request the booking be given to a charity to get someone off the streets in the freezing temperatures.
"We booked a 'saver' room, which under normal circumstances is non-refundable – though I do believe looking at Travelodge tweets to others that they are waiving that rule given the current weather situation," the 42-year-old told RT. "I hate the thought of the room standing empty whilst there are people who need it more than us, so it seemed the easiest way of getting in touch with them and the other organizations who may be able to coordinate such a thing, all in one go."
The hotel refused to allow this, telling Patterson that they cannot let anyone else stay in the room as it is booked under her name.
"[I'm] saddened by their response. [I] can't believe a name change could be such a hardship for them," Patterson said.
In a statement issued to RT, Travelodge said due to its room booking terms and conditions, a reservation cannot be transferred.
"All customers are required to read these terms and conditions prior to making a booking," a Travelodge spokeswoman said.
The hotel did point out the work it does in its community – for its nominated charity.
"Our company's nominated charity is the British Heart Foundation which our 10,000 staff members voted for," the spokeswoman said. "Over the last 12 months, our colleagues across the business have raised over 150,000, which has gone towards helping change the lives of many individuals."
UPDATE: Premier Inn vindicated after homeless went to wrong hotel for refuge
Think your friends would be interested? Share this story!
You can share this story on social media: