Boris Johnson could back western strikes on Assad over chemical weapons claims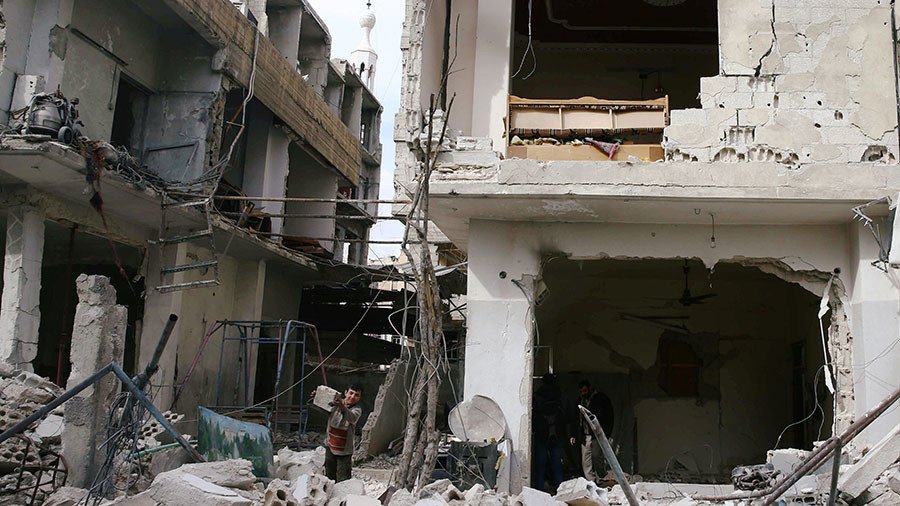 UK Foreign Secretary Boris Johnson has hinted he could back strikes against the government of Syria's Bashar Assad over alleged chemical attacks, saying that he hopes the West would not "stand idly by" if the claims were proved.
Johnson was responding to an urgent question in Parliament on the situation in Syria and the ongoing offensive in Eastern Ghouta. The foreign secretary appeared to resent the fact that military action in Syria was initially blocked by the House when former Prime Minister David Cameron called for it back in 2013, although that was later overturned by a vote two years later.
Johnson said he would now consider "limited strikes" if there was "incontrovertible evidence of further use of chemical weapons by the Assad regime or their supporters." He added that while there may be international support for a response to the "individual use of chemical weapons," it would be "misleading" to say the same for "sustained military engagement."
It comes as Syrian government forces carry out one of their heaviest bombardments against terrorist groups in Eastern Ghouta. Local doctors and monitors say up to 18 people have been left injured by a suspected chlorine gas attack on Sunday.
On those allegations, Johnson said: "The House will have noted the disturbing reports of use of chlorine gas. I call for these reports to be fully investigated and for anyone held responsible for using chemical weapons in Syria to be held accountable."
It comes as Russia announced a daily humanitarian pause starting from February 27 in Eastern Ghouta that will give civilians the chance to flee.

"As ordered by the Russian president, a daily humanitarian pause from 09:00 to 14:00 (local time) is being introduced starting February 27 to avoid civilian casualties in East Ghouta," the ministry said in a statement.
The Russian military then suggested introducing similar measures for other regions which remain a "hotspots of tensions."
On Sunday, the Russian Center for Reconciliation in Syria warned that militants who are holding civilians hostage in Eastern Ghouta could stage a provocative chemical attack. The militants are still shelling the suburb of Damascus despite the UN ceasefire agreement reached on Saturday.
Just after the warning, reports emerged of people in Eastern Ghouta suffering symptoms consistent with exposure to chlorine gas.
If you like this story, share it with a friend!
You can share this story on social media: