Oxfam denies staff used Haitian prostitutes in 'Caligula-style orgy' during relief op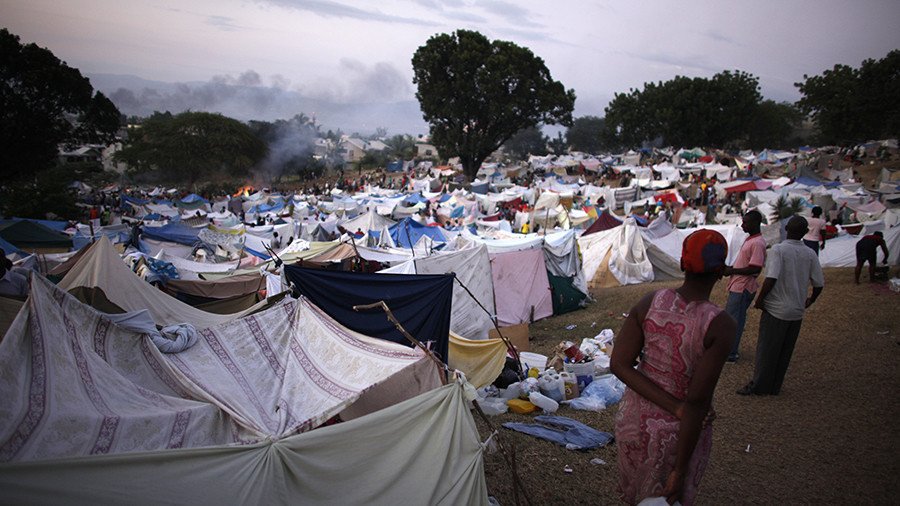 Oxfam has rejected accusations that it covered up stories of its staff using prostitutes in Haiti while they were on a relief mission following the devastating 2010 earthquake.
An internal inquiry into sexual exploitation, downloading of pornography, bullying and intimidation found there had been a "culture of impunity" among staff during the operation. The island was struck by an earthquake that killed some 220,000 people.
A confidential report from the investigation in 2011 concluded that children may have been among those abused, a front-page piece of the Times revealed on Friday morning.
"It cannot be ruled out that any of the prostitutes were under-aged," it went on to state.
A source with knowledge of the case claims they saw footage of a party that they described as "like a full-on Caligula orgy," with prostitutes wearing Oxfam-branded shirts.
Following the incident, Oxfam's country director on the island, Roland van Hauwermeiren, resigned after admitting to using prostitutes at a villa rented for him through the charity's funding.
Despite the admission, Oxfam did not sack the Belgian staff member, who was instead offered a "phased and dignified exit" to prevent "potentially serious implications" for the charity's reputation.
The charity, however, which racks up £300 million (US$415 million) a year in through British government funds and donations, hit back at the claims of a cover-up.
"This was not a cover-up. Oxfam treats any allegations of misconduct extremely seriously," it told the Telegraph. "As soon as we became aware of the allegations in Haiti in 2011 we launched an internal investigation.
"The investigation and its outcome were publicly announced and we kept Oxfam Trustees, the Charity Commission and the DFID informed. A number of staff were dismissed as a result of the investigation and others left the organisation before it was completed.
"The country director took full responsibility for events that took place under his management and was permitted to resign on the basis that he fully cooperated with and supported the investigation."
The allegations sparked widespread international concern and extensive European media coverage.
On Friday morning, Liz Truss, the chief secretary to the Treasury, branded the revelations "shocking, sickening and depressing."
Leader of the Women's Equality Party, Sophie Walker, tweeted:
This is utterly grotesque. Halting sexual violence including trafficking and prostitution of women in war and disaster zones is not an optional extra once bosses have had their fun. Shame on you Oxfam. https://t.co/hV8nFZGDWR

— Sophie Walker (@SophieRunning) February 9, 2018
"In case you were wondering, teenage girls, in one of the poorest countries in the world, immediately following an earthquake don't by any measure 'choose' prostitution," Gavin Shuker, Labour MP for Luton South, said.
Paying for sex is against Oxfam's staff code of conduct and in breach of United Nations statements on the behavior of aid workers, which the charity supports. Prostitution is illegal in Haiti.
Oxfam said that it did not report any of the incidents to the Haitian authorities because "it was extremely unlikely that any action would be taken." None of those accused has been arrested or faced any criminal charges.
If you like this story, share it with a friend!
You can share this story on social media: