Flash dinner: Men-only charity event for UK elite exposed for debauchery & sexual harassment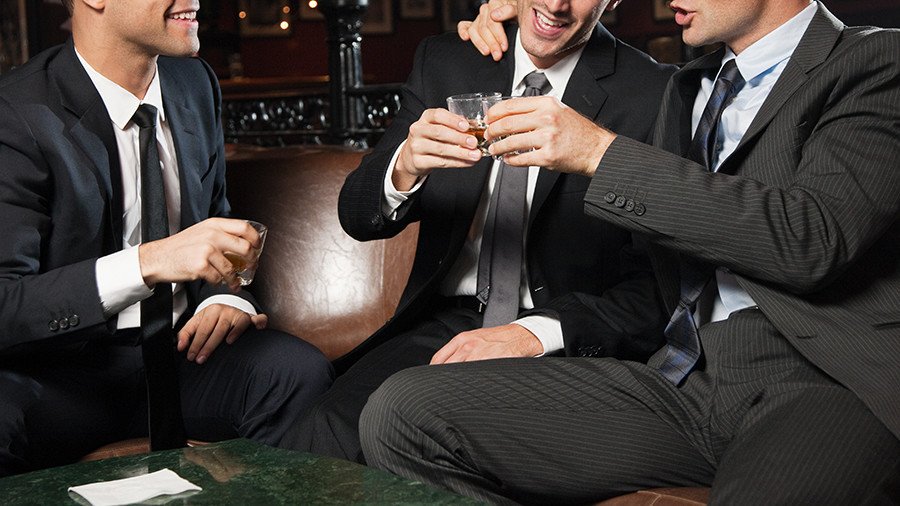 Rampant sexual harassment and lewd behavior has been exposed at a male-only, black-tie charity dinner at the Dorchester Hotel. 130 hostesses were told to wear matching underwear and prepare themselves for "annoying" men.
Handpicked for their beauty and height, the women were told to wear skimpy black dresses with corset-like belts and "sexy" high heels to one of the most exclusive charity events on London's social calendar: the Presidents Club Charity Dinner.
At 10pm on Thursday, festivities kicked off at the Dorchester Hotel with sports broadcaster Jonny Gould roaring "Welcome to the most un-PC event of the year," to the 360-person crowd.
During the six-hour dinner, an undercover journalist reported that hostesses were groped, subjected to lewd comments, sexual propositions, and hands up skirts; while one attendee reportedly exposed his penis to a hostess during the evening.
Thursday's charity event, which raised more than £2 million ($2.8 million) for charitable causes like the Great Ormond Street Hospital, offered up auction prizes such as lunch with British Foreign Secretary Boris Johnson, afternoon tea with Bank of England Governor Mark Carney, and the chance to "add spice to your wife"... with a course of plastic surgery.
A seating plan obtained by the Financial Times listed many well-known names on the guest list: Philip Green of Arcadia Group, Dragons' Den star Peter Jones, Ocado boss Tim Steiner, founder of hedge fund Duet Group Henry Gabay, newly appointed Under-Secretary of State for Children and Families Nadhim Zahawi, and Labour party fundraiser Jonathan Mendelsohn.
Although these men were listed on the seating chart, it is not clear if all attended.
At an afterparty, also held at the Dorchester, one hostess was allegedly told by one of the guests that she "[looked] far too sober." He then filled her glass with champagne, grabbed her by the waist, pulled her in and told her: "I want you to down that glass, rip off your knickers and dance on that table."
The debaucherous nature of the evening was hinted at when the hostesses were hired. Founder of Artista, Caroline Dandridge, the woman responsible for hiring the hostesses, reportedly warned applicants that men may try to get the hostesses "pissed" and might be "annoying."
"It's a Marmite job. Some girls love it, and for other girls it's the worst job of their life and they will never do it again… You just have to put up with the annoying men and if you can do that it's fine," Dandridge reportedly advised one of the hostesses.
Dandridge told the Financial Times that she was unaware "of any reports of sexual harassment."
"This is a really important charity fundraising event that has been running for 33 years and raises huge amounts of money for disadvantaged and underprivileged children's charities. There is a code of conduct that we follow, I am not aware of any reports of sexual harassment and with the caliber of guest, I would be astonished," she said.
Having been a hostess, I can confirm that you don't have to sign non-disclosure contract unless there's something an employer wants to hide. 33 years this event has been happening. They knew. #TimesUp#PresidentsClub#MeToo#newsnight

— Lizzie Walmsley (@LizzieGWalmsley) January 23, 2018
Despite Dandridge's plea of ignorance, social media has been rife with fury since the story broke.
Attendees at #PresidentsClub using the charity money raised as an excuse - what bollocks. Charities definitely accept money from non sex pest fundraisers too.

— soozm (@soozm) January 24, 2018
#PresidentsClub The good thing is it's been going on for 33 years and now it's been exposed. Another sign the tide is turning.

— BrownEyes (@Brown_Eyes70) January 24, 2018
The Dorchester spoke up about the controversy in a statement to FT, said that it had a zero-tolerance policy regarding harassment of guests or employees. "We are unaware of any allegations and should we be contacted we will work with the relevant authorities as necessary," it said.
The Presidents Club said much the same thing: "The organizers are appalled by the allegations of bad behavior at the event asserted by the Financial Times reporters. Such behavior is totally unacceptable. The allegations will be investigated fully and promptly and appropriate action taken."
Think your friends would be interested? Share this story!
You can share this story on social media: