Tories launch bid to 'protect free speech' after 'left-wing thugs' brawl with Jacob Rees-Mogg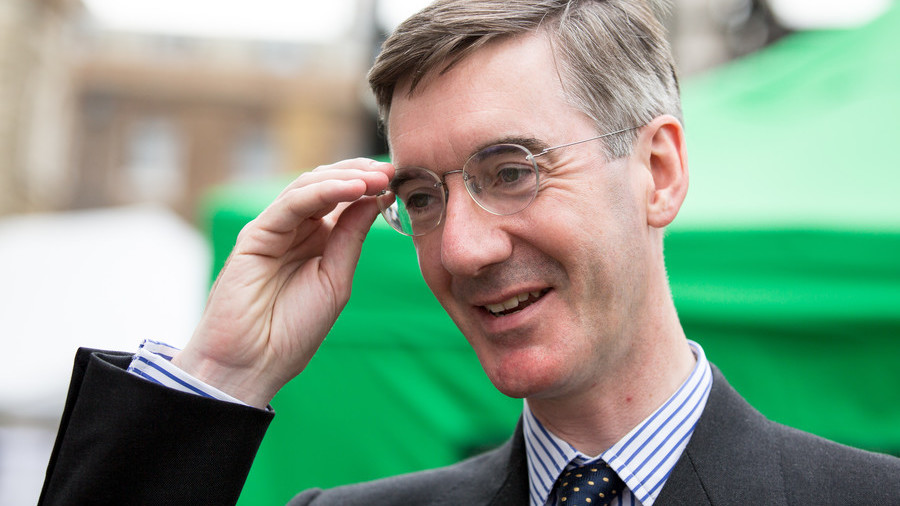 The Tories say they will send more MPs to universities to "protect free speech" after Jacob Rees-Mogg was greeted with violence at a campus on Friday. But were "left-wing thugs" really to blame for the fracas?
Rees-Mogg was mobbed by a group of angry protesters as he showed up for a debate hosted by the University of the West of England in Bristol. Video footage appeared of the Tory backbencher – currently ahead of Brexit secretary David Davis as the favorite to succeed Theresa May as Tory leader – trying to break up the scuffle between protesters and his supporters.
The whole incident was over within minutes after a woman was allegedly pushed in the face by a mysterious white-shirted man, and a smartphone was cracked. Rees-Mogg then carried on with his speech. Since then, however, there's been a media furor and many have taken to Twitter to argue over who was really to blame.
The participants' backgrounds have been exposed. Nude pictures of one of the "anti-fascist" protesters involved were unearthed and published in the national press, while photographs of his alleged adversary in a Nazi SS uniform have surfaced in left-wing media.
Tory party chairman Brandon Lewis blamed Momentum, the youth organization supporting Labour leader Jeremy Corbyn, for the brawl.
"Momentum-supporting thugs broke into a university event and tried to silence Conservatives," Lewis said, according to the Telegraph.
"Wearing balaclavas, they tried through violence and intimidation to stop the ideas that they disagreed with from being heard. Help us back free speech by signing our petition today. Momentum, the left-wing campaign group, was set up after Mr Corbyn's initial victory as Labour leader to keep the spirit and politics of his campaign alive," he added.
"Young people have a right to hear all sides of the political debate. So we'll protect free speech by stepping up our speaker program – making sure Conservative voices are heard in universities across the country."
However, in what is likely to come as a blow to Lewis and the right-wing media which has pinned the blame on Momentum for Friday's scuffle, newly released footage suggests the altercation only became physical when a Rees-Mogg supporter and Bristol-based martial arts instructor lunged out in defense of the MP. The mysterious man is said to be named Paul Townsley, but has been dubbed #WhiteShirtMan on social media.
He is believed to be the same person dressed in a Nazi SS uniform in controversial pictures received by Jewish Voice and left-wing media outlet the Skwawkbox. The identity of the photographer is unknown, but the shot of a trophy in one of the images suggests it was taken at a party for Townsley's martial arts schools.
Rees-Mogg has insisted he does not know the man involved.
It appears the supporter of Jacob Rees-Mogg at the controversial event in Bristol dressed as a Nazi at a party and holds some Far-Right views.We ask @Jacob_Rees_Mogg. What is your connection with this man? Are you friends with him and has he campaigned for you? pic.twitter.com/kTMmyCimG7

— Jewish Voice (@J_VoiceUK) February 5, 2018
Another man involved in the altercation has been identified as left-wing activist Joshua Connor, who reportedly intervened to stop his girlfriend from being hit by the Conservative supporter.
Girlfriend Andreea Dumitrache, 25, believed to be a Romanian student, said: "The member of the audience in the white shirt started getting violent towards the people being disruptive.
"I was standing in front of him when he punched me. No student was violent here. He was clearly a supporter but it didn't look like it was someone from Mogg's team," she said, according to the Express.
If you like this story, share it with a friend!
You can share this story on social media: