Anti-PC professor Jordan Peterson slams UK media over cringeworthy Сhannel 4 interview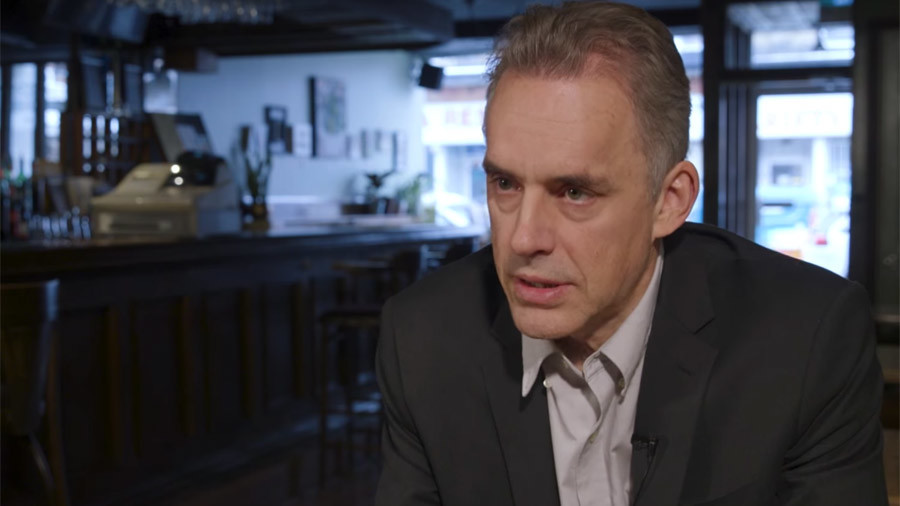 A professor who is gaining support for his campaign against political correctness has attacked the British media, after he was accused of forming an army of trolls against a reporter following an interview on Channel 4.
Jordan Peterson, a Canadian lecturer, has criticized the way Cathy Newman, a Channel 4 anchor, turned on him in an interview, before he rebuked her over comments he made on transgender personal pronouns.
A social media storm erupted, with Peterson's growing fanbase mocking Newman and posting videos of the moment he left her speechless. The anchor was lost for words after she called him out for offending transgender people, only for Peterson to respond by hailing Newman's own right to offend him with her line of questioning.
Always grateful for advice from @DouglasKMurray but I won't be suing or taking out a super-injunction. I thoroughly enjoyed my bout with @jordanbpeterson as did 100s of 1000s of our viewers. Viva feminism, viva free speech. Stay tuned Douglas.

— Cathy Newman (@cathynewman) January 17, 2018
In a heated 30-minute exchange, now watched tens of thousands of times, Peterson asked the presenter why she felt she could use her right to freedom of speech but he could not use his.
Peterson came to prominence when he criticized the Canadian government's Bill C-16, which proposed including gender identity and orientation in the Canadian Human Rights Act, thus making it illegal to discriminate based on outward expression of gender. The clinical psychologist refused to accept the bill and was attacked in his country.
Now he has hit out at the Guardian, among other papers, for how it covered the exchange. Speaking to Joe Rogan on his eponymous podcast, Peterson described how following the interview he was subjected to abuse – yet only the trolling aimed at Newman was widely reported.
Presenter Rogan said he watched the interview "several times" and was shocked by the way Newman spoke to the writer. "She went into it incredibly confrontational, not trying to find your actual position," he said.
Peterson told how Newman changed dramatically when they met on screen, after being pleasant in the green room.
"I was the hypothetical villain of her imagination," he said. "As soon as the cameras went on she was a completely different person, and I thought, 'oh, I see.' This is why YouTube is going to kill TV, because television by its nature, these narrow broadcast and technologies, they rely on forcing the story because it has to happen now.
"It hasn't ceased to amaze me that I think, they thought the interview went fine. I know some people behind the scenes who know what's going on behind the scenes and they are shell-shocked."
What Peterson objected to most was how he was later further vilified, along with his fans.
He told Rogan: "And then of course there was the counter-response, the Guardian the next day published an article saying the head of Channel 4 had to call in security because of threats.
"About 20 newspapers picked that up and said Cathy Newman is being harassed by an army of online trolls."
The presenter and Peterson argued there were "way more" negative comments and violent threats towards the professor than there were to Newman.
Following the interview and the subsequent fall out, Daily Mail contributor Peter Hitchens tweeted to accuse fans of Peterson of being involved in a cult.
Resistance is never futile . But do you *want* to be a cult? Some of your fanboys move very swiftly from zeal for you to hatred for anyone who doesn't sign up (I'll forward you an example in a moment)

— Peter Hitchens (@ClarkeMicah) January 29, 2018
The controversial Peterson has also faced accusations of being associated with the alt-right.
The lecturer is currently promoting his new book, '12 Rules for Life'.
Like this story? Share it with a friend!
You can share this story on social media: