Egos collide as Trump gives a 'world exclusive interview' to his apprentice Piers Morgan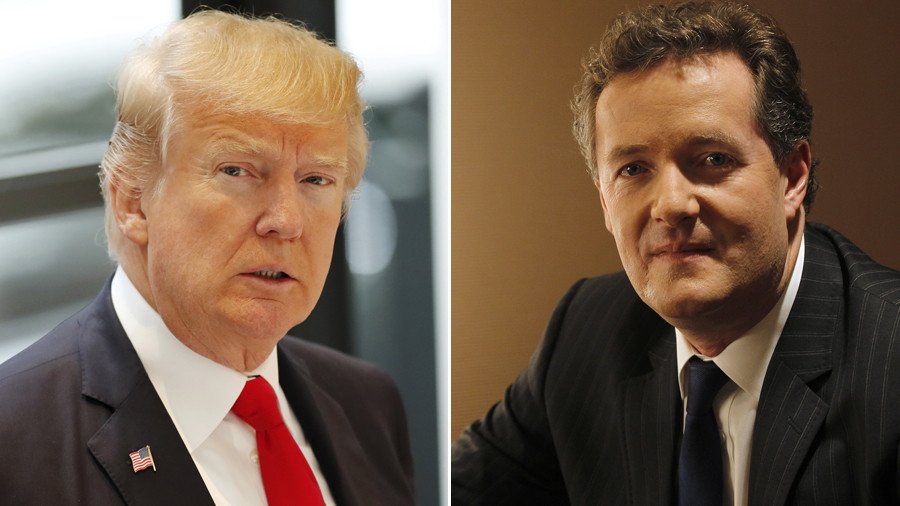 Piers Morgan will sit down with Donald Trump for his first international TV engagement since he became president. Morgan, who has a checkered past with the US leader, was taken to task on Twitter over the interview.
Morgan used a picturesque snapshot of a snow-covered Swiss street as a teaser for the interview in Davos, where global leaders have congregated for the World Economic Forum.
Half an hour later, the cat was out of the bag with Morgan sharing a photo of himself and the now-president looking chummy.
Although Morgan has managed to secure what he calls his "world exclusive interview," the controversial British broadcaster has quite a history with the property tycoon turned president. Much of which was alluded to by the Twitterati, with the ex-Mirror editor being called out by Lord Alan Sugar and Gary Lineker among others.
In 2007, Morgan appeared on the US TV show 'Celebrity Apprentice' - presided over by none other than Donald Trump. Morgan won the competition, earning more than $750,000 for his chosen charity. Trump reportedly calls Morgan 'Champ' as a throwback to his time on 'The Apprentice.'
"Trump is a good friend," Morgan told The Mirror. "I have spoken to him every three or four weeks for years. When I have had tough times, he has called me."
Despite their apparent friendship, Morgan has been openly critical about Trump since his ascendance to the White House.
In May 2016, Morgan called Trump "President Paranoid Snowflake" in an opinion piece for the Daily Mail. The op-ed came after Trump said that "no politician in history has been treated worse or more unfairly," than he had been over the Russia probe.
"As many rushed to point out, assassinated US Presidents Abraham Lincoln and John F. Kennedy probably had it worse," Morgan wrote.
"Oh, and on the wider world stage, Nelson Mandela spent 27 years in a tiny prison cell and Myanmar leader Aung San Suu Kyi was kept under house arrest for 15 years. By comparison to all these politicians, Mr Trump, you've indisputably had it easy," he added.
In October, Morgan – a consistent anti-gun voice during his time in the US – wrote a no-holds-barred opinion piece, slamming the president for allowing the NRA to hold the US to ransom with the second amendment after the Las Vegas massacre.
"This is YOUR call, President Trump. This happened on YOUR watch," Morgan wrote, pointing the finger squarely at the US leader.
"Silence, apathy and kicking this can down the road are not an option. Cowardice in the face of the NRA's disgusting and ruthlessly commercial bullyboy tactics is not an option."
Morgan even weighed in on American politics in December, tearing strips of the president in another column that called on Trump to learn from the results of the special Senate election in Alabama.
"If Trump doesn't heed the gigantic alarm bells that went off last night, he's a fool," Morgan said.
"Momentum is everything in politics and the pendulum just swung dramatically back toward the Democrats. Alabama turned blue last night, driven largely by black men and women, and this astonishing turnaround may have potentially very far-reaching consequences for not just for 2018 but also the 2020 General Election."
It hasn't been all sour grapes between the two - only days before his Alabama rant, Morgan took to his column again to talk about what seems to be his favorite topic: Trump.
In the op-ed, Morgan wrote that "we've NEVER had a president like Trump - he actually keeps his promises," even if Morgan doesn't necessarily agree with Trump's decisions.
"In the past week alone, there were three perfect examples," he said. "First, Candidate Trump repeatedly vowed to 'wipe the hell out of ISIS.' Now, within a year, the Islamist terror group that gained so much ground and support during Barack Obama's tenure – he dismissed them as a 'J.V. team' – has been routed from Syria and Iraq.
"Second, the president has enjoyed similar success on the domestic economic front. Third, Candidate Trump promised to confirm Jerusalem as the capital of Israel and to move the US Embassy there from Tel Aviv. Last week, he announced both things," Morgan continued.
"I personally think it's a dangerous and unnecessary move, but you can't say he didn't vow to do it if he got elected because he did, repeatedly," he added.
The controversial British journalist also lashed out at the US president for retweeting videos originally posted by far-right party Britain First on Twitter.
"Good morning, Mr President ‪@realDonaldTrump—what the hell are you doing retweeting a bunch of unverified videos by Britain First, a bunch of disgustingly racist far-right extremists? Please STOP this madness & undo your retweets," Morgan said.
Piers Morgan is no stranger to heated interviews - and has shown that he won't hold back, even for friends. For Trump, who is notorious for his hatred of criticism, it may be a recipe for disaster.
Like this story? Share it with a friend!
You can share this story on social media: